If you're looking for the most quintessential outdoor activity in Galveston, it doesn't get much better than a sport fishing trip in the Gulf of Mexico. The beaming sun and salty breeze are only made better by the thrill of a bite on the line as you battle to bag a red snapper.
No matter your experience level, Galveston deep sea fishing charters are ready to take you out for a day on the waves with tackle and bait in tow. And when you're done, you can bring your catches back to cook up in the kitchen of your Galveston vacation rental for the ultimate fresh Gulf-to-table dining experience.
Where to Go Deep Sea Fishing in Galveston
Since Galveston Island is surrounded by bays to one side and the Gulf of Mexico to the other, there are so many options for where to go fishing on vacation. With plenty of docks and piers across the island, it's not difficult to find a fishing spot near your Galveston vacation rental.
If it's deep-sea Galveston fishing adventures you're after, a charter into the Gulf is the way to go. These excursions take you up to 100 miles off the coast for day-long adventures of catching mackerel, redfish, and sailfish.
The Best Deep Sea Fishing Charters in Galveston
Galveston Sea Ventures
Galveston Sea Ventures offers everything from relaxing sunset cruises and birdwatching tours to shark fishing trips. For Galveston deep sea fishing, the company has half and full-day charters year-round for groups of up to 6 people.
Half-day trips typically stay in the 10 to 40 miles offshore range, while longer ones go out up to 100 miles offshore to track down king mackerel, amberjack, cobia, and more.
No experience or gear is needed on these outings, as the staff provides fishing lessons and all the fishing supplies, including rods, reels, tackle, and bait. Just bring along your own snacks and drinks to stick in the coolers on the fishing boat.
Angler Charters
Angler Charters is one of the longest-operating fishing services in the area, with year-round nearshore, inshore, and offshore options. For Galveston offshore fishing, you can book one of two different experiences on the company's 30-foot Grady-White boats.
The 10-hour charters go about 50 miles offshore to hunt down mahi mahi, sharks, snapper, jack crevalle, and more. The 12-hour trip has more time to get about 100 miles out to sea, and you may catch blackfin tuna, wahoo, sailfish, and grouper. Both options can host up to six people.
Reel Men Fishing Charters
Reel Men Fishing Charters is a sister business to Angler Charters in Galveston that offers shorter outings, with options for sticking 5 miles offshore in the jetty or going to the deeper sea.
The offshore trips venture up to 30 miles into the Gulf of Mexico on a 32-foot Grady-White boat. The charters can hold up to six guests and include all the gear you'll need, as well as cut bait and fish cleaning for your catches.
Fishin Addiction Charters
Fishin Addiction welcomes everyone from inexperienced to pro anglers for nearshore and deep sea fishing excursions in Galveston. The company's pair of 36-foot Contender boats hold up to six guests each.
For a deep-sea experience, you can book a 6-hour charter to go about 35 miles out in the Gulf, an 8-hour one for 40 miles, 10 hours for 75 miles, or 12 hours for 80 miles. Fishin Addiction also has trips that focus on catching red snapper, a popular prize in the Gulf.
Get Hooked Fishing Charters Galveston
With a fleet of four boats, Get Hooked Fishing Charters operates from the Harborwalk Community Yacht Club and Marina, just across the island via the I-45 bridge. Get Hooked offers family-friendly inshore fishing trips to the Galveston Channel, offshore trips about 9 miles into the Gulf, and a few different levels of deep-sea fishing.
For an 8 to 10-hour charter, you'll want to book the Galveston Deep Sea fishing trip that goes about 30 to 60 miles out in search of mahi mahi and big snapper. The Blue Water Extreme is a 12 to 14-hour day trip to fish for wahoo, grouper, and sailfish up to 100 miles offshore. The ultimate experience, though, is the Galveston Overnight Tuna Trip that ventures more than 100 miles out to sea.
Texas Saltwater Adventures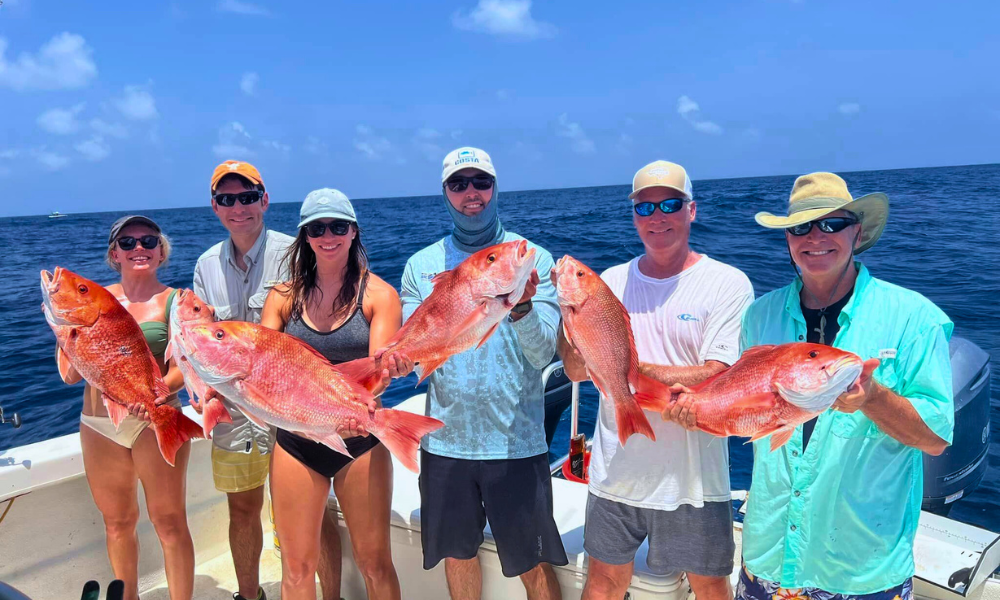 An hour south of the Downtown Historic Strand Seaport Area, Texas Saltwater Adventures takes beginner and seasoned anglers out into the Gulf of Mexico in search of red snapper, tarpon, ling, dorado, king mackerel, and more. Deep sea trips typically go about 35 to 45 miles out to sea on a 32-foot Twin Vee or 30-foot Stamas.
Private charters can accommodate up to 6 people, or you can opt to hop in with other anglers to split the cost.
Tips for Deep Sea Fishing in Galveston
Do I need a license for deep-sea fishing in Galveston?
Yes, you do need a Texas Fishing License before you can go out on your own or with a charter. The rule applies to anyone age 17 or older, and a license is needed to take any aquatic life out of Texas waters, including fish, clams, crawfish, and mussels.
The Texas Parks and Wildlife Department sells freshwater, saltwater, or all water licenses. Anyone of any age planning to fish for a red drum will need a tag to keep one over 28 inches long.
There are also daily number and size limits for these and other fish you may catch. If you fish with a charter captain, they should be able to help with the guidelines, but it's important to inform yourself as well.
You can get your Texas Fishing License online, from a TPWD office, or from a Galveston hunting and fishing outfitter like Academy Sports and Outdoors or Walmart.
What is the best time of year for deep-sea fishing in Galveston?
You can go fishing in Galveston at any time, and most companies provide charters all year. What you catch, though, will depend on the season, and some months are better than others.
For Galveston deep sea fishing, April through October tends to be a popular time, as long as the weather cooperates.
What kind of fish can I catch in Galveston?
In Galveston, you can catch kingfish, red snapper, amberjack, bull reds, cobia, sheepshead, speckled trout, mackerel, mahi mahi, sailfish, tarpon, grouper, wahoo, yellowfin tuna, flounder, black drum, dorado, and more.
Do I need to hire a charter for deep-sea fishing in Galveston?
If you are an experienced boater and fisher, it's possible to rent a boat in Galveston to go deep-sea fishing. But, hiring a charter is usually the safest and easiest option. There are lots of charters to choose from, and you'll have an experienced local captain and angler along to make the whole trip more relaxed and enjoyable.
What should I bring on a fishing trip in Galveston?
On a Galveston deep sea fishing trip, you should bring your Texas saltwater fishing license, red drum tag, sunscreen, rubber-sole shoes, a hat, towels, seasick medication, and food and drinks for the length of the trip. Typically, glass containers are not allowed.
Where to Stay on Your Galveston Deep Sea Fishing Trip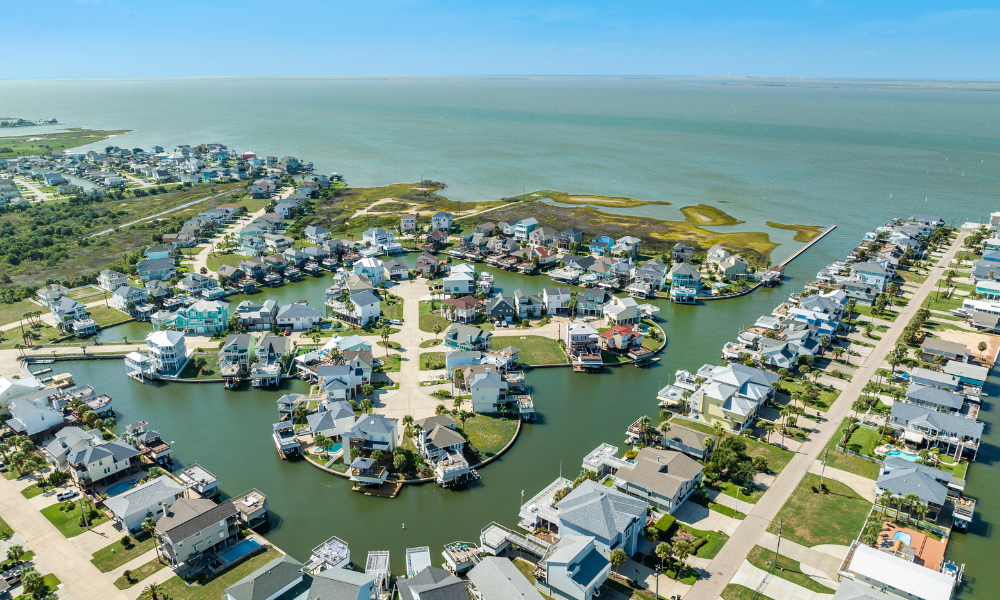 Sand 'N Sea Properties has a collection of stunning vacation home rentals on Galveston's West End. These are perfect for Galveston fishing trips, as they have lots of room for family or groups and kitchens for cooking up your catch. You can find breezy homes with decks and views on the bayfront, Gulf Coast, and even right on the beach!