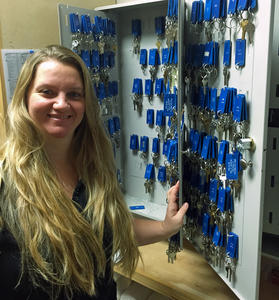 Another SNS staff highlight this week! Wendy has been an awesome member of our rental team for a decade now – where does the time go?!
What is your title and what do you do at SNS? How long have you worked with Sand `N Sea?
I am the Maintenance Manager – so I coordinate regular maintenance visits to each of our vacation homes as well as making sure we get someone out quickly to address any issues that come up during guest stays. I enjoy working with all of our local vendors. I have worked with Sand `N Sea for 10 years.
How long have you lived on the Island?
11 years.
What is your favorite restaurant/dish on the Island?
Yamato's Japanese Restaurant
What is your favorite attraction/thing to do on the Island? Why?
I really enjoy going to Moody Gardens with my family. I like the Aquarium the best.
What do you think Galveston's best-kept secret is?
Board Game Island – it's a great way to spend a couple of hours in Downtown Galveston!
Thanks Wendy! We look forward to another decade – or more!! 😀