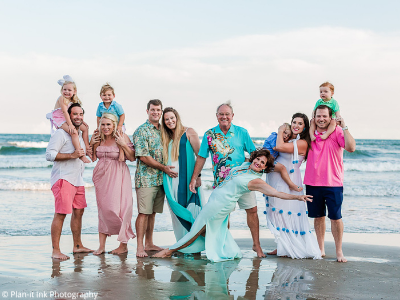 Make it easy to remember your vacation – plan to take professional Galveston family photos during your next beach trip!
Busy schedules and spread-out family members are only two of the things that make it difficult to snap the perfect family photo. Yes, limited opportunities arise in the forms of holidays or special events like weddings, but those can be stressful and overly formal. You can't get much more relaxed than being on the beach!
Sure, selfies are fun, but there's something to be said for letting a professional photographer be responsible for capturing your family's memories. Months, years, or decades later, you or your kids will be able to flip through an album and remember all the fun you had at the beach that year.
You've already gone to the trouble of planning a great Galveston vacation – why not take advantage of the time together by booking a professional photo shoot right after you book your beach house?
Top tips for getting the perfect Galveston family photos:
Think Themes
If the photos include extended family, make sure they know in advance. It can be stressful enough packing for vacation. Don't leave it til the last minute if you want to coordinate outfits. Popular looks for Galveston family photos are often all white tops with denim bottoms. You could also do mini themes for each family group. Don't be afraid of color – think pale corals or vibrant greens. You'll want something that pops against the tan sand and varying blues of the Gulf!
Include Your BFF (Best Furry Friend)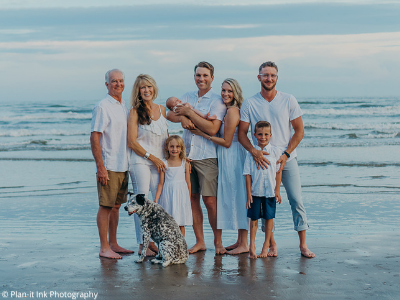 Get the whole family in on the fun! Pet friendly vacation homes are abundant on the West End of Galveston. Plus, furry pals are great for adding a little stress relief to the shoot. Make sure you bring their favorite squeaky toy to grab their attention.
Pick the Perfect Prop
Think about adding props like oversized letters with your family name, fishing poles, or surfboards. What are your favorite family activities? Another idea is to hire a professional sand sculptor. Yes, that's a thing! Sandy Feet Sand Castle Services can create a unique sand sculpture as part of your photo. How fun is that?
Book in Advance
Book your photoshoot in advance and schedule at the start of your trip. Why? Just in case, the weather doesn't cooperate, this can give you time for a backup date for your Galveston family photos. Plus, it's better to get that photo taken before the sun or wind burn set in!
Local Expertise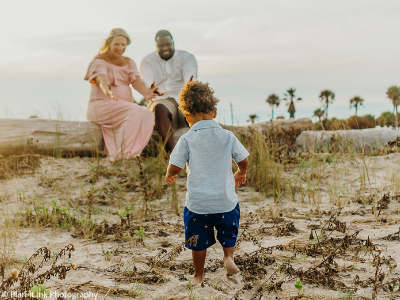 Just like local fishermen, an experienced local photographer will have their own special spot, perfect for capturing your family's beach memories. Plus, they'll have unique, proven ideas about special views or times of day (sunset snapshots, anyone?) you should consider.
Galveston Family Photographers
The most important tip for memorable Galveston family photos is to have fun. Your local photographer will know how to make that stubborn child keep their eyes towards the camera or make your overly-serious grandpa crack a smile.
Local photographers specializing in Galveston family photography include:
Make Memories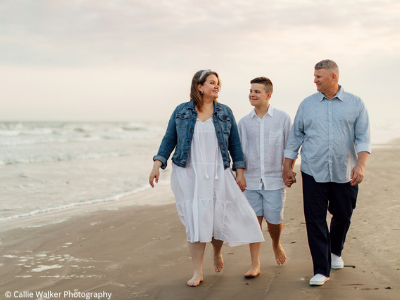 Document the best vacation ever with Galveston family photos during your next visit. Plan ahead so you'll have your pick of beach house rentals and photographer session times!
Sand 'N Sea Properties offers over 150+ of the best West End vacation homes on Galveston, Texas. Local and trusted since 1974, our experienced local team is ready to help you make memories that last a lifetime!