We've said it before, but it's worth repeating: October might be our favorite time to be on the Island! With a huge offering of free or low-cost family-friendly events, warm sunny days, and a jam-packed festival schedule you need to be here! This weekend is no exception!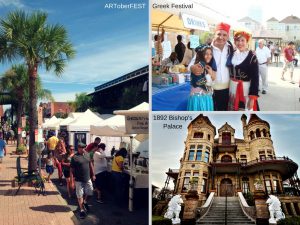 ARToberFEST
October 15 – 10 a.m. to 6 p.m.
October 16 – 10 a.m. to 5 p.m.
33rd Annual Greek Festival
October 15 – 11 a.m. to 10 p.m.
October 16 – 12 p.m. to 6 p.m.
FREE Admission Day at 1892 Bishop's Palace
October 16 – 10 a.m. to 5 p.m.
p.s. Don't forget about our October Rental Special! Get a FREE night at the beach with your new minimum two-night reservation, through October 30. Check out the details and book your weekend getaway now!