When it comes to culinary adventures, Galveston is a melting pot of flavors and cultures. From Cajun and Tex-Mex to southern-style barbecue, the island offers a range of cuisines that reflect the diversity and traditions of the coastal Texas destination.
When you're planning a getaway to a Galveston vacation home, you definitely don't want to miss out on the incredible local restaurants and food trucks serving fresh seafood, brisket, burritos, and more.
To help you plan out what 'must try' cuisine you should enjoy while on island, we've rounded up some of the most quintessential eats. Add these dishes to your foodie bucket list and bring your appetite to your next Galveston beach getaway!
Kolaches
A breakfast staple throughout the state, kolaches originated in the Czech Republic and immigrated their way over to Texas. Traditionally a sweet doughy treat, they've taken on a Texan twist in Galveston and elsewhere around the state.
At local bakeries like Good Dough Kolache Bakery on Historic Sixth Street and other doughnut shops, you can order them stuffed with fillings like sausage, cream cheese and jalapeno, and ham and cheese. Or, if you prefer a sweet breakfast, order one with a jam or fruit filling.
These delicious hand-held treats also make the perfect portable beach snack!
Gulf Oysters
Seafood lovers can get their fill of local catches in Galveston, fresh from the Gulf of Mexico. Gulf Oysters are one local delicacy you don't want to miss. Harvested from local briny waters, these mollusks are served raw on the half shell or on hearty Gulf seafood platters with fried fish and southern sides at spots like Black Pearl Oyster Bar in Downtown Galveston.
If you're new to this texture, you might want to first try the oysters paired with a saltine cracker, lemon juice, and a splash of hot sauce.
Brisket
Texas is famous for its barbecue, and brisket is the crown jewel of the genre. Slow-cooked to tender and juicy perfect, the smoky beef can also be ordered with "burnt tips" for a crispy and flavor-packed twist. You can find it at most local barbecue joints, but you can't go wrong with local favorites like Koops BBQ Kitchen or Leon's World Finest Bar-B-Que.
Ceviche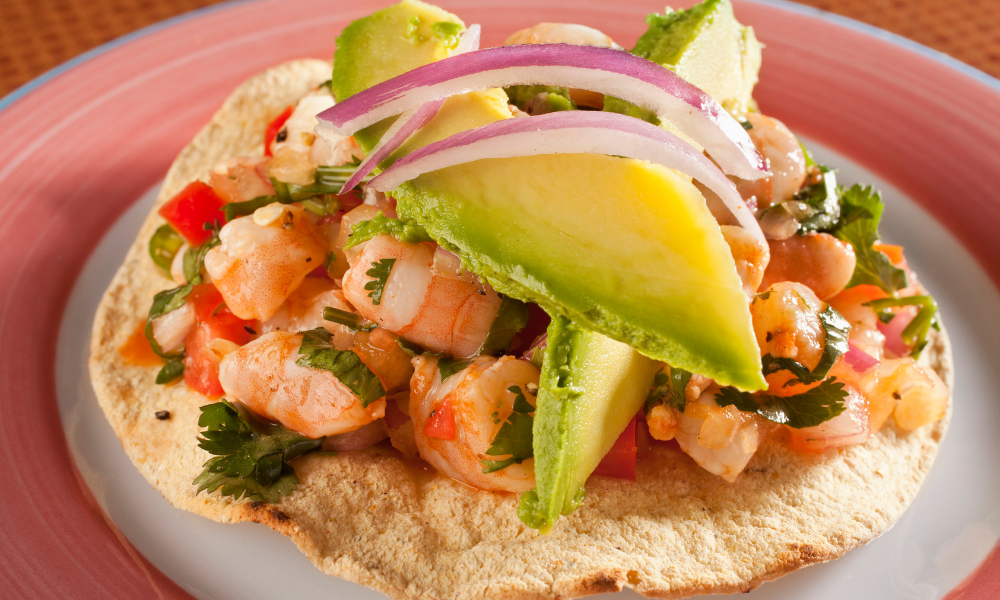 Ceviche is the perfect blend of the seafood and Tex-Mex flavors Galveston is known for. Tender pieces of fish or shrimp soaked in a citrus marinade are mixed with fresh tomatoes, onions, and cilantro for a scoopable starter. You can often find it on menus at seafood and Mexican restaurants on the island, including Gaido's Seafood Restaurant, which serves red snapper, shrimp, and crab ceviche.
Fajitas
A staple in the Galveston Tex-Mex scene, fajitas are a fan-favorite amongst locals and visitors alike. Typically served on a steaming platter with a side of warm tortillas, the dish consists of flavor-filled strips of beef or chicken plus tender sauteed onions and peppers.
You can also customize and build your own meaty wrap from the selection and top it off with sour cream, guacamole, cheese, or hot sauce. Order it with a margarita for the ultimate island dining experience. Try Tortuga Mexican Kitchen on Seawall Blvd for dinner with a Gulf view.
Cajun Boudin
Borrowed from its neighbor state of Louisiana, Galveston's Cajun-style boudin is a Gulf Coast staple that has seeped into Texas food culture. These sausage-like links consist of pork, rice, and spicy seasonings mixed together in every mouthwatering bite. You can order this flavorful dish at restaurants like Leo's Cajun Corner and Benno's Cajun Seafood Restaurant.
Tamales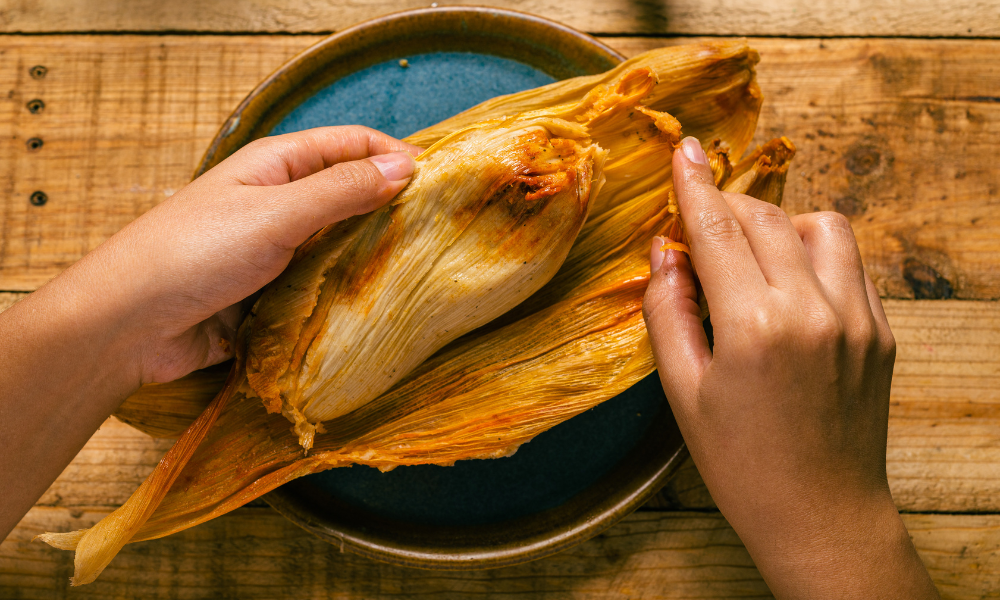 Another Tex-Mex favorite, tamales make a great appetizer or entree and are easy to take for a beach picnic or to take back to your Galveston vacation rental. Wrapped in a corn husk and steamed, the warm pocket of corn masa is stuffed with cheese, beans, or seasoned meats like chicken and pork. You can order these at most Mexican restaurants, buy them ready to heat from local grocery stores or order them at casual roadside food trucks.
Shrimp and Grits
A classic Southern favorite, shrimp and grits have become a Texan comfort food you can find at local spots like the Sunflower Bakery and Cafe. The basic dish consists of hot and creamy grits topped with plump and juicy Gulf shrimp. For a Texan twist, though, you'll usually find them infused with spices or topped with flavorful sauces.
Chorizo Breakfast Tacos
You can't vacation in Galveston without trying a Texas morning staple, the breakfast taco. Available on most island bakery and restaurant menus, the wrap is stuffed with customizable options like eggs, spicy chorizo, refried beans, cheese, and bacon. The handheld breakfast is easy to grab on the go on the way to the beach or pick up to take back to your Galveston beach house.
Crawfish
If you visit Galveston in spring or early summer, you have to partake in a crawfish boil. The small crustaceans are boiled in spices and seasonings for a bold and flavorful dish that's messy and delicious. The harvest season typically runs from about March through June. You can eat them on their own or find them on restaurant menus mixed into plates of pasta.
Gumbo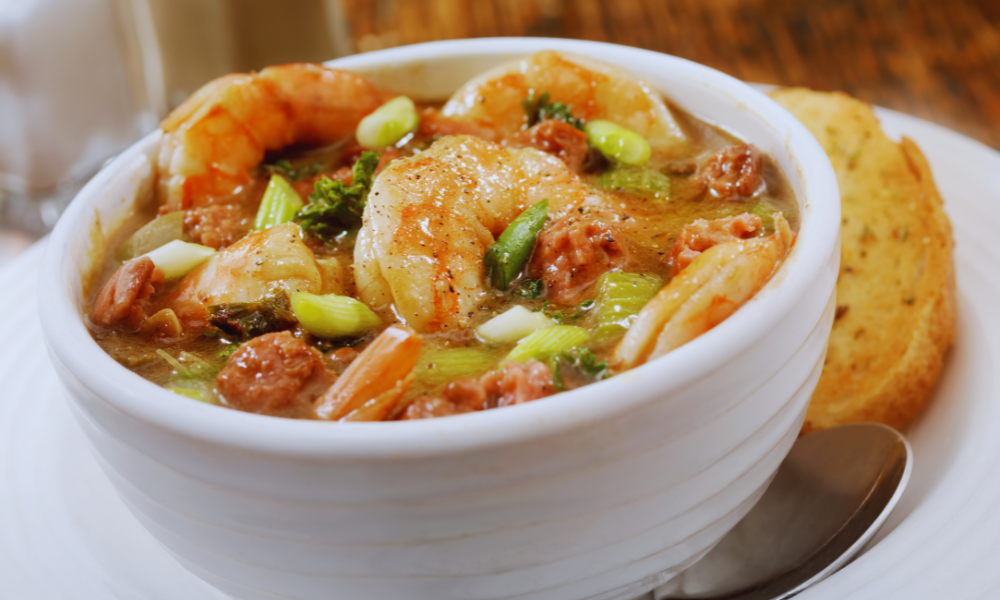 Another Louisiana dish that's migrated its way along the Gulf Coast, gumbo is a must-try local food in Galveston. The hearty stew is made of a stock that uses the Creole seasoning trinity of celery, onions, and bell peppers. Chicken, sausage, and shrimp are then added in for a filling and flavorful soupy mix often served over rice. You can order it from local restaurants like Little Daddy's Gumbo Bar in Downtown Galveston.
Texas Blue Crab Cakes
Blue crabs are found in shallow marshes and coastal bays, so they're a common fresh catch in Galveston. You'll often find them at local restaurants like Nick's Kitchen & Beach Bar served in the form of crab cakes, which blend the succulent meat with breadcrumbs and herbs in a fried patty with a zesty or spicy sauce on the side.
Migas
If you're looking for local food in Galveston for breakfast or brunch, migas are a Tex-Mex favorite on menus all over the island. A twist on traditional scrambled eggs, the sauteed dish mixes in tortilla chips, onions, peppers, and tomatoes. This dish is typically served alongside refried beans or fresh warm tortillas.
Po'Boy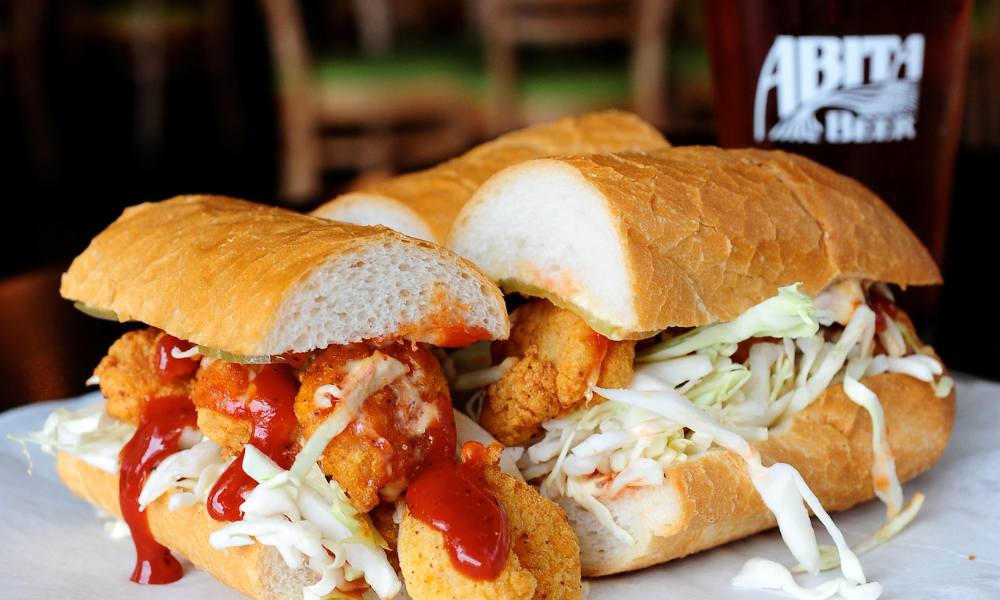 A po'boy makes the perfect beach picnic lunch in Galveston. The sandwich served on French bread originated in Louisiana and is stuffed with a meat of choice, typically roast beef, fried shrimp, oysters, or chicken. In Galveston, you can order from spots like Yaga's Cafe on The Strand.
Huevos Rancheros
Tex-Mex lovers go crazy for huevos rancheros, and they are a staple at local Galveston restaurants. The breakfast dish consists of fried eggs topped with a pico de gallo sauce and served atop a warm tortilla. Some menus add in extra toppings like refried beans, cheese, and salsa too.
Texas Chili
You may think you know chili, but Texas chili is in a category of its own, and locals will argue that it's the best way to do the dish. Unlike other chilis, the Texas-style option is all about the meat, leaving out beans and tomato sauce in favor of chili paste and peppery seasoning. The end product is a hearty stew that will please any cowboy at heart. If you're looking for traditional Texas dishes to try in Galveston, this is a great one.
Yagas Chili Quest & Beer Fest takes place every January and it's the perfect way to sample a wide variety of award-winning chilis in one go. Spend all day snacking and sipping your way across The Historic Downtown Strand District.
Saltwater Taffy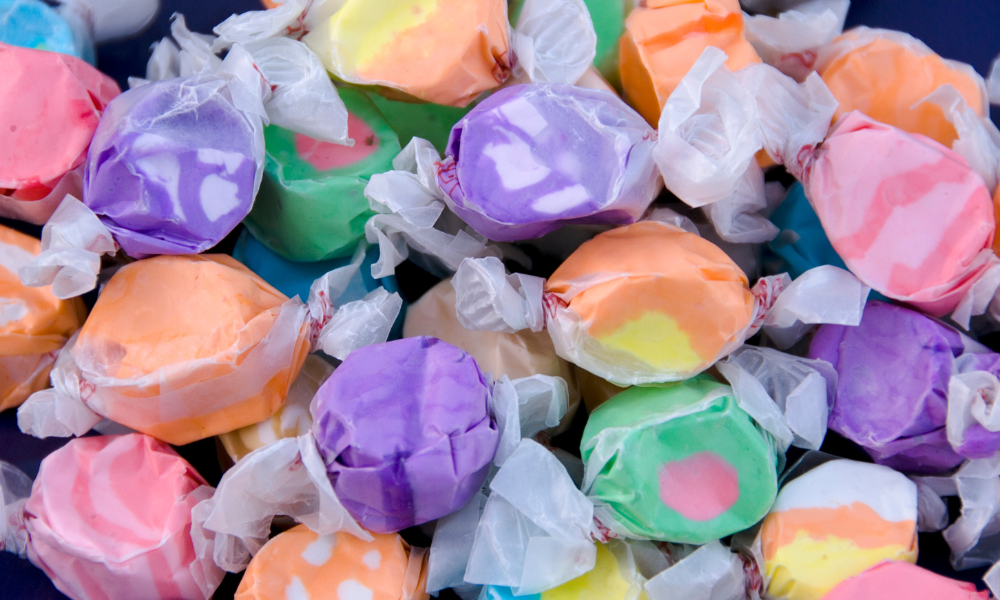 Saltwater Taffy may not be unique to Galveston, but you must try the freshly made sweets from La King's Confectionery, a local favorite on The Strand. The candy shop is housed in a historic building with an old-timey 1920's soda fountain, so you can also grab ice cream and other treats. The taffy is pulled and spun on-site and comes in various flavors.
Eating Local in Galveston
When you plan your beachfront vacation in Galveston, bring your appetite! From locally caught shellfish to Cajun seasoning and Tex-Mex flavors, the Galveston food scene is diverse as it is delicious.
Whether you're a foodie looking to find a hole-in-the-wall taco bistro, the best seafood restaurants, or just hoping to indulge in some of these delightful Texas dishes on vacation, the local food in Galveston does not disappoint.