Texas is a land overflowing with scrumptious Mexican food, and Galveston is no exception. The island has everything from locally owned Tex-Mex cafes with budget-friendly lunch platters to popular authentic taco trucks and bars with margarita happy hours.
You'll be left with no shortage of burrito options while staying at a Sand 'N Sea vacation home. These delicious spots meet our tough taco standards and only serve to complement Galveston's vibrant dining scene.
The Original Mexican Cafe
A deeply ingrained part of Galveston's culinary history, The Original is Galveston's longest continually operating restaurant, still at its original location. This two-story south of the border treasure prides itself in offering a variety of flavors, from spicy Shrimp Diablo to the classic Chicken Mole Enchiladas. The Original is also an excellent choice for vegetarian options, with a whole section dedicated to plant-based classics like chalupas, enchiladas, and flautas. And if you're up early to catch a dolphin cruise? Fuel up with the huevos con chorizo!
Family-sized portions are perfect for sharing, and if your little dining friends aren't feeling like Mexican, a kid's menu supplements with chicken strips, corn dogs, and fish fingers.
Salsas Mexican Restaurant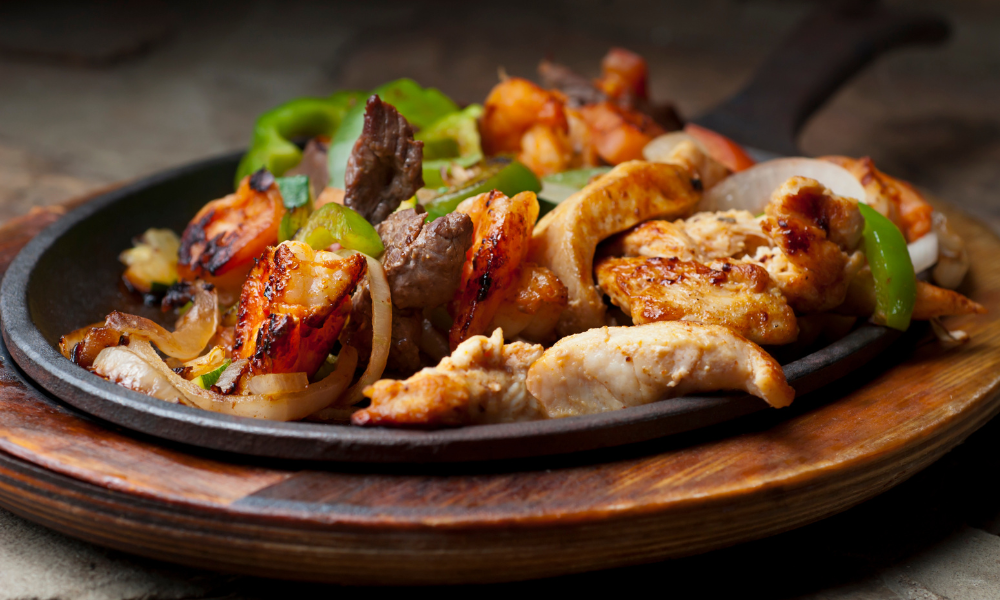 Located on the Gulf Coast between the 61st Street Pier and Historic Pleasure Pier, Salsas is a popular Galveston Mexican restaurant to dine at after a day on the beach. Open for lunch and dinner; the robust menu has all the big hitters like burritos, fajitas, enchiladas, tacos, and combo platters to mix your favorites.
This is a great spot to order Mexican-style seafood with a sea view (spotlight on the bacon-wrapped shrimp with peppers and the tilapia topped with a creamy sauce).
Fish Company Taco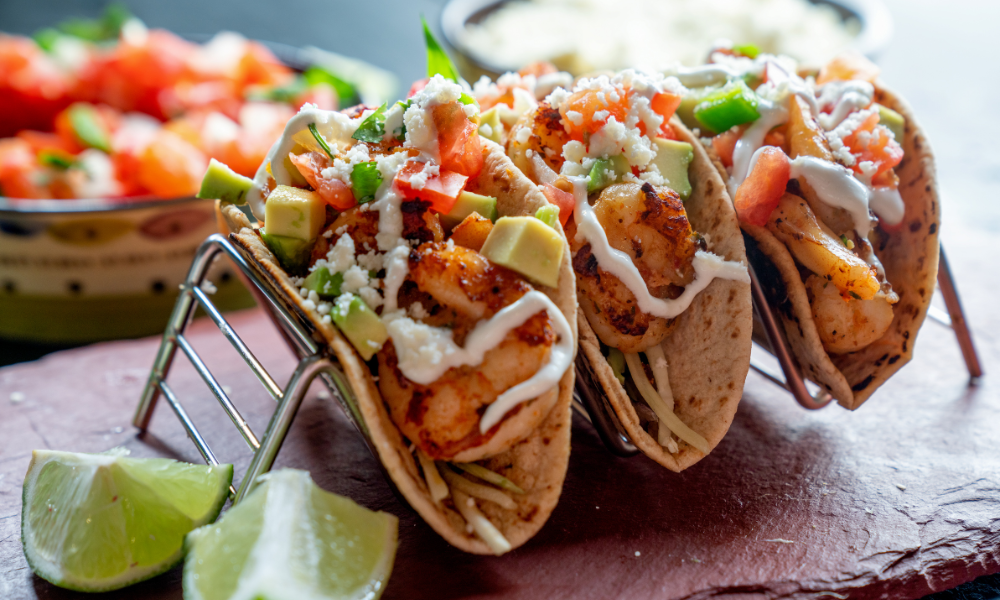 Just a five-minute walk from the Galveston Island Historic Pleasure Pier and the Seawall, Fish Company Taco is the perfect casual lunch stop during a day on the beach.
The tacos with a twist are infused with toppings that nod to Korean, Vietnamese, and Baja flavors. True to the name, the tacos can be stuffed with fish, shrimp, or a vegan substitute.
El Jefe Mexican Food Truck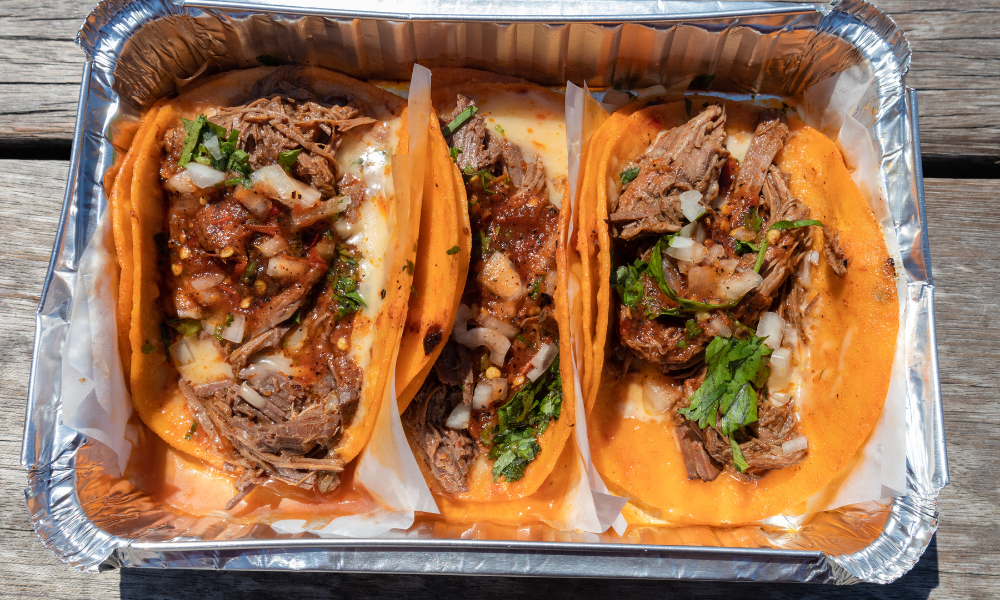 Looking for a casual but ultra-authentic Mexican meal on the go? You can't go wrong with El Jefe Mexican Food Truck. This street food eatery on wheels has a covered patio for outdoor seating if you want to dine onsite.
Tacos, quesadillas, and tortas are on the menu, and you can pick your own meat fillings like chorizo, birria beef, or al pastor pork. Sometimes a classic Galveston food truck is just what you need to hit the spot!
Vida Agave
Open for those late-night taco cravings, Vida Agave is a stylish Mexican eatery on the fringes of Downtown Galveston. Tacos like the Bang Bang Shrimp and Thai Chili Chicken are dished out with rice and beans or waffle fries, or you can order the Mexican-style Vida Burger topped with guacamole and chipotle aioli.
Come for happy hour to try the specialty margaritas and cocktails — the jumbo Fiesta Jarrito with tequila, grapefruit soda, and lime juice is perfect for sharing with a group.
Taqueria El Jardin Tropical
You can't talk about Mexican restaurants in Galveston without mentioning Taqueria El Jardin Tropical, one of the most popular food trucks on the island.
The casual Mexican fast food eatery on Broadway has outdoor seating and string lights, the perfect ambiance for chowing down on a barbacoa taco or stuffed burrito. The menu is simple and full of flavorful favorites, including quesadillas, gorditas, and tortas.
Bronco Burritos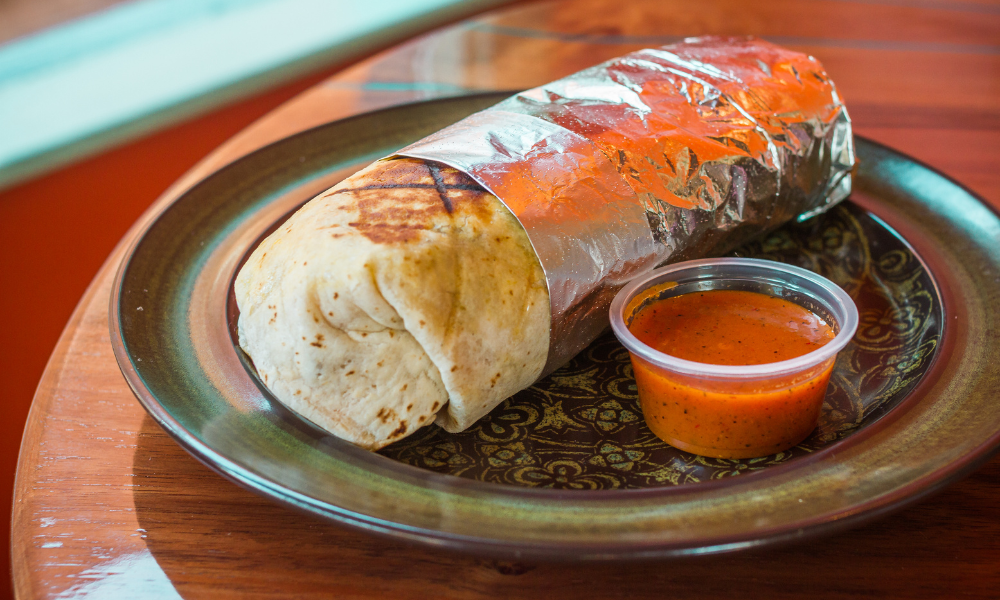 Bronco Burritos is only open early in the day, but you don't want to miss this one for super stuffed breakfast burritos.
You can customize your wrap with one to five fresh additions or go for the ultimate Bronco Burrito filled to the max with two eggs, cheese, bacon, refried beans, potatoes, and chorizo.
Taquilo's Tex-Mex
Tequila's Tex-Mex Cantina is a popular Mexican restaurant in Galveston in the Postoffice district downtown.
Open for lunch and dinner; the festive eatery is known for its specialty margaritas, like the Coco Rita infused with cream of coconut and pineapple juice, and the Sangrita, a sangria and margarita mashup. The fajita menu is also a stand-out, with options to order the sizzling plate with shrimp, chicken, beef, veggies, or a mix of all four.
Pennie's Tex Mex Take Out
Tucked into a residential neighborhood, Pennie's Tex Mex Take Out is an easy-to-miss but highly-rated local eatery. The menu here is a fun mix of two Texas staples — barbecue and Tex-Mex. On the barbecue side, you can order plates of brisket, ribs, sausage, or chicken with sides like rice, potato salad, and mac and cheese. Or, lean into the infusion and order the tacos stuffed with barbecue meat.
As the name implies, you can grab the food to go for a patio picnic back at your Galveston vacation rental, but there are also some outdoor tables if you'd rather eat on-site.
Cafe Canela
Open for breakfast, lunch, and early dinners, Cafe Canela is a colorful and festive favorite Mexican restaurant in Galveston. The menu offers traditional Mexican cuisine, including chilaquiles and migas for breakfast, carne adobada (marinated pork steak), chicken flautas, and customizable enchiladas for lunch and dinner.
You don't want to skip dessert here — try the plantains loaded with sweet toppings or the churro sundae.
Vintage Crown Michelada Bar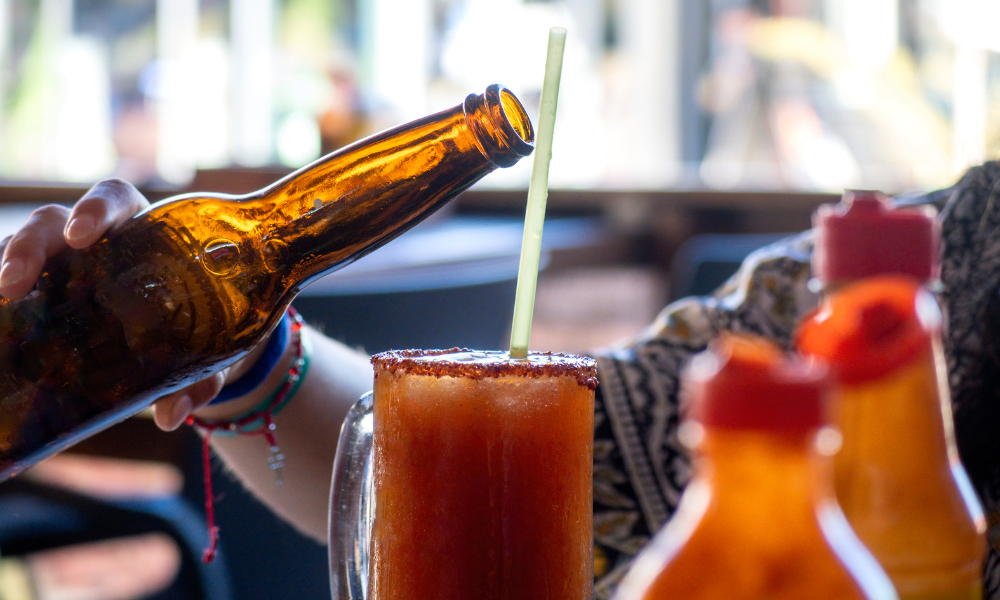 Located a block off The Strand in Galveston, Vintage Crown Michelada Bar is a convenient place to stop for drinks and snacks while sightseeing downtown. 
The specialty here is the Michelada drink, a Mexican cocktail of beer, lime juice, and assorted spices and sauces. You can grab snack cups of fruit, veggies, and chips or order a full meal of tacos, quesadillas, loaded taquitos, or tortas.
El Rey Restaurant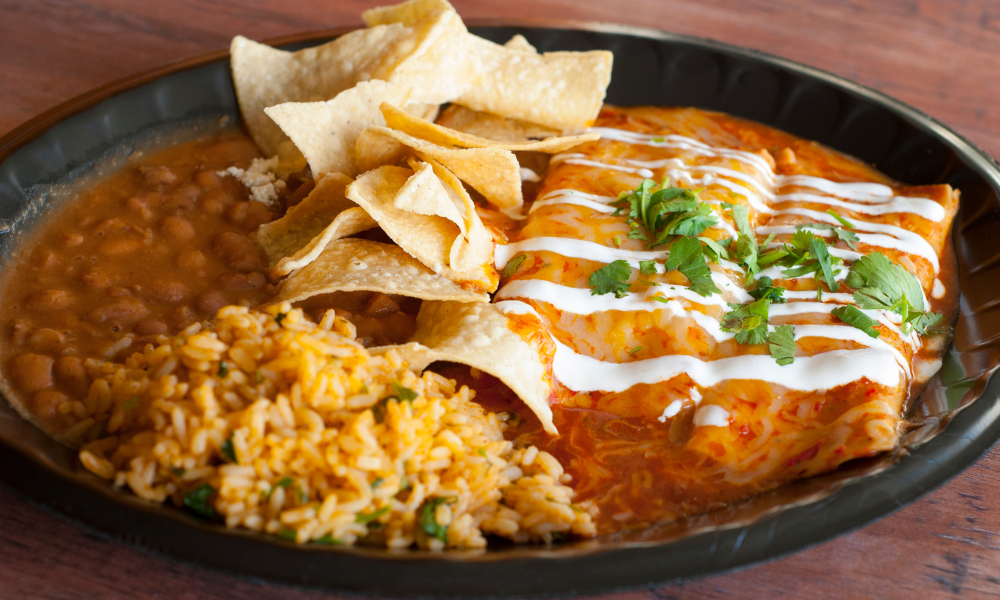 The family-owned El Rey Restaurant is a casual Mexican cafe open for breakfast and lunch with a menu of authentic Mexican food. For breakfast, you can't go wrong with the huevos rancheros served with bacon or chilaquiles, corn tortilla pieces mixed in with eggs, white cheese, and ranchera sauce.
The lunch plates come with rice and beans and include entrees like quesadillas, nopales (beef mixed with cactus), flautas (shredded chicken in crispy tortillas), or soft and hard shell tacos. The restaurant is cash or cash app only.
A Taste of Mexico in Galveston
Texas is known for its delicious Tex-Mex infusion. Galveston Island offers up a wide variety of tasty Mexican food with its many tasty taco trucks, colorful cafes, and festive lounges. Use this guide to make your Mexican foodie bucket list before you arrive at your Galveston vacation rental!