Does anything go better together than a hot day on the sand and a cold dripping ice cream cone? When you're enjoying a vacation on the beach in Galveston, it's essential to know where to go to grab a sweet frozen treat when staying at an island vacation home.
Whether you're looking for a vintage ice cream parlor in the Historic District or a quick spot near the Seawall to order simple cones for the kids, Galveston has an ice cream shop to fit the bill.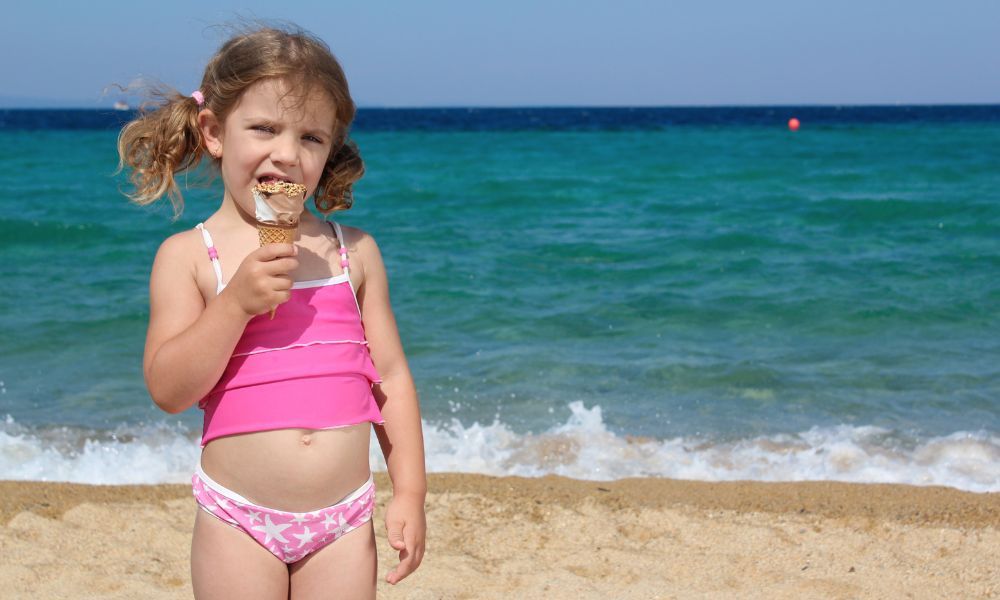 These cool dessert spots will satisfy your sweet tooth, from classic ice cream to frozen yogurt, Italian ice, and milkshakes. Join us on a mouthwatering journey to some of Galveston's best places to get ice cream.
Hey Mikey's Ice Cream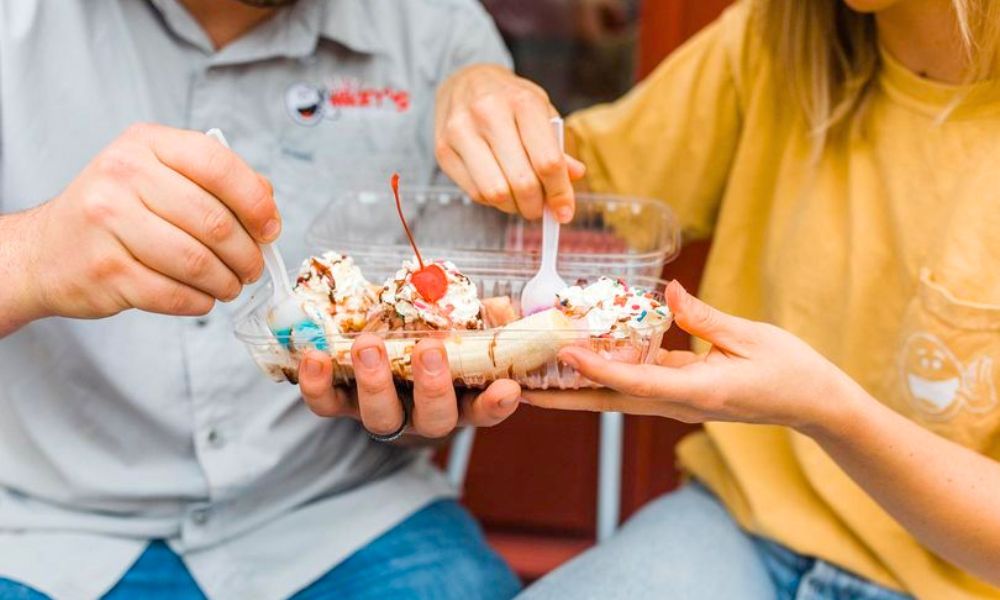 Located in the heart of Galveston's Historic District, Hey Mikey's is a favorite among families. The family-owned ice cream parlor is known for its artisanal approach, producing small batches of handcrafted concoctions using high-quality ingredients.
Hey Mikey's offers dozens of innovative and traditional flavors, including butter pecan, salted caramel, and Mexican hot chocolate. In addition to the scoops and cones, you can order creative desserts like a doughnut stuffed with ice cream or the "ultimate naughty nacho," a sharable bowl with waffle chips and four scoops of ice cream topped with cherries, whipped cream, nuts, and your choice of four toppings (think Oreos, marshmallows, and hot fudge).
La King's Confectionery
Walking into La King's Confectionery is like stepping back in time. This charming establishment in the Strand District is a historic candy store boasting a 1920s-style ice cream parlor.
La King's is a treasure trove of sweet delights, from hand-crafted saltwater taffy to old-fashioned candies. When it comes to ice cream, their hand-dipped cones, sundaes, malts, and shakes are some of the best on the island.
The store uses Purity ice cream, a local brand founded in 1889. You can order from a flavor menu that includes banana walnut, coffee bean flake, New York cheesecake, mint chocolate chip, and more.
La King's is the perfect ice cream stop while strolling through Galveston's Downtown Historic Strand Seaport Area.
Ben & Jerry's
A household name in the world of ice cream, Ben & Jerry's needs no introduction. And the Galveston location lives up to the well-known brand's reputation of delicious traditional and original flavors.
After a long day surfing at the beach, order Ben & Jerry classics like Chunky Monkey (banana ice cream with fudge and walnuts) or Phish Food (chocolate with marshmallows, caramel swirls, and fudge fish) and limited-edition and seasonal creations. In addition to scoops, the menu includes shakes, sundaes, and smoothies.
Located on the Seawall between the 61st Street Fishing Pier and the Galveston Island Historic Pleasure Pier, Ben & Jerry's is a convenient spot to grab a cold treat during a day on the beach.
Cordray Drug Store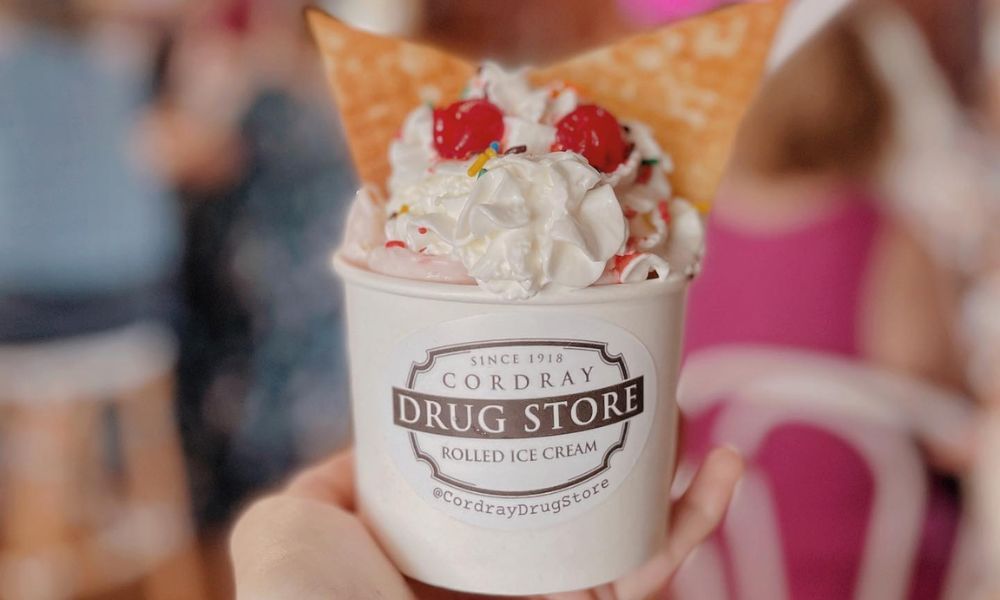 Ice cream with a hint of nostalgia is the vibe at Cordray Drug Store, owned by locals Ashley & Michael Cordray of "Restoring Galveston" HGTV fame. The shop is located in a historic building in the heart of Galveston Island. You'll find a classic soda fountain counter where you can order handcrafted ice cream concoctions.
The shop specializes in rolled ice cream, served up as a classed sundae, root beer float, affogato (espresso-topped ice cream), or brownie sundae. The drug store also has a shady patio, indoor and outdoor games, and a photo station, so it's a fun spot to escape the heat and hang out for a little while you enjoy a dessert.
Rita's Italian Ice
When summer heats up on the island, a refreshing Italian Ice beverage from Rita's is the perfect way to cool down. Enjoying that bike rental while exploring the Galveston Seawall? This spot near the 61st Street Pier and Galveston Beach, is ideal for sweet treats during a day on the sand.
Rita's offers a wide selection of fruity and creamy Italian Ice flavors. This specialty dessert is a tasty alternative to traditional ice cream, featuring flavors like tangy lemonade, tropical pina colada, cherry, or banana.
If you're craving creamy, opt for one of the custard dishes like rich chocolate, vanilla, or orange cream.
Marble Slab Creamery
Looking for a customized ice cream experience? Marble Slab Creamery is the go-to destination. The popular chain offers a unique concept, allowing customers to create their own ice cream masterpieces.
Choose a base flavor like dark chocolate, cheesecake, or blue cotton candy. Then, select from various mix-ins, including fruits, candies, sauces, and nuts. The ice cream combo is mixed on a marble slab, creating a personalized dish just for you.
The Galveston location is located on 61st Street, just a couple of blocks inland from the fishing pier and beach.
Orange Leaf Frozen Yogurt
Though it might be ice cream's slightly less popular cousin, you can't go wrong with froyo when you're in the mood for a lighter and healthier chilled dessert. Orange Leaf Frozen Yogurt is the perfect spot to try it on the island, with a Seawall location just steps from popular Galveston beaches.
Known for its self-serve concept, the shop offers various frozen yogurt flavors, from classics like chocolate and vanilla to refreshing tropical tastes like coconut and orange to more decadent blends like red velvet and birthday cake. You can always expect to find a few rotating seasonal options in the mix.
Sweet Scoops at the Pleasure Pier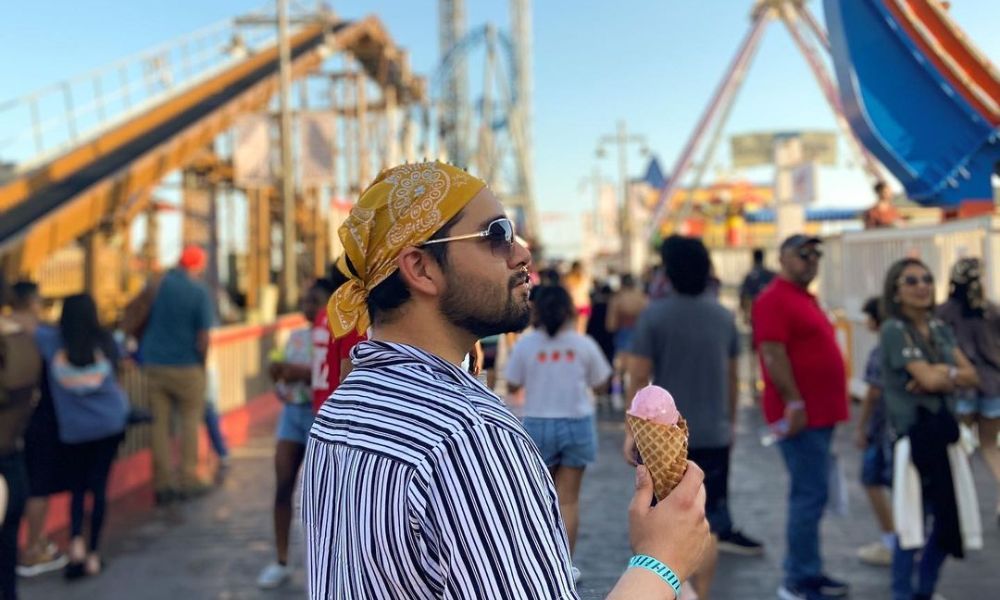 Address: 2501 Seawall Blvd, Galveston, TX
Website: pleasurepier.com
Located at one of Galveston's most popular attractions, Sweet Scoops is the spot to grab a cone between thrill rides and carnival games at the Galveston Island Historic Pleasure Pier. The menu here is straightforward, with popular flavors dished out in a waffle cone, but you can also order shakes, malts, and sundaes if you're in the mood for something a little different.
Since you need a pier pass or ride pass to access the Pleasure Pier, this isn't the best spot to casually pop into on a beach day, but it is the go-to Galveston ice cream counter when you visit the attraction.
Cool off With Ice Cream in Galveston
Nothing pairs better with a hot day on the sand than a cool, frozen treat, and Galveston is a paradise for ice cream lovers. Grab a cone to cool off on the beach, or pick up some frozen desserts to enjoy back at your Galveston vacation rental with these top ice cream spots!