Sandy beaches, amusement parks, water slides, museums — Galveston is packed with family-friendly activities and entertainment. Whether traveling with tiny tots or teens, there are tons of fun things to do in Galveston with kids in every season.
Take a walk along Seawall Boulevard, browse the unique shops and eateries in Historic Downtown Galveston, or take advantage of the many tourist attractions this barrier island offers. The best part? Everything's an easy coastal drive away from your Galveston vacation rental.
Why Visit Galveston With Kids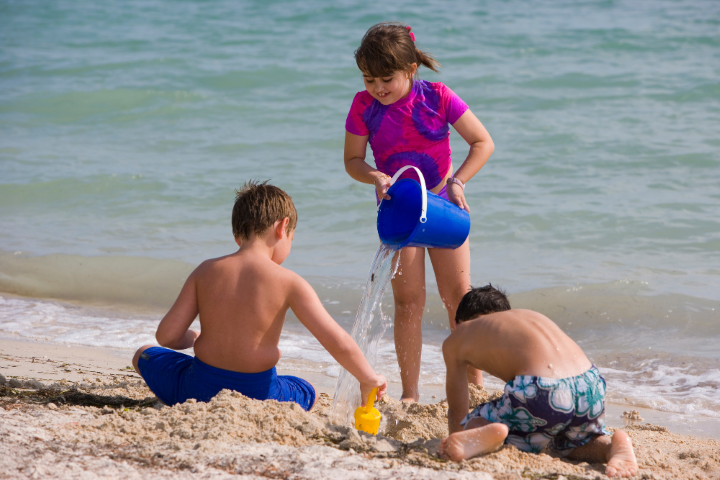 Galveston is a great year-round getaway from Houston, which is less than an hour away. The best getaway destinations have variety, walkability, and an impressive stretch of beach. Galveston ticks these boxes and more!
Visiting during the spring or summer school breaks? Cool off from the heat at water parks with lazy rivers and surf simulators. Or, head indoors to learn about the American frontier at a Western-themed museum and watch penguins playing at the aquarium.
When the weather is a little cooler, the nearby state park is a great spot for hiking or kayaking. In addition, festivals fill the streets of Galveston's Historic Strand District year-round.
If you're looking for the best things to do in Galveston with kids, this list of seventeen activities and attractions around the island is a great place to start.
Rides at the Galveston Island Historic Pleasure Pier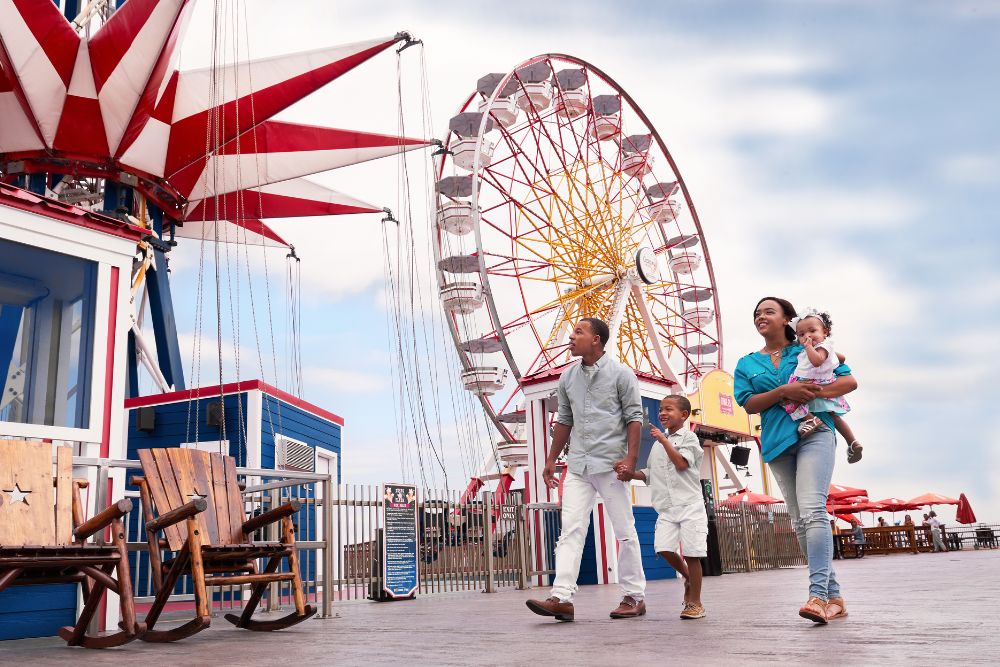 The Galveston Island Historic Pleasure Pier is one of the top family attractions in the city, with fun rides and carnival games for all ages.
Located at 25th Street along the Galveston Seawall, and extending out into the Gulf, this family-friendly amusement park also has shops and eateries, including a Bubba Gump Shrimp Co. restaurant and casual grab-and-go spots to chow down on pizza, ice cream, and other treats.
If you're visiting Galveston with little kids, head to rides like the classic bi-level horse carousel, the pirate-themed mini Lil' Captain Wheel, and the spinning Texas Teacups.
Older children (and even adults) can get their thrills on the 230-foot-high Texas Star Flyer, the looping Cyclone that tips you upside down, and the Iron Shark Roller Coaster that boasts a vertical drop and speeds up to 52 miles an hour.
In between thrill rides and cotton candy, strolling along the pier offers some incredible views out over the Gulf. In addition, it's a great spot to watch the sunset in the evening.
Hours for the Pleasure Pier vary by season and week.
A Pier Pass is required to enter the boardwalk.
The all-day ride pack for families includes four passes.
Hike and Kayak at Galveston Island State Park
If you're looking for the best outdoorsy things to do in Galveston with kids, don't miss a day trip to Galveston Island State Park.
The 2,000-acre preserve is the last undeveloped section of the barrier island, with easy access to the bay and the beach. It's the perfect spot to feel miles away from the city without going very far.
Several hiking trails in the park wind through a landscape of marshes, bayous, and coastal prairies and are great for bird-watching.
You can also climb a couple of observation towers for sweeping landscape views. If you'd rather explore by water, rent kayaks or paddle boards from the on-site vendor to test out the park's paddling trails in the wetlands.
The Junior Ranger program here is also a great way to engage young adventurers in the environment. Head to the park's Nature Center to pick up a Junior Ranger Activity Journal and Explorer Pack filled with binoculars, wildlife guides, sketchbooks, and more fun gadgets for kids; then, head out on one of the walking trails to search for plants and animals.
Galveston Island State Park charges a $5 admission fee per person.
Children aged 12 and under are free.
Make sure to reserve a timed entry slot ahead of your visit.
Explore the Pyramids at Moody Gardens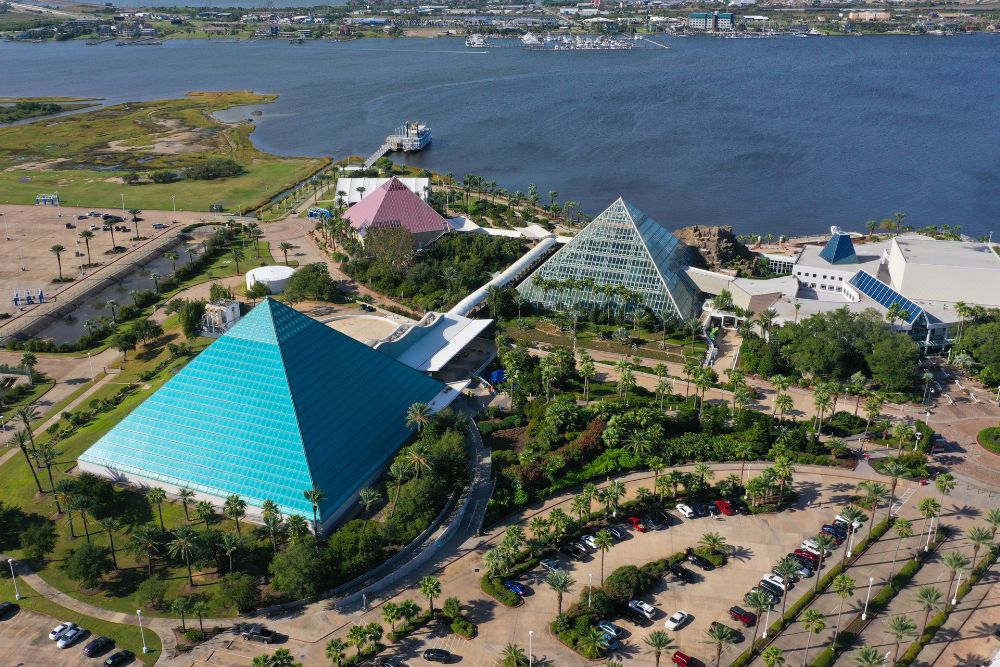 Moody Gardens in Galveston is easy to spot — just look for the three glass pyramids poking up from the bayside.
The large entertainment complex has everything from a spa and golf course to restaurants and paddlewheel boat cruises. But it's the trio of pointy pyramids that hold tons of family-friendly fun.
The Aquarium Pyramid is one of the largest aquariums in the region, with a 1.5-million gallon habitat for sharks, jellyfish, seals, penguins, and other sea creatures from the Gulf of Mexico, North Pacific Ocean, Caribbean, South Atlantic Ocean, and beyond.
The Rainforest Pyramid mimics the biosphere of African, Asian, and American rainforests, with hundreds of plants, free-flying birds, and endangered critters like Komodo dragons and Amazon River otters.
It's not only about animals! The third Discovery pyramid has a museum with interactive exhibits about music, math, and science.
There is an admission fee.
Tickets are available for individual attractions.
A value pass includes entrance to all of the pyramids, movies, and the Colonel Paddlewheel Boat.
Hours are 10:00 a.m. – 5:00 p.m. daily.
Play in the Sand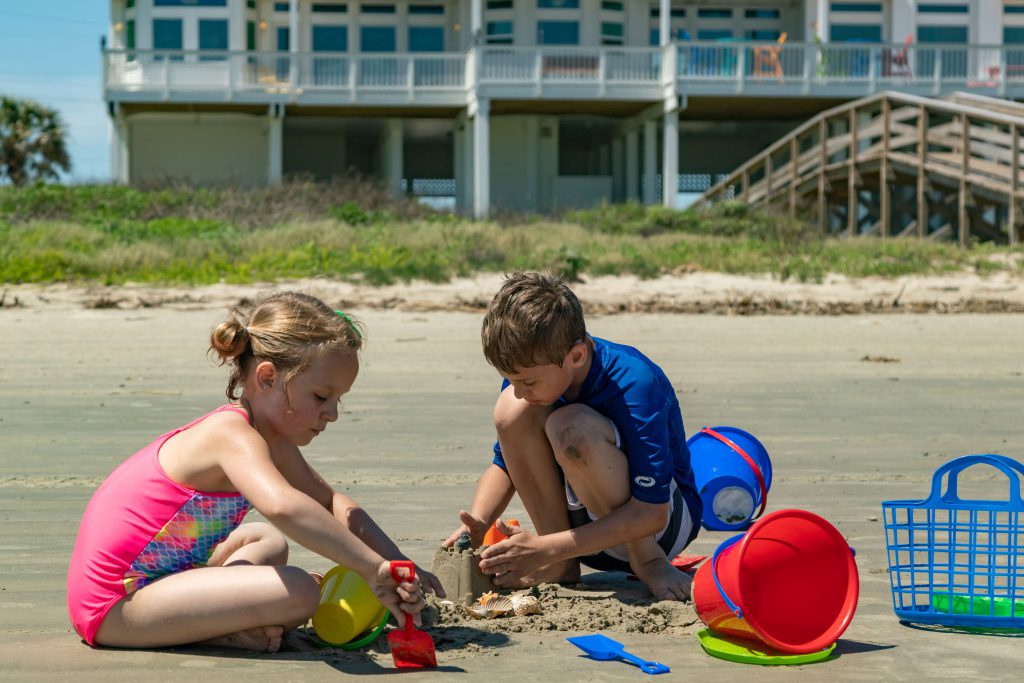 Can you even visit Galveston without spending some time playing in the sand and splashing in the waves? The island has over 30 miles of beaches on the Gulf of Mexico, so there are plenty of beautiful spots to pick from.
West End Beaches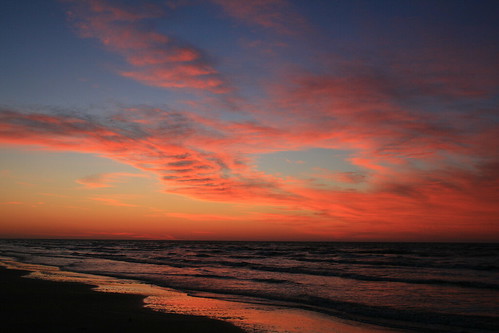 The West End beaches, in particular, offer tranquil shores with smaller waves and endless vistas of the Gulf Coast. Many of our luxury beachfront rentals are located on this peaceful stretch of shoreline.
Terramar Beach hosts one of our four-bedroom beachfront homes, Crab Shack, which features sweeping views of the Gulf, a fenced yard & patio level hot tub.
Jamaica Beach is home to another beachfront getaway, Buffalo Dunes, with two decks perfect for sunning or stargazing.
Sandhill Shores boasts large, luxurious getaways like The Posh Pelican, a beachfront retreat with a private dune walkover for easy access to the sand & surf..
Hanging out at the beach is one of the best low-key things to do in Galveston with kids. You'll only need to worry about building sandcastles and making memories on these beaches. Here are two other notable beach destinations in Galveston.
Stewart Beach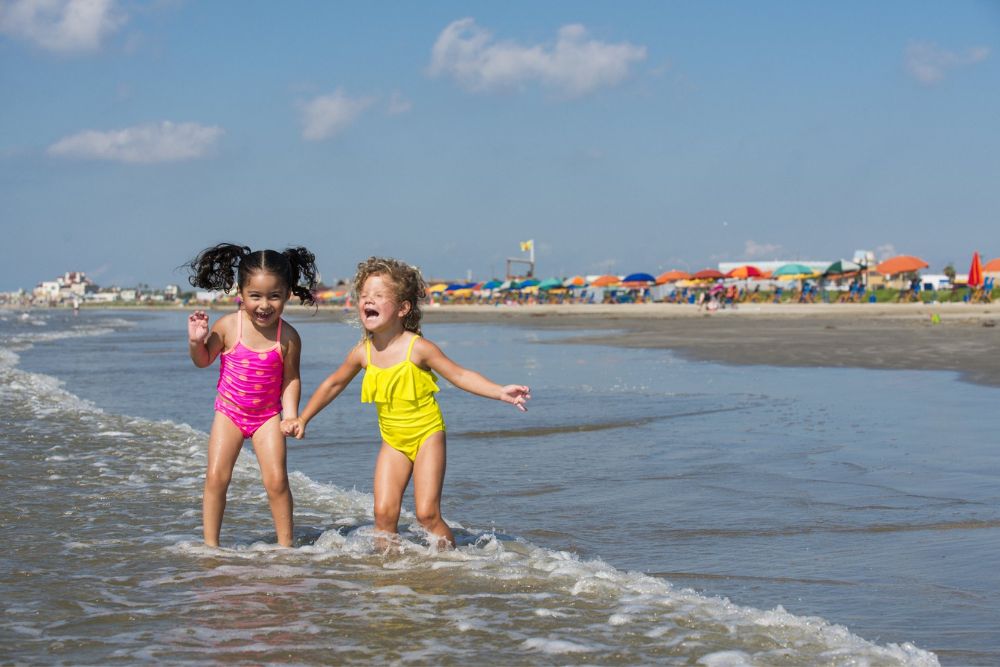 If you're visiting Galveston with kids, Stewart Beach is known as a family-friendly spot, with restrooms and showers, a snack bar, chairs and umbrellas for rent, and lifeguards on duty.
This beach is located near the intersection of Broadway Avenue and Seawall Boulevard toward the island's east side. There is a parking fee, but if you visit Galveston often, you can purchase a seasonal or annual pass to save.
East Beach
East Beach is on the far east end of Galveston and is home to the annual Sandcastle Competition put on by the American Institute of Architects.
The beachfront is wide and sandy. There are many family-friendly amenities here – showers and restrooms, a playground for kids, food and drink concession stands, beach gear rentals, volleyball, and an entertainment stage.
Board a Ship at Galveston Historic Seaport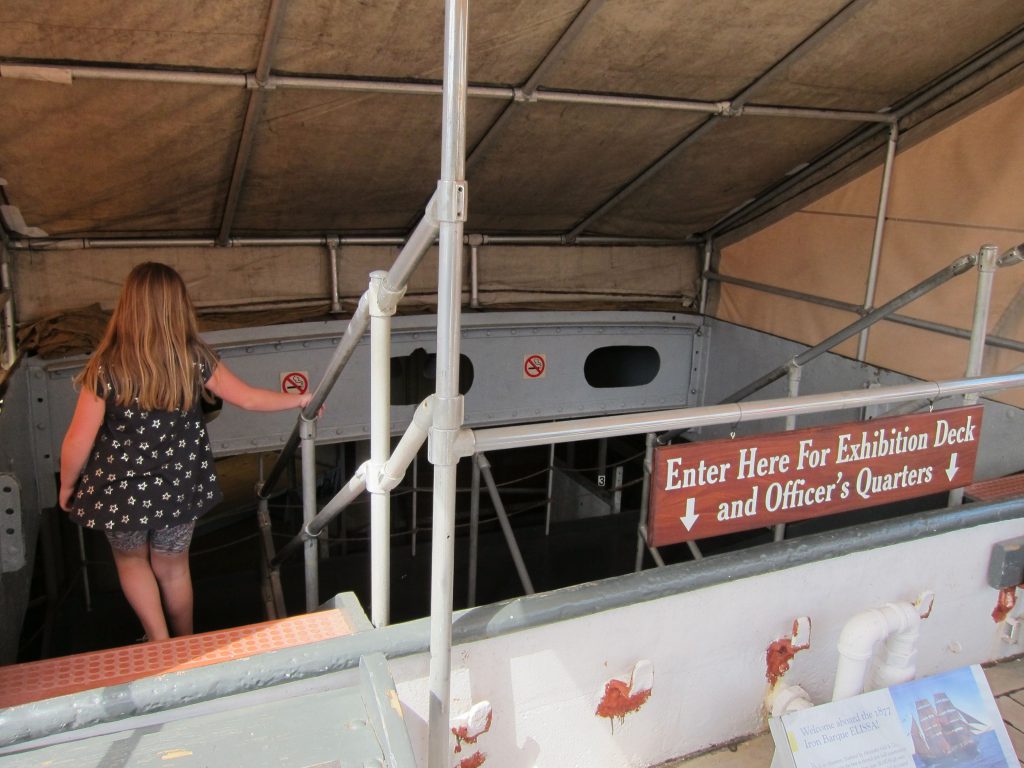 Located near Galveston's cruise docks; the Downtown Historic Strand Seaport Area is home to the 1877 Tall Ship ELISSA.
A National Historic Landmark, the ship was transported to Texas from Greece and restored into a floating museum in the 1980s. It's now one of only three ships of this kind in the world still able to sail.
An admission ticket includes an exploration of the ship and entrance to an exhibit about early immigrants in Galveston, including the importance of nearby Pelican Island.
There is an admission fee.
Children five and under are free.
Hours are 10 AM – 5 PM daily.
Walk and Bike the Galveston Seawall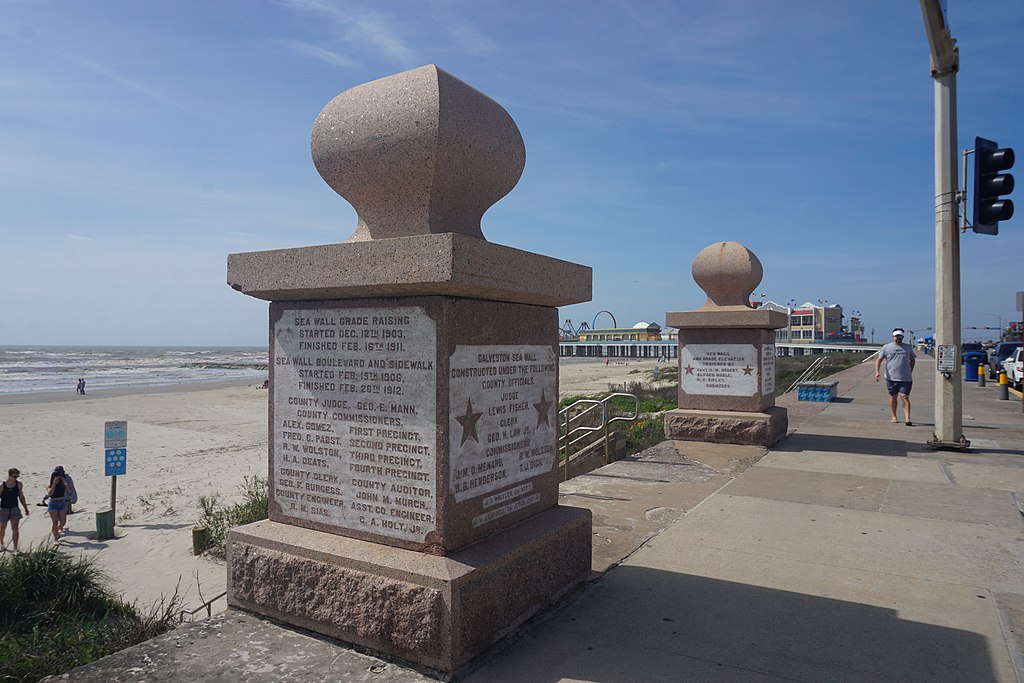 Walking along the scenic Seawall has been a favorite activity of visitors and locals alike for decades. Dating back to 1902, the historic seawall barrier serves a utilitarian purpose for flood defense but is also a great place to stroll and bike along the oceanfront.
Stretching for 10 miles along the Gulf coast, the Seawall zone includes beach access points, fishing piers, public restrooms, and many waterfront restaurants.
When you're ready to take a break from playing in the sand, grab rental bikes from a local vendor for a family ride along the Seawall. Surrey bikes are the perfect option for families who want to ride together. Some hold up to six adults and two kids, with a special bench for little tykes.
The 2.5-mile section between the 61st Street Fishing Pier and Galveston Island Historic Pleasure Pier is a great place to start for waterside parks and fun views, or you can head further west past Babe's Beach to ditch some of the crowds.
Visit the Galveston Railroad Museum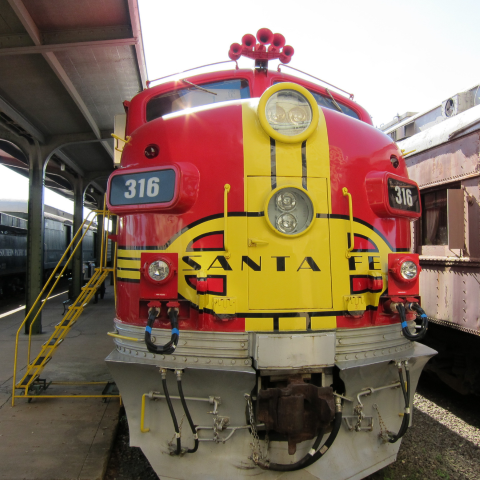 One of the best family-friendly things to do in town for train-loving kiddos is at the Galveston Railroad Museum.
Built on the 1896 Gulf, Colorado, and Santa Fe Railroad Depot site near the historic Galveston Strand, the museum has a collection of rolling stock and memorabilia. The current 1932 Art Deco-style depot houses interactive exhibits, a gift shop, and other train exhibits.
Outside on the 5-acre site, some 40 railroad vehicles are on display, including passenger cars, locomotives, cabooses, and freight cars.
In addition to admiring the real-life and model trains, visitors can hop on weekend caboose rides and join special seasonal experiences like the holiday "Polar Express" excursions with hot cocoa, dancing elves, and Santa meet-and-greets.
There is an admission fee.
Children two and under are free.
The museum has a self-guided tour, and a one-hour minimum is recommended.
Hours are 10 AM – 5 PM daily.
Discover and Play at the Galveston Children's Museum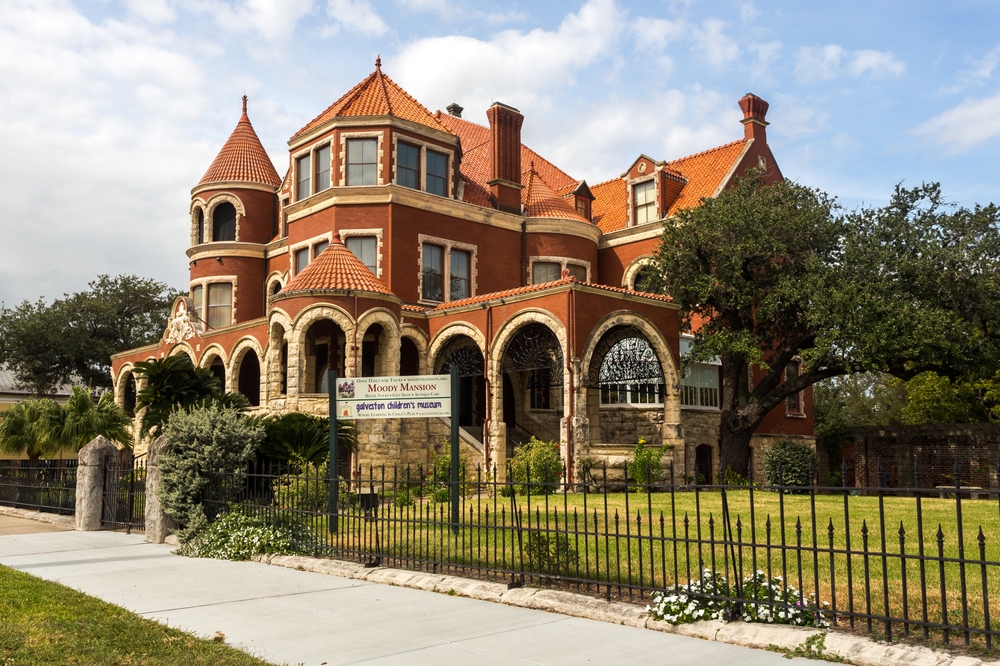 If you're looking for things to do in Galveston with young kids, the Galveston Children's Museum is a must.
Located on the ground floor of the 1895 Moody Mansion, a popular attraction on the island for historic estate tours, the museum is designed as a place for kids to develop their curiosity and creativity through play.
The exhibits here include a kiddie town with a fishing boat, a building zone with a Lego wall, an art center with clay and paints, and a tinkering space to construct and deconstruct everyday items.
Little performers will also enjoy putting on shows and watching puppet theater at the museum's stage. While most activities are geared towards ages 2 to 10, there is occasional programming for pre-teens.
There is an admission fee.
Children aged two and below are free.
Hours are 9:30 AM – 5 PM daily.
Ride the Port Bolivar Ferry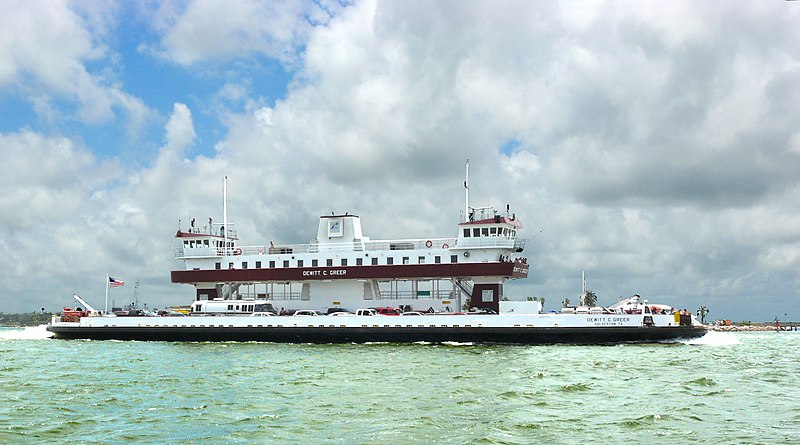 The Port Bolivar Ferry is a fun, free adventure for kids when touring Galveston.
Taking off from the Galveston Ferry Terminal on the island's northeast end, the car and passenger ferry shuttles back and forth between Galveston Island and the Bolivar Peninsula.
The ride only takes about 20 minutes each way, and you can use the opportunity to look for dolphins and other sea life as you cross the channel.
Once on the Bolivar Peninsula, drive by the Point Bolivar Lighthouse, which is said to be haunted, on your way to Fort Travis Park, which has historical bunkers and picnic grounds on the Gulf Front.
The ferry is free.
Check the updated schedule here.
Tour a Submarine at the Galveston Naval Museum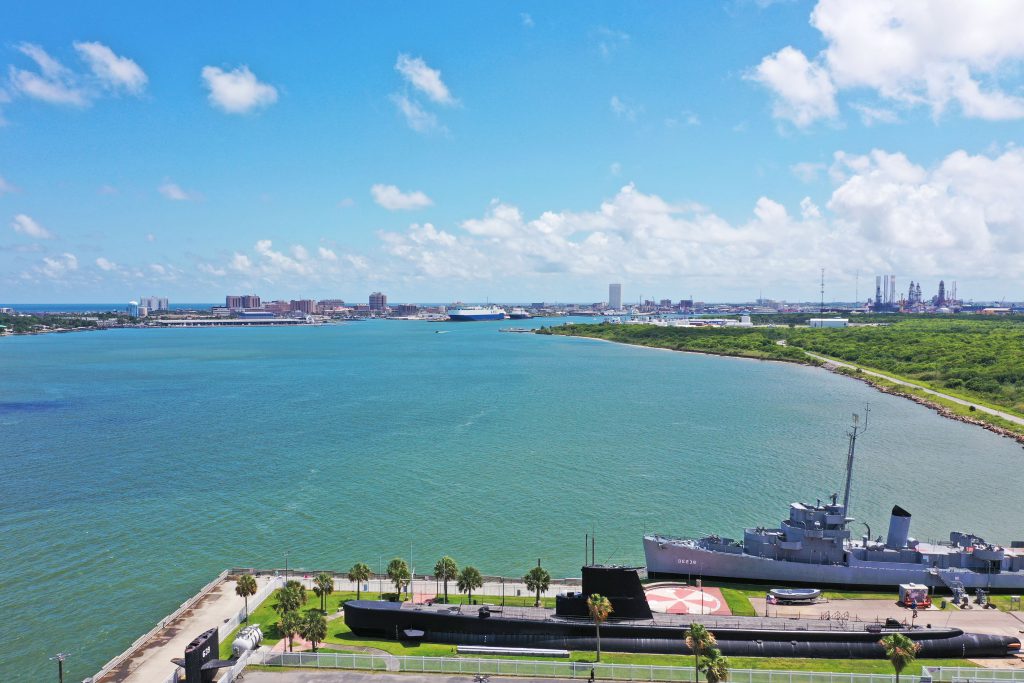 Have you ever wondered what it's like to board a submarine? The Galveston Naval Museum is just the spot to find out.
Located on Pelican Island, a man-made island off the Galveston harborside, the museum is home to the USS Cavalla, a World War II submarine, and the USS Stewart, a destroyer escort.
While here, you can explore the pair of watercraft at the museum on self-guided tours and visit the memorial park for submariners lost during World War II.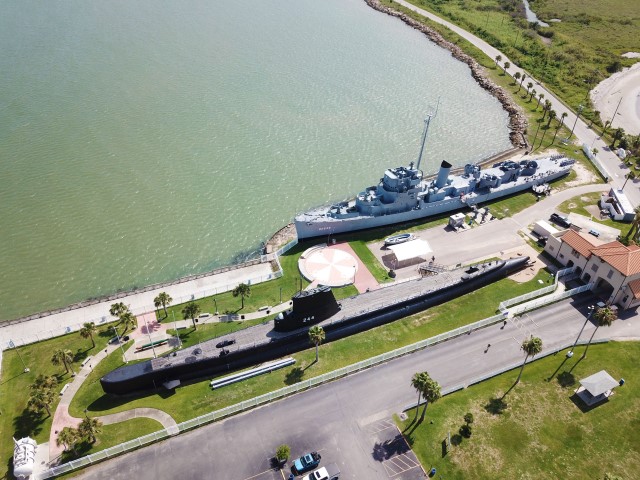 Seawolf Park also has a fishing pier, playground, and areas to picnic. You can easily spend a whole afternoon with kids watching all the freighters, shrimp boats, and cruise ships passing nearby.
Pelican Island is known as the "Ellis Island of the South" since it was used as an immigration station in the late 1800s and early 1900s.
There is an admission fee.
Children four and under are free.
Hours are 9 AM – 5 PM daily.
Slip and Slide at Schlitterbahn Waterpark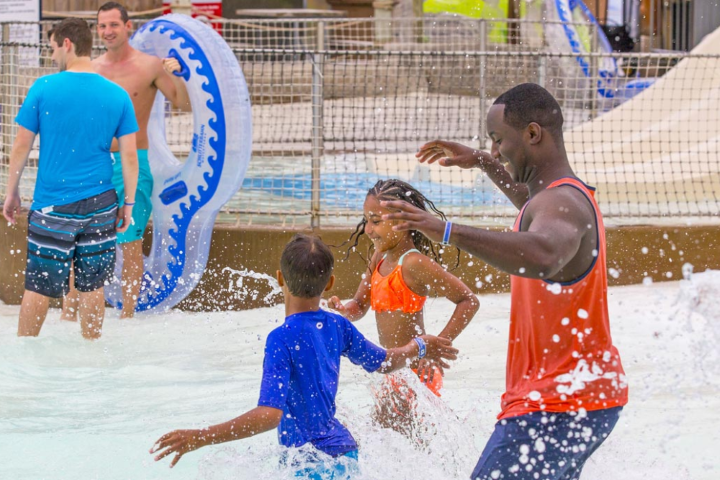 Nothing says a day of fun in the sun like a day at the waterpark!
Schlitterbahn Galveston is the perfect place to splash around, slide down, and cool off from the Texas heat. The water amusement park is located near Moody Gardens and has everything from lazy rivers to thrilling water coasters.
If you're visiting with little tots, head to the Wasserfest kid's zone for a play boat and spray jets in the shallow water splash pad, the Treasure Island kiddie pool for a pirate ship with mini slides, or the Tiki Tikes area for a fun tiki hut with a water dump.
Bigger kids will have fun on the Banzai Pipeline body slides, Boogie Bahn surf simulator, and tube slides like the Guada Loopy and Loopy Luge.
To elevate the day, you can even rent a private cabana for the whole family and enjoy a shady area with seating, bottled water, a safe, and meal packages delivered by a personal host.
There is an admission fee.
Children two and under are free.
There are seasonal passes available.
The park is open from April through September.
Step Back in Time at the Bryan Museum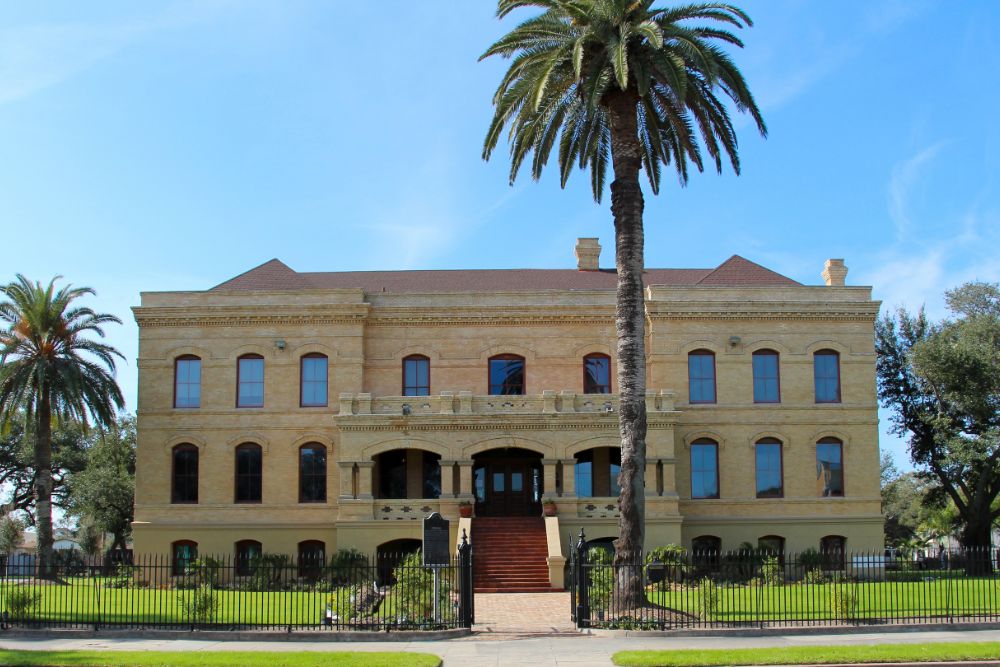 The Bryan Museum is all about Texas and the American West, so little cowgirls and cowboys will have a blast here!
The museum collection spans over 12,000 years of history, from the ancient inhabitants of the state to the Spanish Colonial era and early statehood. Even the building that houses the museum is a piece of history. It was built in 1878 and served as the Galveston Children's Home orphanage.
Among the thousands of artifacts, you'll see everything from ancient Native American arrowheads and tools to rare books and folk art to cowboy chaps, saddles, and spurs. The bottom level also holds interactive displays, including the chance to fire a kiddie-sized "cannon!"
There is an admission fee.
Children five and under are free.
Hours are 10 AM – 5 PM, Wednesday through Sunday.
Walk The Strand Historic District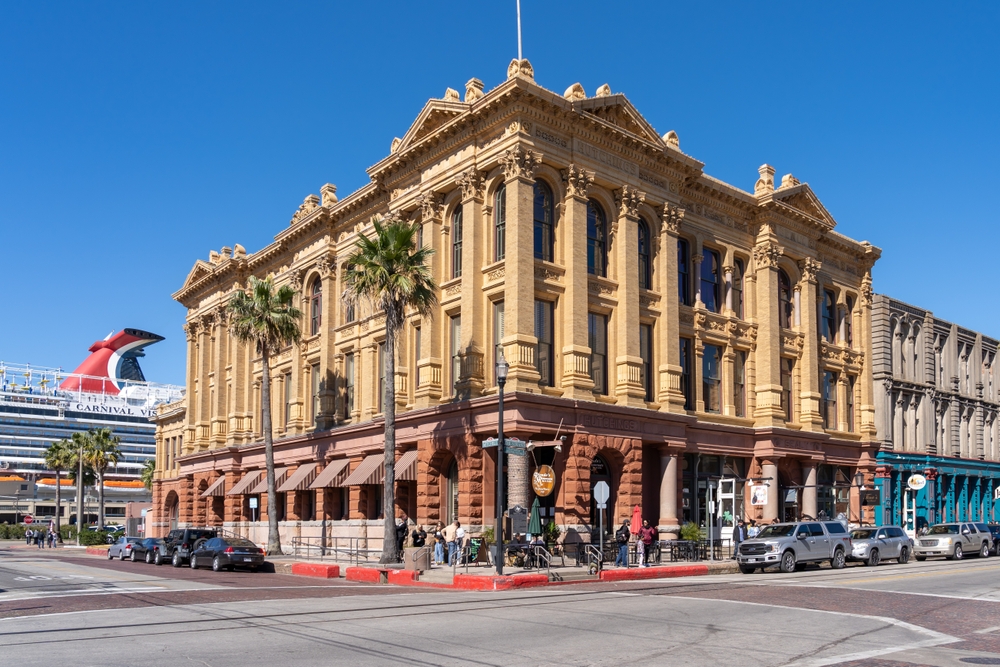 The Historic Strand District in Downtown Galveston is full of spots to eat, shop, and hang out. Since it's full of buildings from the late 19th century and early 20th century, walking along The Strand feels a bit like stepping back in time.
For a visit with kids, be sure to stop at Saengerfest Park for a game of jumbo chess and then step into LA King's Confectionery to watch them pull salt water taffy. Sample it, as well as ice cream, fudge, and other handmade sweet treats, in an old-timey soda fountain shop.
This district is also the central zone for city festivals like Mardi Gras! Galveston in February and Dickens on The Strand in December.
Ride the Galveston Island Trolley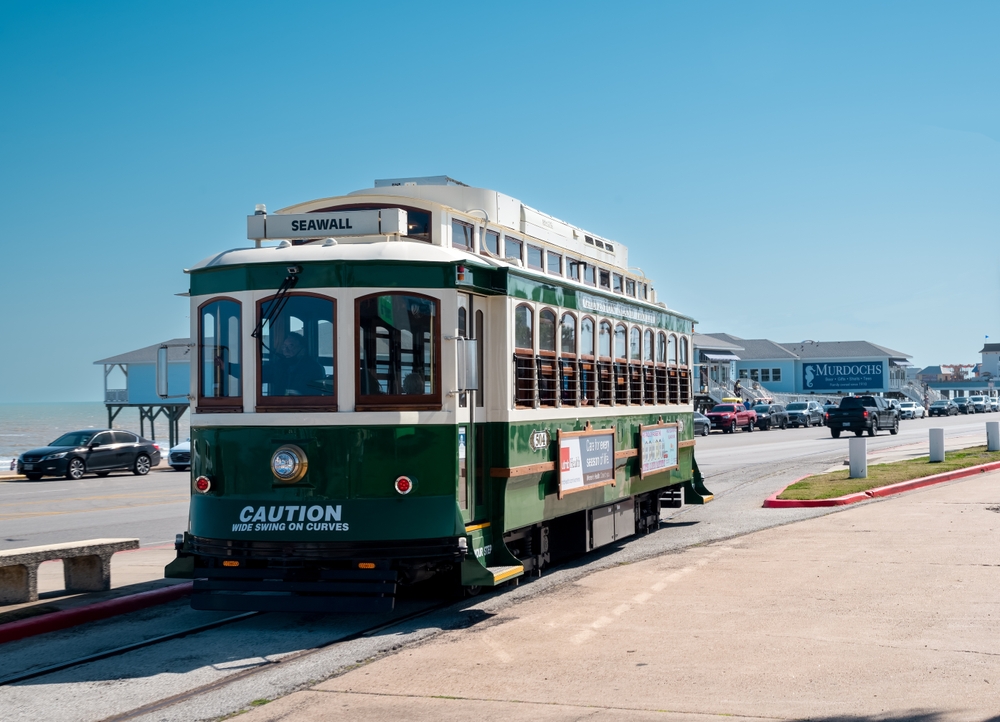 The Galveston Island Trolley is a convenient way to get around town and a fun activity to do with kids in Galveston.
Streetcars have been a staple on the island since the 1800s when mules first pulled them. Today, the system consists of vintage rail cars operating within the Historic District and buses resembling trolleys that run along the Seawall and connect from Stewart Beach to Moody Gardens.
Ride fare is $1 for adults, and $0.50 for kids (cash only).
Children under age five are free.
Check updated trolley schedules here.
Join a Dolphin-Watching Excursion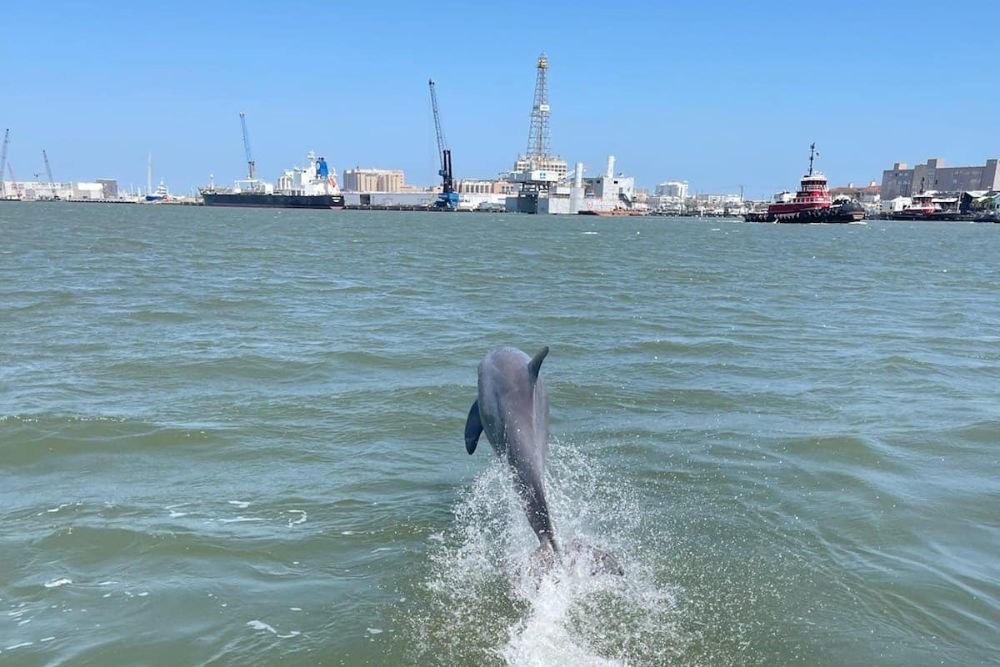 Bottlenose dolphins can be spotted in Galveston Bay for most of the year, and a dolphin-watching boat excursion is a great way to see them.
A few different companies offer boat tours, so check out the options at Pier 21, Galveston's historic seaport. Some, like Baywatch Dolphin Tours, even allow your doggie friends to join you on the adventure.
Most dolphin-watching tours cruise around Galveston Bay for about an hour, so even if you don't see dolphins, it's still fun to sightsee on the water and look for other sea creatures, birds, and boats.
Go Fishing at the 61st Street Fishing Pier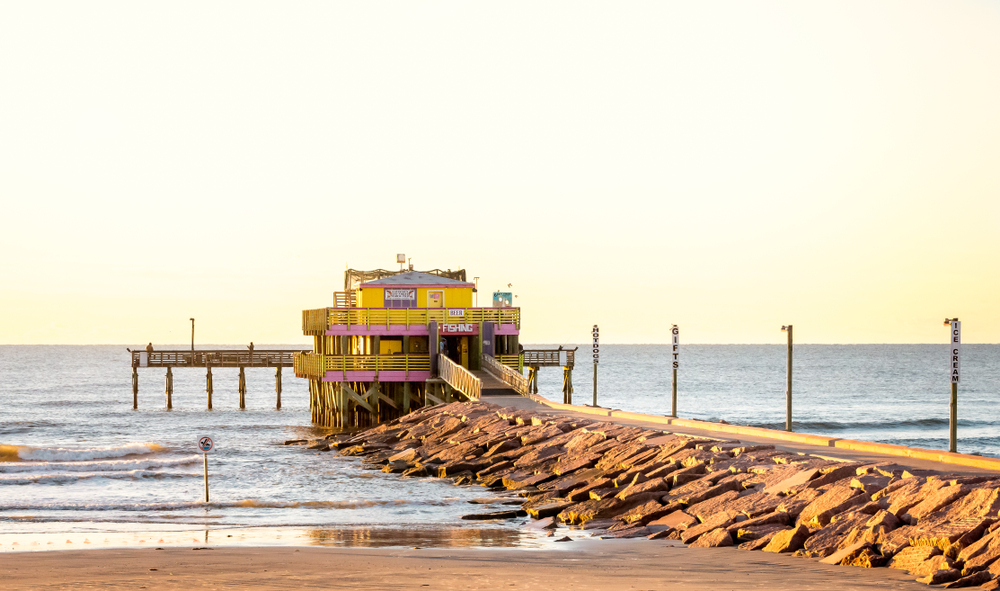 If you want to take the kids fishing in Galveston, there are a few spots to do so. The 61st Street Fishing Pier is a great place to start.
You have to pay an admission fee to enter the fishing zone, and the bait and tackle shop has everything you need to get started. There are even snacks and drinks for purchase if you plan to stay for a while.
Don't forget that you need a fishing license to drop a line in Galveston. You can grab one in person from the local Academy Sports or Walmart or apply online with the Texas Parks and Wildlife Department.
If you're looking to spend more time fishing, or just want plenty of private space to cast your line, check out a bay or canal front vacation rental. Reel in the catch of the day from the comfort of your own private deck!
Learn to Surf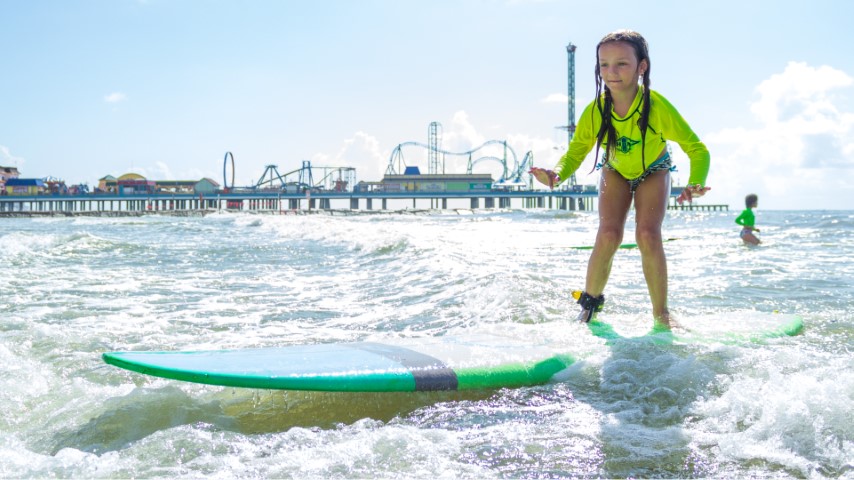 Beach vacations in Galveston are the perfect opportunity for kids to learn how to surf. The Gulf usually produces small and choppy surf on the coast of Texas, so you don't have to worry about massive waves most of the time.
Local companies like Ohana Surf and Skate offer lessons on the beach that include boards to practice on and an expert instructor. They also offer more intensive summer camps if you're lucky enough to be visiting for a longer beach vacay.
Galveston is The Ideal Destination For Families
As you can see, it's not just sandcastles and swimming in Galveston. From high-flying coasters and twisting and turning water slides for thrill-loving big kids to train rides and children's play museums for the tiniest travelers, every family member will find something they love during a stay in Galveston. Traveling with kids means bringing lots of luggage, so we recommend you attach a video doorbell to your room/apartment, to have control of visitors' faces, especially during the packed season, so you can peacefully enjoy the activities with your family.
Look no further than Sand N' Sea Properties to help you book a vacation rental close to all the family fun Galveston offers!
Be sure to also check out our guides on the best free activities in Galveston, the best spots to catch a sunset, and our three-day trip planner!