With its sun-soaked Gulf beaches, charming historic streets, and scenic coastal and bay views, Galveston is the perfect destination to explore on two wheels. Galveston bike rentals make it easy for visitors to pedal their way around to the island's attractions while enjoying the refreshing ocean breeze.
Various bike rental options are available, from beach cruisers to electric-assisted bikes and scooters to Surrey carts that fit the whole family.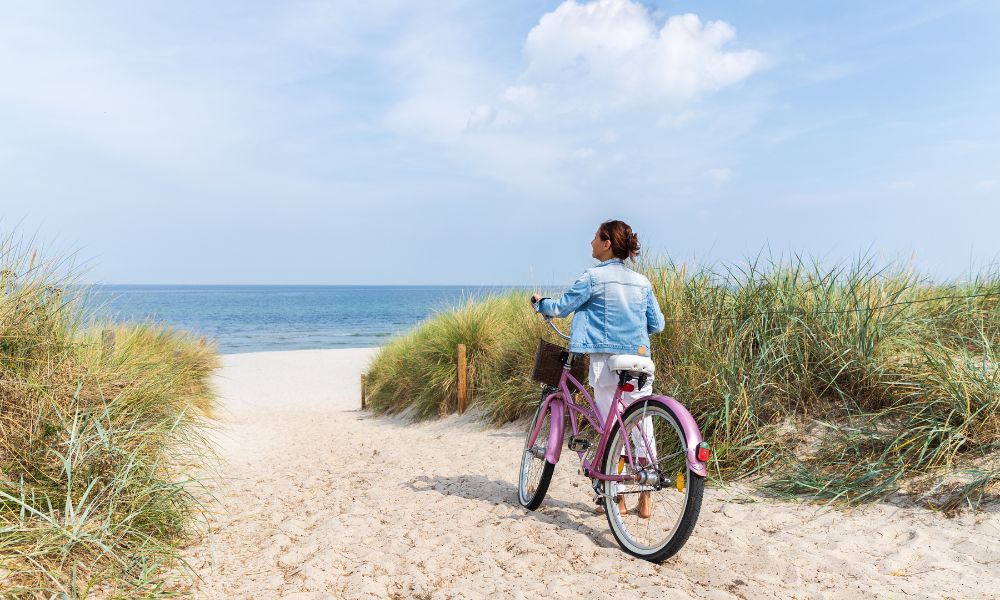 Below, we've rounded up some of the best Galveston bike rental shops and vendors that will help you get rolling around the island on your next getaway. By booking a stay at one of our stunning vacation homes, you'll be well positioned to explore the island by bike. From The Strand to the beach, there's plenty to see on two wheels.
Island Bicycle Company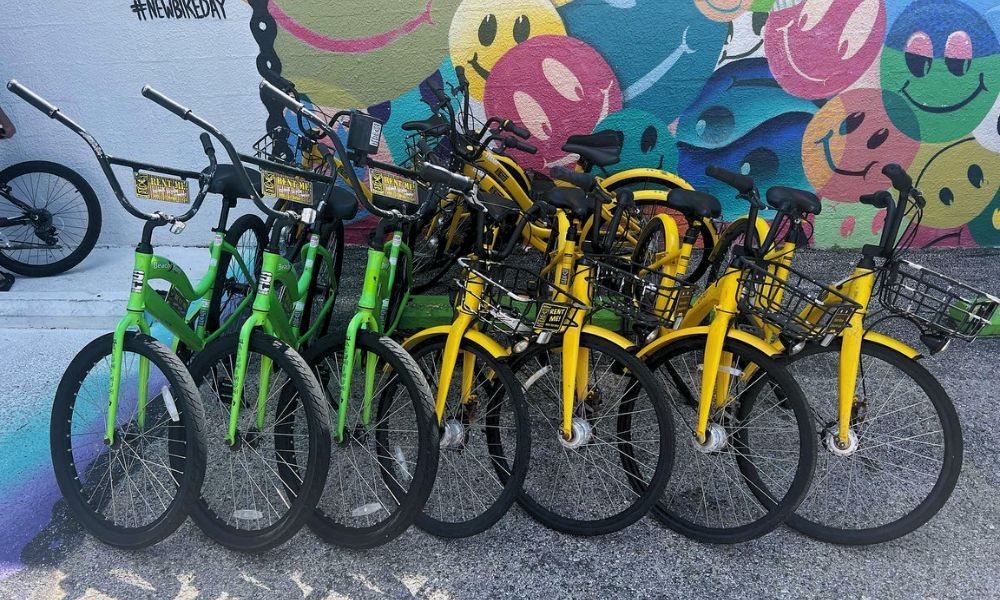 Island Bicycle Company is both a bike rental and service shop, so you can expect quality when you pick up a two-wheeler here. The large and family-friendly selection of rentals includes single and tandem cruisers, electric bikes, trikes with carts, bike trailers that fit two kids, and Surreys that can seat up to six people.
Feel like hitting the waves on a surfboard? The fun also extends to the sea since the shop also offers surfboards, kayaks, floats, boogie boards, and stand-up paddle boards for rent.
Island Bicycle Company is conveniently located along the Seawall between Steward Beach and the Historic Pleasure Pier, so it's easy to reach when you're hanging out at some of the island's most popular sandy spots.
Zipp E-Bikes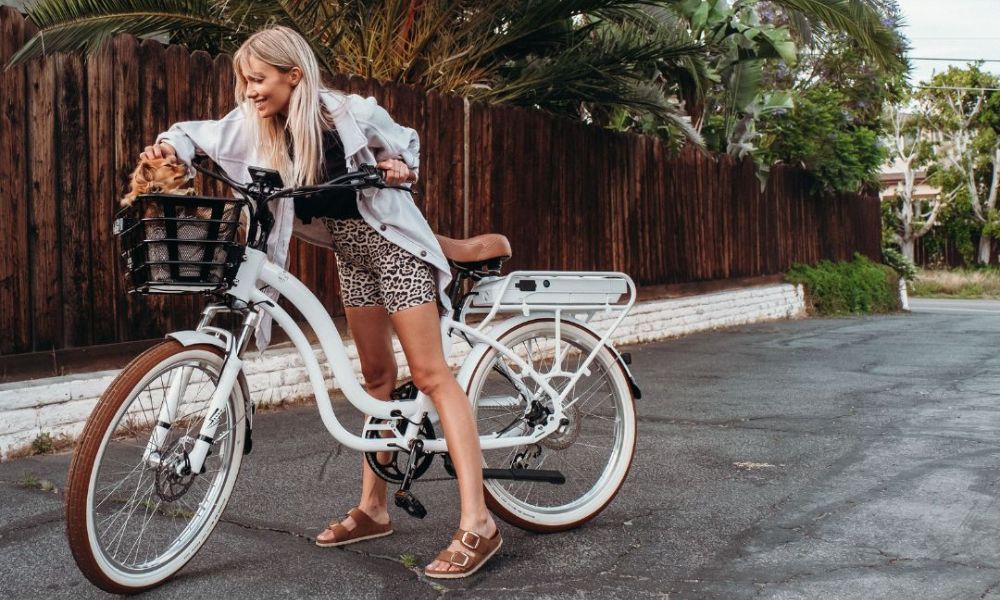 One of the few Galveston bike rentals not located on the Seawall, Zipp E-Bikes is in the Downtown Historic Strand Seaport Area. The company specializes in electric-powered bikes and offers both tours and rentals.
E-bikes make for an extra enjoyable and effortless ride for anyone more interested in sightseeing than pedaling. You can rent them from Zipp E-Bikes for an hour or up to a full day.
For something extra special, check out the guided e-bike tours that include a two-hour adventure around the island's historic neighborhoods, the Seawall, and the beaches.
Pedego Electric Bikes Galveston
Another excellent option for electric bike rentals in Galveston is Pedego Electric Bikes. This company is one of the top e-bike dealers in the country and has locations all around the U.S.
The Galveston shop on the Seawall offers a wide range of electric bikes, including city cruisers and fat tire models. You can also add extras like kids' trailers and pet carriers to make it easy to go biking as a family. The rental store is right by Stewart Beach, so it's convenient for exploring the island's East End.
Coastal Bike Rentals
Coastal Bike Rentals is the perfect choice if you're looking for a hassle-free bike rental experience. They offer convenient online reservations, allowing you to book your bike in advance and have it ready for pick-up upon arrival.
The fleet of rental options includes beach cruisers for one, electric bikes, scooters, and Surrey bikes that seat two to six people. Bicycles can be rented by the hour for a quick ride along Seawall Boulevard or for the whole day if you want to explore a little further.
Jungle Surf Rentals
Jungle Surf Rentals is a great choice for Galveston bike rentals on the East End. The bright yellow shop is located across the street from the sand near the popular Stewart Beach. Grab a rental and pull up to the shore for a beachside sunset!
You can grab a few different types of wheels at Jungle Surf, including traditional bikes, scooters, and Surrey bikes that fit the whole family. It's the perfect spot to take off on a ride along the Seawall.
Seawall Souvenirs and Bike Rental
Conveniently situated on the Seawall right by the 61st Street Fishing Pier, Seawall Souvenirs and Bike Rental is a one-stop shop. Rent a bicycle for a morning ride, grab some beach gear before hitting the sand, and even find unique souvenirs in the gift shop to commemorate your Galveston vacation.
Seawall Souvenirs has an assortment of bicycles suitable for riders of all ages. You can pedal along the Seawall or take off on a sightseeing ride through the charming streets of the Historic District. Rental options here include cruisers, e-bikes, and Surrey carts.
Where to Go Biking on Galveston Island
The Galveston Seawall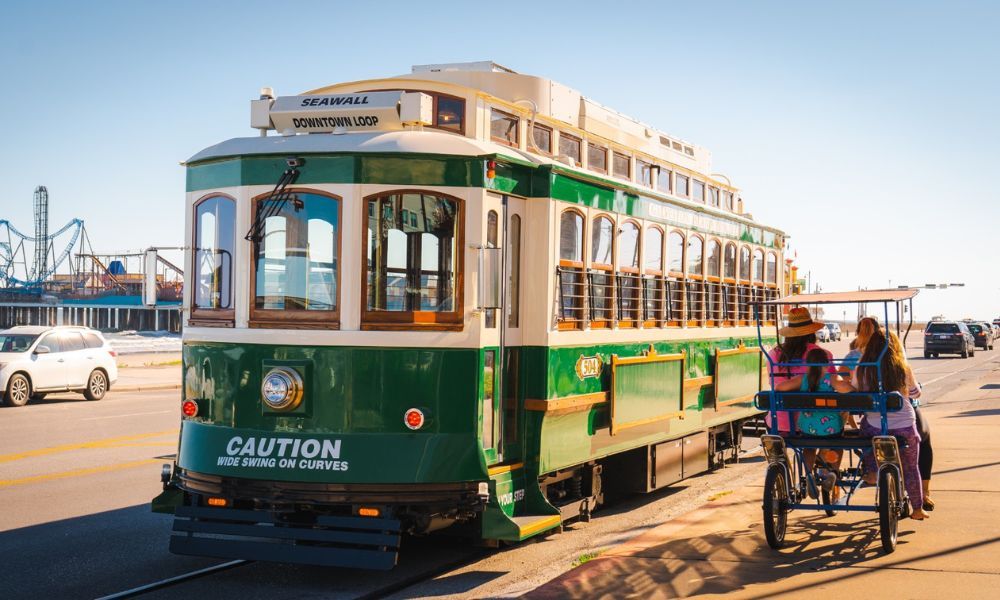 You'll see many families cruising along in Surrey bikes on the Seawall, a beautiful spot to enjoy the water views on a flat, easy cycling path. The Seawall runs for over 10 miles along the Gulf waterfront, so you can choose your adventure level here with either a quick ride to popular spots like Steward Beach, the Historic Pleasure Pier, and Babe's Beach or a full-day excursion to pedal as much of the route as possible.
Most Galveston bike rental shops offer all-day rental options if you want to spend several hours on the Seawall and stop for beach breaks.
Galveston Island State Park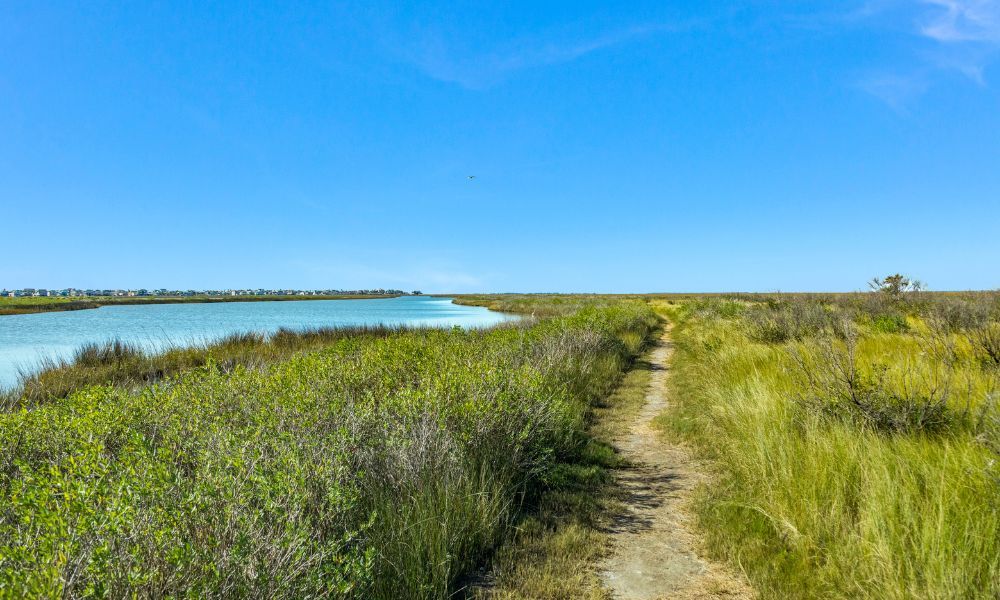 Galveston Island State Park is a beautiful spot to go biking in Galveston, with about 4 miles of designated trails plus roads that you can pedal along. Try the Clapper Rail Trail to see birds wading in the bayou or the Alligator Loop for a chance to spot gators in a freshwater pond.
Galveston Historic District
If you want to do some Galveston sightseeing by bike, you can't go wrong with a ride through the Historic District. Broadway Avenue is a great place to start, with beautiful old homes like the Moody Mansion (1895), Ashton Villa (1859), and Bishop's Palace (1892) lining the blocks.
Exploring Galveston by Bike
Renting a bike while staying at a Sand 'N Sea vacation home is an incredible way to soak in the island's beauty, discover hidden treasures, and enjoy the ocean breeze. Whether you prefer traditional beach cruisers, electric-powered models, or family-friendly Surrey carts, these rental shops offer a diverse selection to suit every taste and skill level.
So grab a bike, set out on the scenic paths along the Gulf and through the Historic District, and create unforgettable memories as you explore Galveston on two wheels.