Is there anything better than enjoying fresh seafood with an island view? We'd argue there's not! Luckily for you, that's exactly what you can expect during your vacation to Galveston Island. To top it off, our seafood is infused with delicious local flavors influenced by Southwestern, Creole, Cajun, and Southern culinary traditions, making it unlike any your taste buds have experienced.
The best seafood in town can be found at flip-flop friendly food trucks with casual bench seating as well as swanky Galveston restaurants with candlelit tables – and everywhere in between! We've rounded up a few of the top spots to find fried shrimp, crab cakes, and the catch of the day near your Galveston vacation rental. 
Let's dive right into the 13 best seafood restaurants in Galveston.
Vargas Cut & Catch
Located in historic Downtown Galveston, Vargus Cut & Catch is a high-end spot for steak and seafood. A local date night favorite, menu highlights include ahi tuna with a tangy ponzu sauce and red snapper topped with lobster cream sauce, all on a bed of angel hair pasta .
For a truly memorable experience, reserve a spot at the "chef's table," the bar top with a view of the open kitchen that seats just four people. The bar and dining room are only open for dinner Tuesday through Saturday. Vargus can get busy, especially on summer weekends, so make a reservation in advance through the website to ensure you get a table.
Katie's Seafood House
Located harborside on the Galveston Channel, Katie's Seafood House is a restaurant with deep island roots. Katie's fishing fleet was featured on the "Big Fish Texas" reality show on National Geographic network. They opened their own eatery in 2019, right next to the seafood market that's been a longtime favorite of locals & vacation guests since 1998. A casual yet stylish spot with a big, breezy dining deck, locally sourced seafood is the theme here, with fresh catches served straight from boat to plate.
The robust dinner menu has everything from grouper-topped salads and market chowder to the massive Full Hull Seafood Pot with enough spicy boiled shrimp, blue crab, sausage, and veggies to feed a table. For lighter fare, you can't go wrong with the Butternut Crab Butter Bisque.
The weekday happy hour is a great time to sample small plates of snapper wings and blackened shrimp queso with a frozen slushy.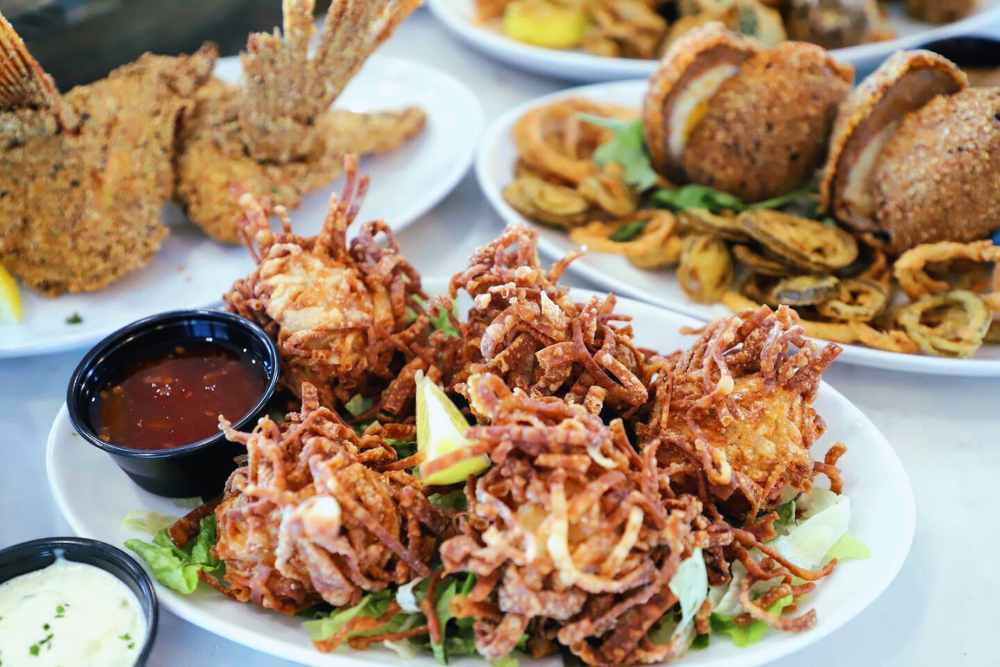 Shrimp 'N Stuff
An island staple since 1976, Shrimp 'N Stuff now has a food truck and two locations with fried shrimp, boiled shrimp, coconut shrimp, stuffed shrimp, shrimp gumbo, shrimp po'boy, shrimp salad, shrimp tacos — just about all ways you can eat shrimp.
The original location on Avenue O is a local favorite that's casual and colorful, with indoor dining and a shady deck. Shrimp 'N Stuff Downtown shares a similar menu but adds in some signature salads and serves a weekend breakfast.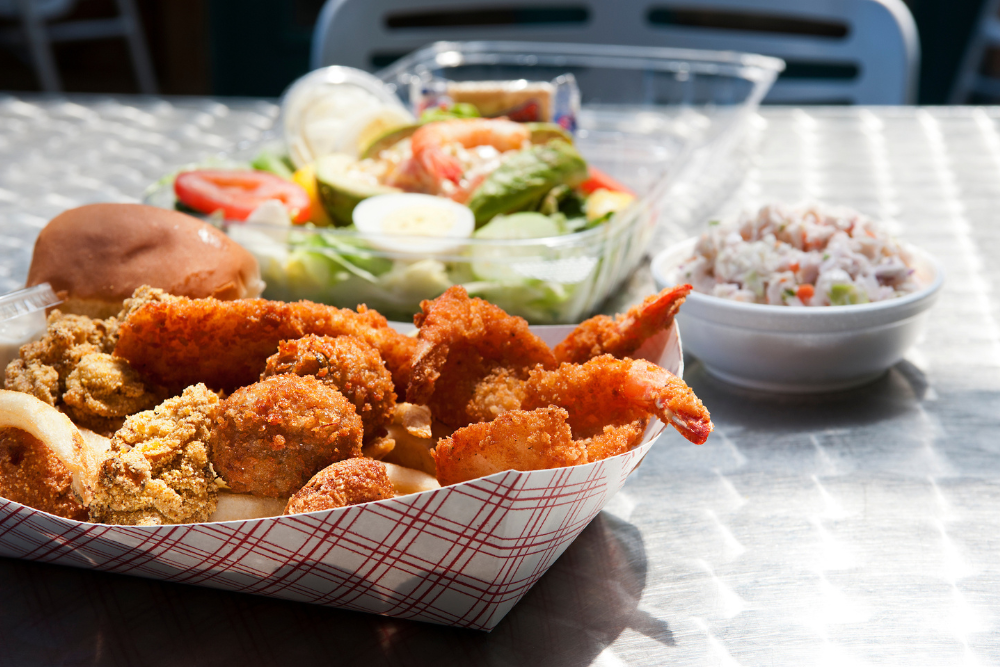 BLVD Seafood
Address: 2804 Avenue R 1/2, Galveston, TX
Website: blvdseafood.com
Price Point: $$
BLVD Seafood's prime location on the Seawall by the Pleasure Pier makes it a convenient and tasty option for beach days. The restaurant is bright and contemporary, with a bar and indoor tables that overlook the Gulf Coast.
The casual lunch menu features customizable bowls, wraps, and tacos with tastes of the Caribbean, Mediterranean, and Southwest. Dinner is a bit more "island casual", and adds a few more surf and turf options, including cedar plank salmon and signature Creole-style shrimp accompanied with cheesy grits.
Sugar and Rye
Sugar and Rye is a contemporary and stylish spot downtown known for its cocktail bar and brunch. Newly opened in 2022, dinner here is all about the seafood. With dishes like char-grilled shrimp and mango seafood ceviche to Southern-inspired mains like shrimp and grits and cornmeal-crusted catfish, there's something for every seafood lover in your group to dig into.
You also don't want to leave without trying a cocktail. The Best Damn Chocolate Martini makes the perfect end to a delicious meal with its Godiva chocolate liqueur and vanilla vodka blend.
Fish Company Taco
A casual spot about a block from Seawall Boulevard, Fish Company Taco has bench-style indoor seating as well as picnic tables outside. The creative, chef-driven menu is highly rated and inspired by Asian flavors. Most orders can be made with shrimp, the local catch-of-the-day, or veggies only.
While you don't want to miss out on flavor-packed fish tacos like the Korean with kimchi puree, a "not tacos" menu includes Tom Kha, a creamy Thai coconut soup, and daily chef's specials, all available to go. The Vietnamese iced coffee also makes a great beach drink on a sunny afternoon.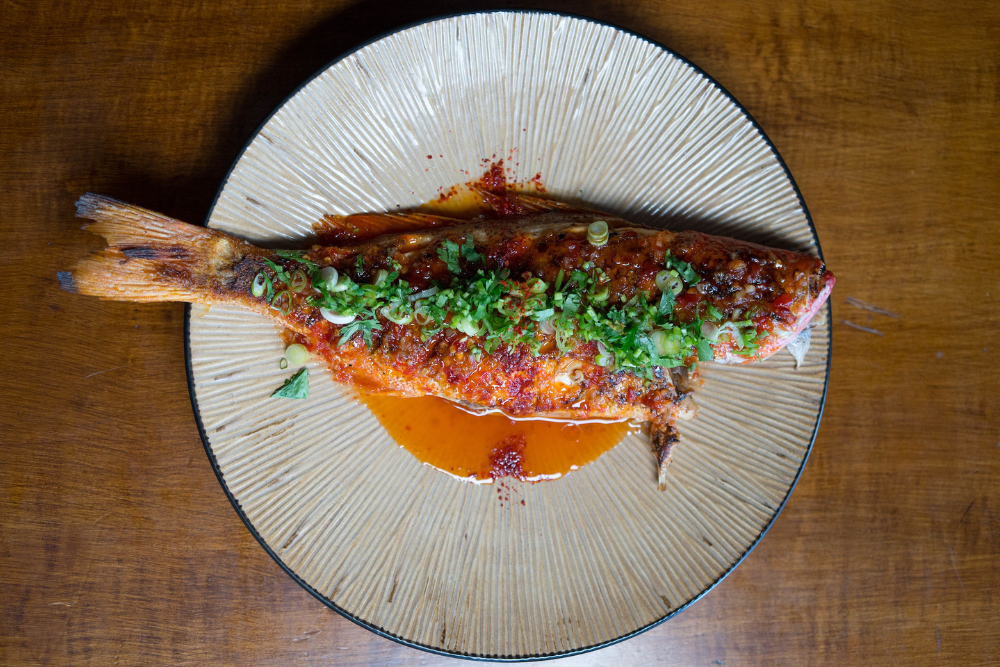 Shuck's Tavern and Oyster Bay
Oyster fans should head straight to Shuck's Tavern, a contemporary casual spot in Downtown Galveston. The venue serves Gulf and East Coast oysters and posts the daily options on an ever-changing menu board. The sampler is a great way to try them all, or choose from a variety of other delicious seafood dishes. .
The tavern's Sunday brunch menu adds oysters to breakfast favorites like the eggs benedict with fried oysters and the Oyster Rockefeller Omelet.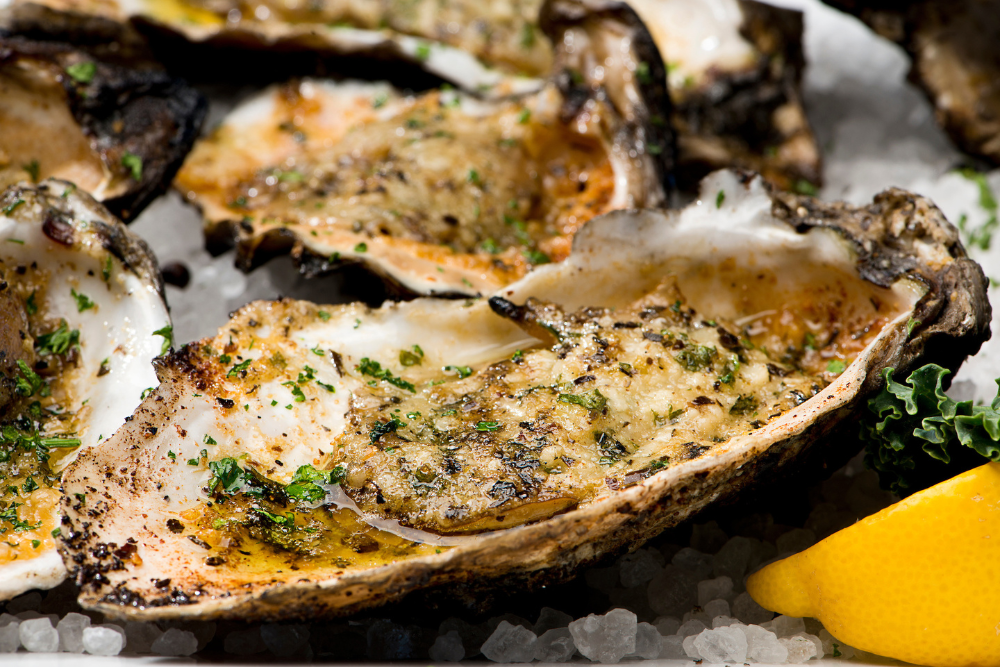 Miller's Seawall Grill
Miller's Seawall Grill is a longtime fan favorite with Galveston vacationers, thanks in part to its prime location. This waterfront spot is one of the best places on the island to catch a sunset and is just a half mile from the Galveston Island Historic Pleasure Pier, perfect for an easy stroll after dinner. The easy-to-spot yellow building has a cozy interior that feels casual and family-friendly.
The menu isn't only seafood — you can order burgers, sandwiches, and hefty breakfast platters all day long. The seafood menu shines, though, with build-your-own combos and platters featuring calamari, fried oysters, grilled shrimp, crab balls, chowder, and more.
Darlene's Shrimp Shack
Address: 1727 61st St #1097, Galveston, TX
Price Point: $$
For those looking for an authentic but more casual experience, Galveston has some great options for food trucks! Darlene's Shrimp Shack is a happening little food truck on 61st Street serving up heaven for shrimp lovers. Located next to Aunt Margie's Bait and Seafood Market, the flip-flop casual eatery has a few outdoor picnic tables and bar seats with a view of the water.
The wild-caught Gulf shrimp come seasoned in flavors like garlic parmesan, coconut, cajun, fajita, and sweet & spicy barbecue.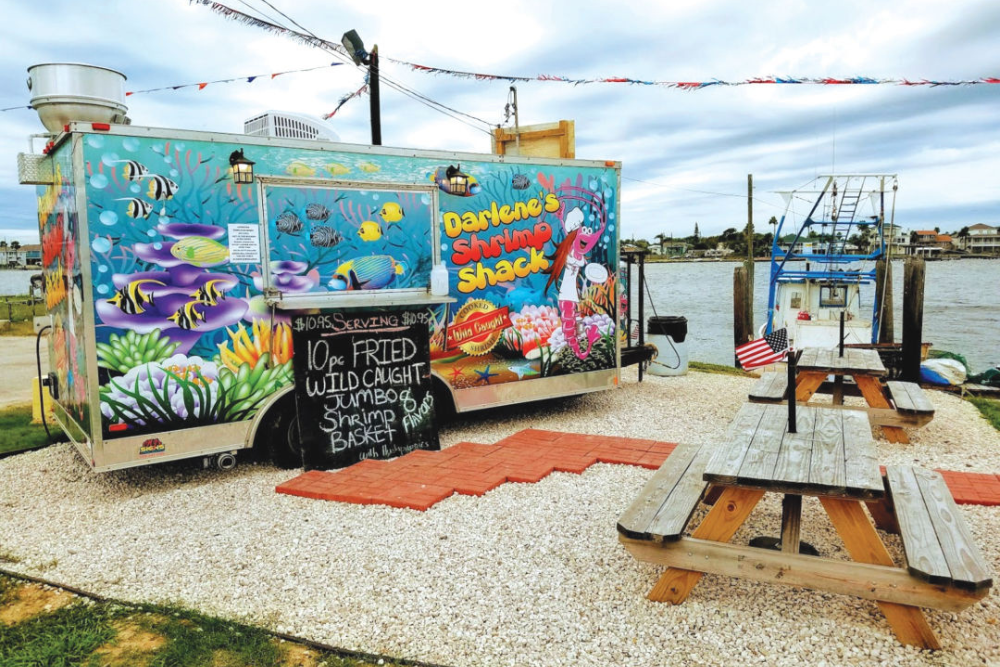 Shark Shack
If you're looking for seafood in the Historic Strand District, Shark Shack is the place to go. As their "Come for the food, stay for the party" tagline suggests, this lively spot has a colorful coastal vibe with casual indoor and al fresco seating.
House favorite starters include the Cajun Shrimp Fondue and the signature Shark Bites – shrimp stuffed with cheese, wrapped in bacon, and deep fried. Indulge in seafood specialties like tacos stuffed with Texas redfish and chipotle coleslaw, and don't miss the beach bar's watermelon, raspberry, and pineapple-flavored margaritas.
Coastal Grill
Right off the Strand District, Coastal Grill is a locally owned, contemporary casual eatery open for lunch and dinner. The menu adds a coastal flair to Southern and Southwestern favorites, dishing out fried seafood platters, shrimp fajitas, oyster tacos, seafood gumbo, and crab meat favorites like pan-fried lump crab with lemon sauce.
There is also a robust menu of burgers, sandwiches, salads, kabobs, and other non-seafood options, so this is a great choice for groups with diverse tastes.
Number 13 Prime Steak and Seafood
Number 13 Prime Steak and Seafood is an elegant spot on the Offatts Bayou. The vibe is refined but not stuffy, with indoor and terrace seating with marina views.
Boasting a boat-to-table menu and an onsite herb garden, the food here is fresh and local. Standouts on the dinner selections include a wagyu tartare appetizer, tropical salad with mango and blood oranges, Alaskan king crab and lobster pasta, and brown butter-seared scallops. The steakhouse is open for lunch, dinner, and Sunday brunch.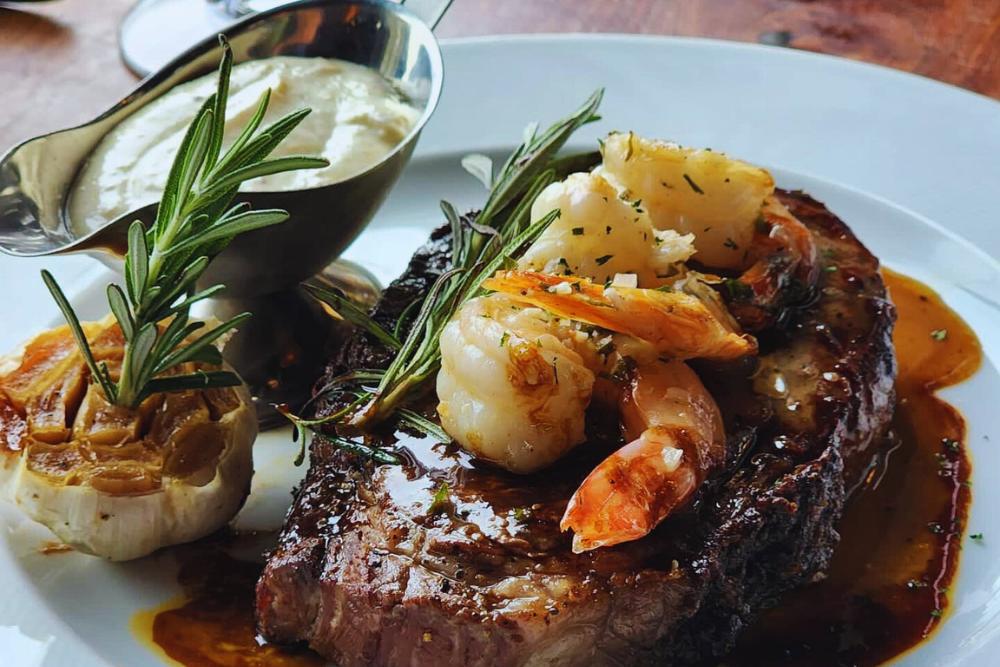 From the Gulf Coast to Your Plate
You can't go wrong with any of these top choices for the best seafood in Galveston. Whether you're looking for something fast and casual during a beach day or planning a romantic evening at a more refined venue, the delish options on this list offer the perfect taste of the island during your Sand 'N Sea stay!