Colorful beads, feather boas, lively parades, bouncing concerts — it's all waiting come February when Historic Downtown Galveston transforms into the heart of Mardi Gras! Galveston festivities. Since 1871, this island town has hosted streets full of revelers. Now, more than 20 parades & more occur over almost two weeks of family-friendly celebration.
If you're visiting Mardi Gras! Galveston, for the first time, staying in a Galveston vacation rental makes it easy to hop around to all the events across the island. Pack your most colorful costumes, sequins, and hats, and let the good times roll for an unforgettable weekend (or two).
This guide will help you plan out when to come, where to go, and what you don't want to miss during the Galveston Mardi Gras celebration.
About Mardi Gras! Galveston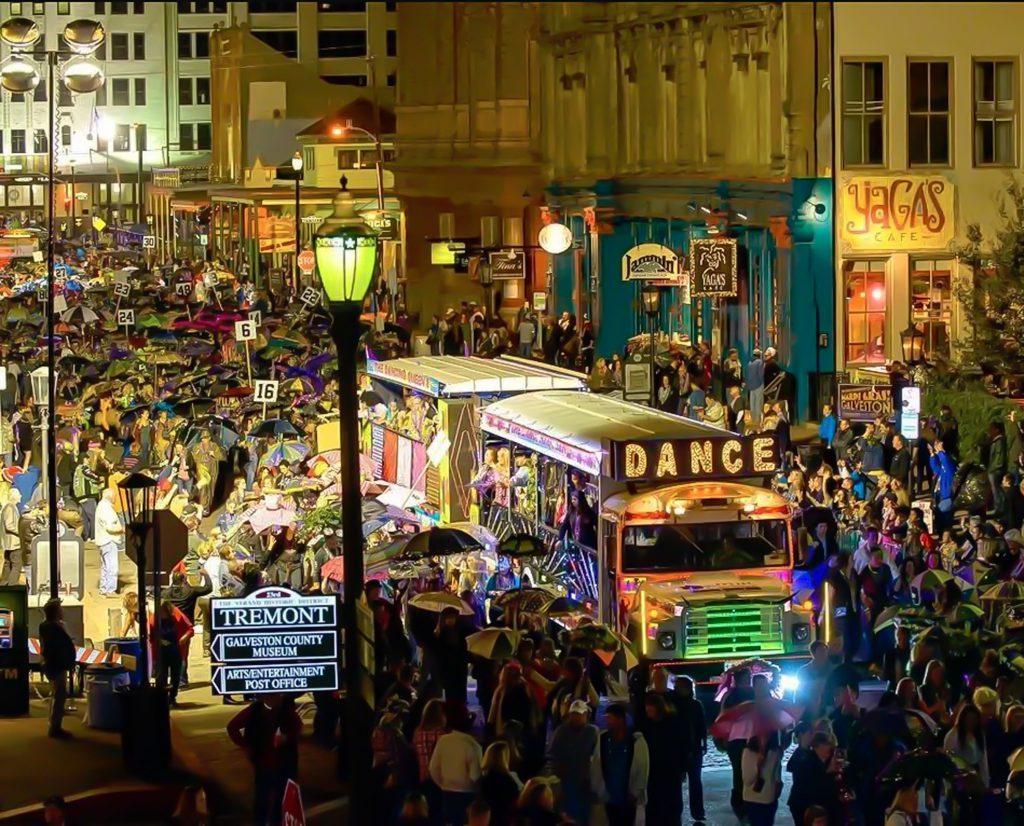 A staple in Galveston since 1871, the annual event wraps in two weekends of Carnival celebrations leading up to the Mardi Gras! Galveston holiday on Shrove Tuesday. Each February, the streets fill with brass bands, funky umbrellas, decked-out golf carts, and bright costumes.
During this time, locals and visitors alike join in the revelry that includes dozens of parades, special events, parties, and live music.
Mardi Gras Galveston Parades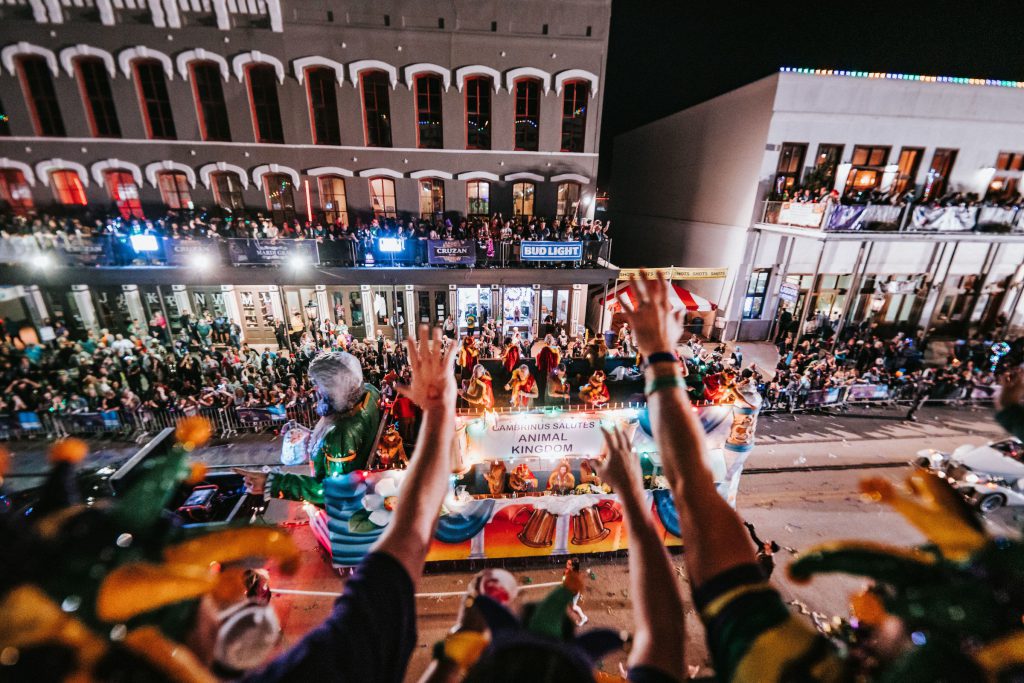 Celebrating Mardi Gras in Galveston means preparing for not one, not two, but multiple parades with a range of themes. It's a great way to get a taste of all the flavors this island celebration offers!
The Galveston krewes organize most of these zany spectacles; some have special themes or support local nonprofits.
If you can't wait to catch some beads and dance along to the beats of the drum, park yourself along the Galveston Strand on any weekend day during Mardi Gras, and you'll be sure to catch one of the merry processions winding down the street.
The parade schedule changes yearly and is listed online a few months in advance.
Don't want to miss the best of the best? Below are a few of the biggest and quirkiest Mardi Gras parades that should be on your radar.
Mystic Krewe of Aquarius Parade
The second oldest of Galveston's krewes, the Mystic Krewe puts on a pair of parades during Mardi Gras, including the annual Fat Tuesday procession.
Find a spot in the Historic District and join the revelers as marching bands set the beat, dance teams boogie by, and dozens of colorful floats glide between the old town buildings.
Krewe of Gambrinus Parade
It's beads, beads, beads at the Krewe of Gambrinus Parade, the first weekend of Mardi Gras! Galveston.
One of the celebration's Super Parades, this one includes more than a dozen giant floats and bands marching from the Seawall through the Entertainment District and down The Strand. Not to mention hundreds of thousands of colorful Mardi Gras beads.
Knights of Momus Grand Night Parade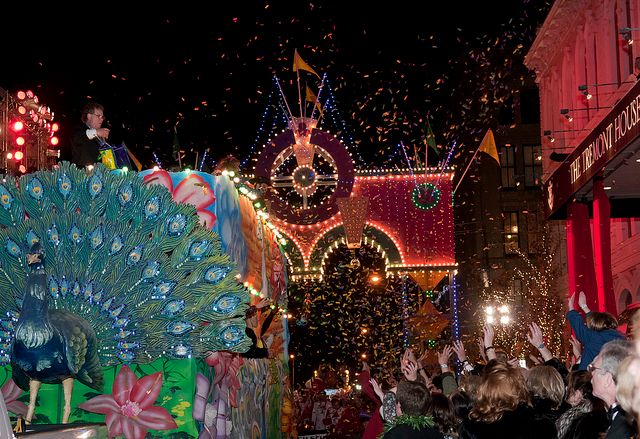 Scheduled on the second weekend of Mardi Gras Galveston, the Knights of Momus parade is a local staple, organized by the oldest krewe group on the island.
You can join the party along the Seawall, or catch them on The Strand as decked-out floats, confetti, and brass bands roll along the road after dark.
Annual Zaniest Golf Cart Parade
For a unique celebratory experience, you can also check out the Annual Zaniest Golf Cart Parade held in the Galveston Entertainment District. The parade starts at 20th Street and Strand Street, making two laps of the district.
Gather friends and family to participate in this interactive display of the zany spirit of Mardi Gras! Free Entertainment District entry is offered to all participants of the parade.
Entertainment at Mardi Gras Galveston
While all the over-the-top parades are the biggest draw to Mardi Gras Galveston, the weekends are also packed with live entertainment and music. The lineup changes yearly, but you can expect everything from country to jazz to classic rock shows.
Concerts typically start in the evenings on Fridays and in the early afternoon on Saturdays and Sundays, with special headliners taking the stage at night. The main venue for Galveston's Mardi Gras concerts is Saengerfest Park on the corner of Strand Street and 23rd Street in the Historic District.
Special Events at Mardi Gras Galveston
In between the big parades, concerts, and balcony parties, there's a ton to do on the island during Mardi Gras Galveston. Don't miss these special events that take place during the festival.
Jolly Jester Jaunt 5K
Mardi Gras goers can run or walk off all the King cakes during the annual Jolly Jester Jaunt 5K.
Typically scheduled for the first Mardi Gras weekend, this fun run loops around the Entertainment District, under the colorful Mardi Gras arch, and through The Strand District. Runners usually dress up in festive costumes – feel like part of a parade as you make your way through the heart of the Mardi Gras zone.
The run registration includes a two-day admission to Mardi Gras! Galveston, access to a balcony party, a participation medal, free drinks, and other fun goodies.
Family Gras!
Mardi Gras! Galveston has a whole day dedicated to everything you and your kids will enjoy together. While some activities like a coloring contest take place before Mardi Gras, during the festival there's a trio of back-to-back kid-friendly afternoon parades.
Family Gras! Galveston kicks off with the Shriners Hospitals for Children & Sunshine Kids Parade, where clowns, floats, and mini cars cruise down the strand tossing beads and candy.
Next up is the Krewe of Barkus and Meoux Parade, where pet parents get to adorn their four-legged family members in crazy costumes. This is a local favorite and includes a costume contest.
The events wrap up with the Firefighters Children's Parade. For nearly 20 years, local first responders have organized this special kiddie display full of floats, fire trucks, and beads on the second Mardi Gras weekend.
First Responders Day
One day of the Mardi Gras Galveston celebrations each year is set aside as First Responders Day, with free admission for active service members, veterans, and first responders (with ID), plus a guest.
The Memorial Fire Truck Parade also takes place on this day, with fire trucks from communities around the Houston Metro Area tossing beads and showing off their sirens and horns.
Tips for visiting Galveston for Mardi Gras
To make the most of your trip to Galveston during this festive time of year, we've created a helpful guide to where, what, and how much.
Mardi Gras Galveston Location
Most Mardi Gras Galveston events and concerts take place in the Downtown Historic District around The Strand, primarily between Harborside Drive and Mechanic Street from 20th Street to 25th Street.
Some parade routes and activities extend to the beachfront and Seawall Boulevard, stretching from 25th Street to 57th Street.
Admission and Tickets
Ticketing varies from event to event. Here is a general round-up of pricing.
Mardi Gras Historic Entertainment District
To enter the designated Mardi Gras Historic Entertainment District in Downtown Galveston during the event, you must purchase a general admission ticket. The fee includes all parades and concerts on the day you visit.
You can purchase tickets for one day, a weekend, or the entire event. Kids aged 12 and under are free with an adult.
Balcony Parties
Balcony parties offer a great view of the Mardi Gras festivities. You'll have to act fast, as only select balcony tickets are available for purchase.
A ticket generally includes gate admission and entrance into a designated balcony party space.
Free Viewing
If you want to see a parade without purchasing a ticket, pick a spot along the Seawall outside of the Mardi Gras Historic Downtown Entertainment District during one of the Super Parades listed above.
Mardi Gras Parking
Downtown Galveston has metered street parking and a few paid lots along Market Street and Postoffice Street.
Keep in mind, most lots are cash only. If you take a taxi or rideshare service from your Galveston vacation rental to the Mardi Gras Entertainment Area, there is a designated pickup and drop-off zone at Market Street and 23rd Street.
What to Wear to Mardi Gras
Mardi Gras is a festive time and a great chance to wear all your glittery, colorful, and flashy outfits.
It's common to see lots of sequins, feathers, wigs, hats, and other fun costumes. Be sure to check the forecast before packing. February temperatures on Galveston Island have a wide range and can be in the low 40s or warm up to the 60s and 70s.
2023 Mardi Gras Galveston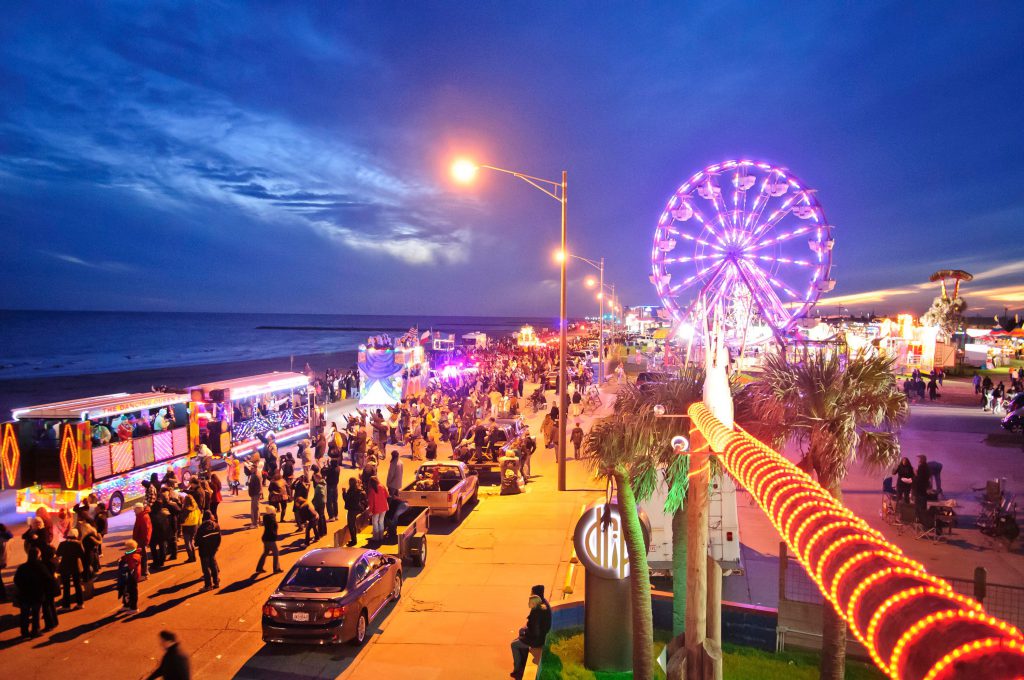 Mardi Gras Galveston always takes place during the two weeks leading up to Lent.
In 2023, the Mardi Gras festivities will be held from February 10 to 21, with events each Friday, Saturday, and Sunday, plus the final Mystic Krewe of Aquarius evening parade on "Fat Tuesday."
Tickets start at $14.50 for a single-day pass or $26.50 for a two-day pass.
Galveston Should Be Your Next Mardi Gras Destination
Galveston is one of the best spots in the U.S. to celebrate the Mardi Gras season. The event is the largest one in Texas and is full of colorful parades, vibrant costumes, and toe-tapping music.
Mardi Gras is the perfect time to visit the Gulf Coast of Texas! Let Sand 'N Sea Properties help book your vacation rental to enjoy the festivities!
While visiting Galveston, don't forget to check out our guides on outdoor activities, the best free activities, and the best food trucks to visit after a long day of parades!