Are you ready for the ultimate fall getaway? Look no further than Galveston, Texas! With gorgeous views and fantastic weather, this Gulf Coast gem is the ideal destination for an autumn escape.
Whether you're looking to relax on the beach, stroll through historic downtown, or attend the festive events, this season offers plenty to do when you book a beachside vacation home!
We've rounded up a few of the best things to do during fall in Galveston below, plus tips for what to pack and how to prepare for the fall season in Texas.
Fall Weather in Galveston
The weather during fall in Galveston is perfect for spending time outdoors, with pleasant temperatures and the lowest humidity of the year. High temperatures in late September and early October typically average in the 80s, so beach days and swimming are still on the menu. By late November and early December, highs usually only hit the upper 60s to low 70s, with lows in the 50s.
The Gulf hurricane season lasts through November, but big storms come with ample warning and are typically few and far between at this time of year.
Things To Do in the Fall in Galveston
Stroll The Strand
Fall in Galveston is the perfect time to check out The Strand, a National Historic Landmark. With Galveston Bay serving as a picturesque backdrop, the Strand Historic District sparkles with vibrant life and captures the essence of the city's rich past.
While there are many great places to eat and shop, you don't want to miss La King's Confectionery for saltwater taffy and sweet treats, the Shark Shack for seafood, and Hearsay On The Strand for craft cocktails. You can also check out nearby museums like the Galveston Railroad Museum and 1877 Tall Ship Elissa.
Explore Moody Gardens
Moody Gardens is a fun stop in any season, but fall reveals an extra special time to enjoy the Galveston entertainment venue. The popular Holiday in the Gardens event begins in mid-November as fall winds down, bringing two million twinkling lights, animated displays, and festive tunes. Throughout the event, you'll experience an outdoor ice rink, train rides, an illuminated holiday trail, and special shows and entertainment for the season.
You also won't want to miss the Moody Gardens classics like the trio of pyramids with an aquarium, rainforest, and discovery museum inside. The Colonel Paddlewheel Boat also offers day cruises during this time, with a special Halloween-themed evening tour in October.
Sunbathe Along the Seawall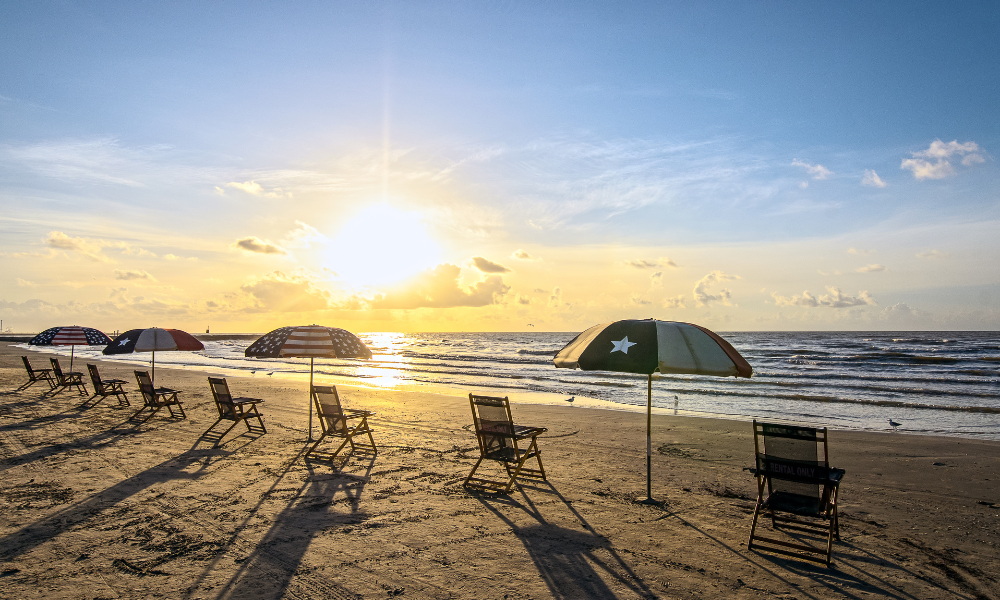 The Galveston Seawall stretches for 10 miles along the Gulf of Mexico and is lined with beaches, eateries, and entertainment. In early fall in Galveston, the weather is usually warm enough to hit the sand at spots like Babe's Beach or Stewart Beach. When it's too cool to swim, you can rent bikes to coast along the Seawall or walk along the sand to enjoy the fresh coastal air.
Win Big at the Galveston Island Historic Pleasure Pier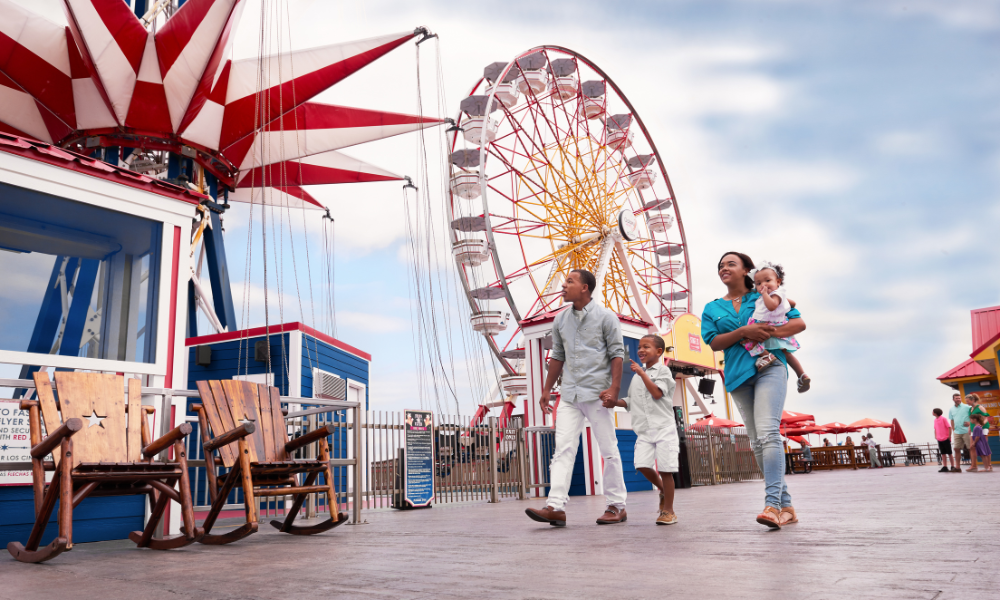 The Galveston Island Historic Pleasure Pier is one of the best things to do on the island, with a giant roller coaster, 15 fun thrill rides, games, and carnival-style foods. The pier extends out over the water on the Gulf side, with beautiful beach and ocean views. Be sure to check their website for seasonal BOGO deals.
Adventure in Galveston Island State Park
If you're looking for scenic spots to enjoy the perfect fall weather on the island, it doesn't get much better than Galveston Island State Park. Located on the western side of Galveston, the state park stretches from coast to coast on the island, with trails on the bay and a sandy beachfront on the Gulf. Fall is the perfect time to hike, ride bikes, or rent kayaks in the park.
Go on a Galveston Ghost Tour
Fall is a great time to book one of Galveston's ghost tours. With so much history on the island, ghost tours are a great way to learn more about Galveston's past and reported paranormal activity. While these guided outings occur nightly throughout the year, Halloween is an extra spooky time to visit the town's cemeteries and haunted spots.
Fall Festivals and Events in Galveston
Fall in Galveston is festival season, with events occurring almost every weekend from late September through October. Depending on when you book your Galveston vacation rental, you may get to sample local brews for Oktoberfest, check out motorcycles & classic cars during the Lone Star Rally, or indulge in every type of shrimp dish you can imagine during the Galveston Island Shrimp Festival.
Galveston Island Shrimp Festival
The Galveston Island Shrimp Festival is one of the first events to kick off the fall festival season in late September. Celebrating the island and local seafood, the fest features a massive community dinner of fried shrimp, a fun run, tastings, a boat show, and more.
Galveston Island Greek Festival
Baklava, spanakopita, and souvlaki are just a few of the delicious dishes on the menu at the Galveston Island Greek Festival. The October event shows off the best of Greek food and wine during a lively weekend of tastings and dancing. In between bites, foodies can shop for authentic Greek gifts and groceries, from jewelry and ornaments to olive oil.
Artoberfest
Artoberfest brings fine art booths to Downtown Galveston. Put on by The Grand 1894 Opera House, the October festival features dozens of artists in a variety of media for a showcase and competition. Visitors can browse and buy pieces throughout the weekend and enjoy live entertainment, farmers market, and food trucks.
Island Oktoberfest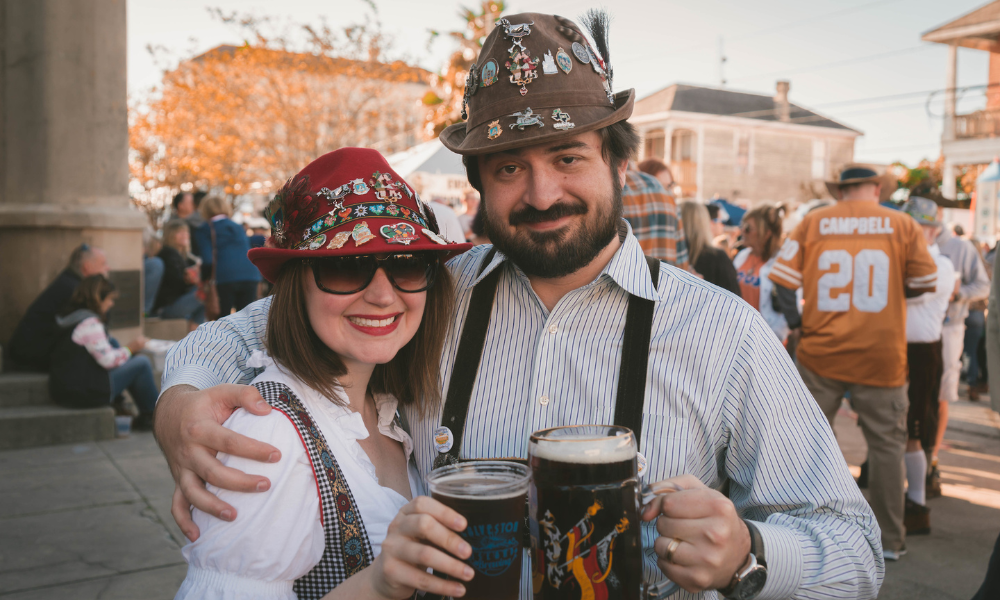 You'll want to pack your dirndls and lederhosen for Island Oktoberfest in Galveston. The traditional German celebration is a great time to try traditional foods like bratwurst, shops for hand-made arts and crafts, and dance to live music. The Galveston Fall Festival is free to enter and family-friendly.
Lone Star Rally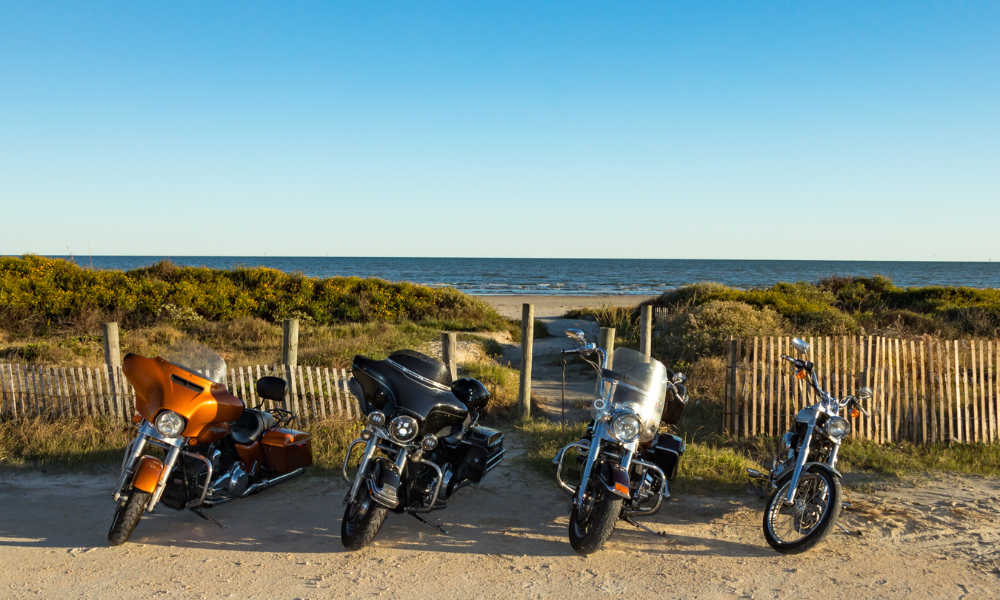 The Lone Star Rally is the biggest motorcycle rally in Texas and one of Galveston's most significant events in November. Juried auto shows for bikes, jeeps, trucks, and classic cars take over several zones of the island, including The Strand and parts of the Seawall. Between dozens of classic rock, country, and contemporary concerts, you can participate in rodeo games, eat, and shop for everything leather.
Dickens on the Strand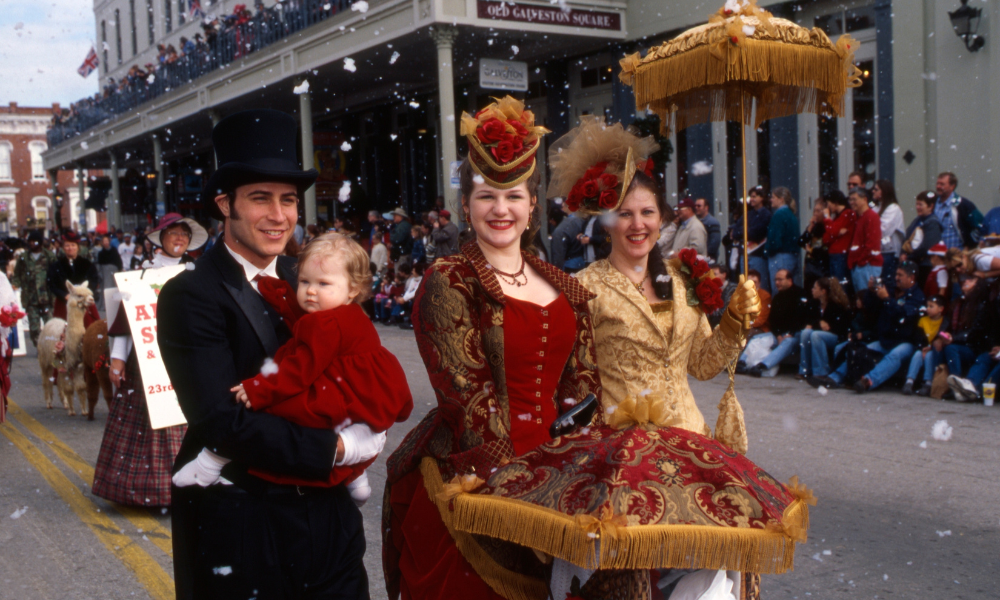 Though it's typically associated with the holidays, the popular Dickens on the Strand festival takes place in the late fall in Galveston. A 50-year tradition on the island, the event is a Victorian-style kickoff to the Christmas season, with parades, costumed characters, live entertainment, and period gifts and decor for sale. You may also spot Father Christmas and Charles Dickens wandering Downtown Galveston's streets.
What to Pack for Fall in Galveston
Wondering what to pack for fall in Galveston? If you're visiting in September or early October with plans to hit the beach, you can still usually wear shorts, dresses, and sandals during the day.
Nights are cooler, so bring light layers and some warmer outfits. If you visit around Halloween or later, you'll want to pack jeans, long pants, and light sweaters. Layers are key for a cozy fall vacation in Galveston.
Fall Fun on Galveston Island
Fall in Galveston is festival season, and it's such a great time to visit the island. Whether you come in September for a quieter beach vacation, in October for food festivals and ghost tours, or in late fall for the island's Victorian holiday vibes, there's so much fun in store during an autumn Galveston getaway.Book your Sand 'N Sea stay today and be sure to ask about available rental specials!