Thanks to its access to both Galveston Bay and the Gulf of Mexico, Galveston Island is a great spot to spend the day on a boat tour.
Whether it's speedy jet boat rides, peaceful kayak outings, sightseeing tours, dolphin-watching excursions, or deep-sea fishing, Galveston boat tours are available for every speed of traveler. 
A boat tour on the bay makes a great outing from your Galveston vacation rental, where you can return at the end of the day to enjoy the sunset from your private deck.
This is also one of many great family experiences Galveston offers. Most are family-friendly, and some even have free or reduced prices for kids. We've included some of the best Galveston boat tours available in the local's guide below.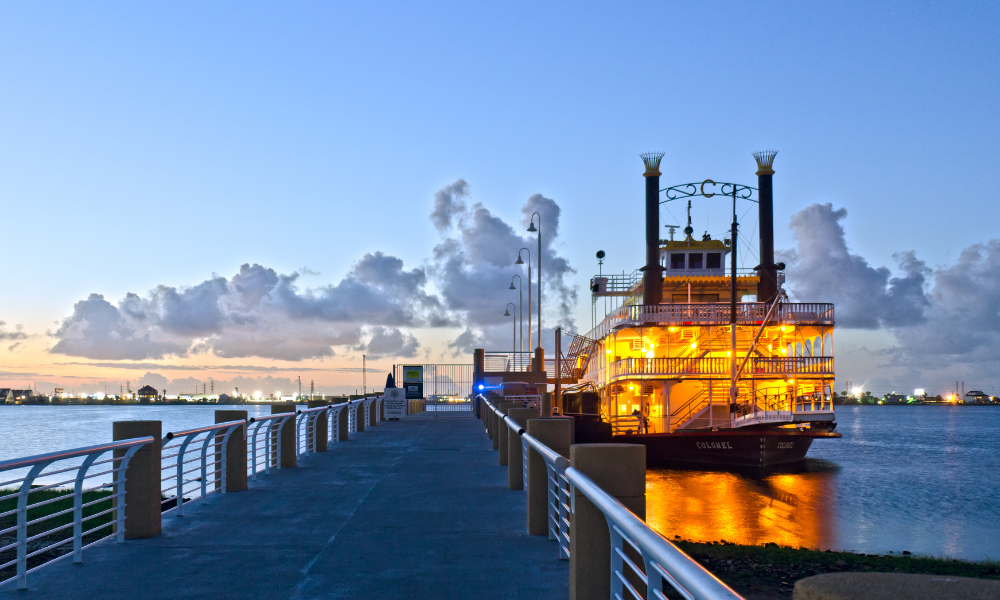 Colonel Paddlewheel Boat at Moody Gardens
The Colonel Paddlewheel Boat is a little different from other Galveston boat tours since you'll be riding on a replica of an 1800s paddlewheel vessel. Located at Moody Gardens, the boat tour travels into the bayou and bay.
There are two different experiences you can book here. Day cruises last 45 minutes, and you can enjoy the views from shady interior spots or head to the breezy upper deck.
The paddle boat also hosts two-hour family-friendly dinner cruises with themed meals, including a Louisiana Bayou buffet, an Aloha feast, and local favorites like Tex Mex and barbecue. These sailings are quite popular and need to be booked in advance.
Galveston Duck Tours
Galveston Duck Tours are the perfect intro to this Gulf Coast island. The unmissable yellow and blue vehicles take riders on a driving tour around some of Galveston's landmarks before gliding down into the water to see the island from a different perspective.
Galveston Water Adventures
Galveston Water Adventures are one of the more popular boat tours on the island, with a few different experiences you can try out.
Jet boat thrill rides are perfect for adventure seekers, as the small and speedy vessel spins and splashes guests on a heart-pumping ride through Bay Harbor.
For something a little calmer, open-air boats will take guests on a dolphin tour focusing more on leisurely wildlife watching. In addition, the adults-only sunset tours are a perfect romantic outing for couples.
Galveston Party Boats
Galveston Party Boats are fishing-focused charters that head into the bay and out on the Gulf of Mexico. Unlike other deep-sea fishing charters on the island, this one charges per guest, so you don't have to rent the whole boat.
The 4-hour tour option takes guests by the bay and jetty to fish for sand trout and sharks, while longer 8- and 12-hour trips venture up to 80 miles out into the Gulf to catch king mackerel and red snapper.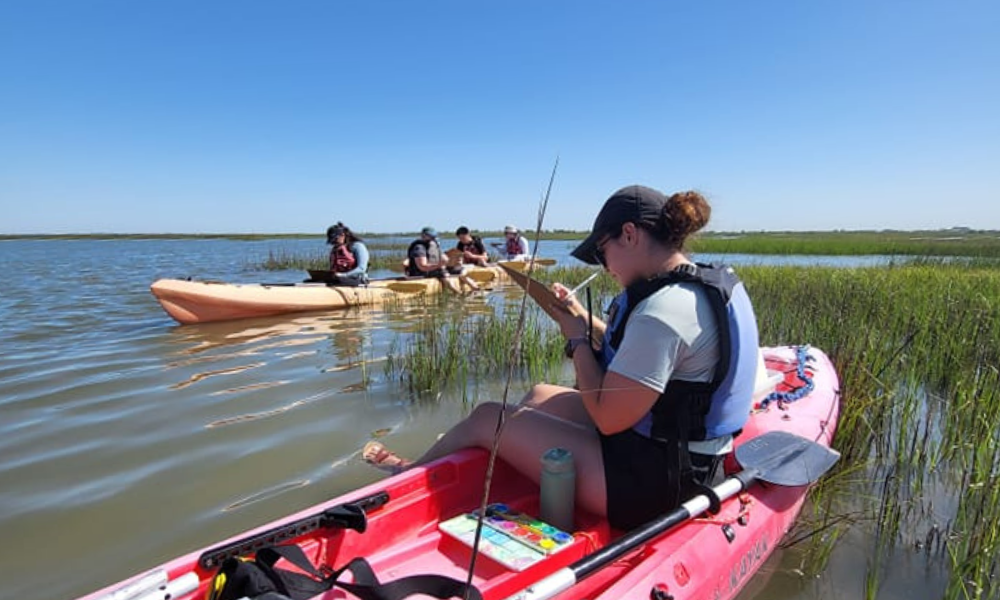 Artist Boat
The Artist Boat is a grassroots eco-focused organization that aims to educate and inspire the public with its coastal experiences.
The company offers a unique tour combining two unexpected elements. The Eco Art Kayak Tour combines paddling and painting on a relaxed outing that's also great for younger kids.
The tour lasts about 4 hours and includes time to paint different scenes that inspire you on the journey, with watercolor demonstrations and supplies included. All skill levels are welcome.
Finney Boat and Watersport Rentals
Finney Boat and Watersport Rentals has the equipment to get you started if you're looking to take charge of your own Galveston boat tour.
The company rents pontoons, catamarans, and yachts for the ultimate private day on the bay. Rentals start at 3 hours, but you can add more time and hire a captain if you don't want to drive.
This is also one of the best opportunities to catch a Galveston sunset. Finney Boat and Watersport Rentals also runs private one or two-hour dolphin watching and sunset cruises for small groups.
Beachtown Tours
A different kind of Galveston boat tour, Beachtown Tours takes you out in a kayak to explore wetlands, islands, and other spots where bigger boats can't go. Standard tours offered during the day or around sunset last about two hours and are led by a guide.
The company also runs themed outings, where you can experience things like catching crabs from the company's traps or oyster picking from reefs (November through April). You can also rent kayaks to go out on your own adventure, with route suggestions from the pros.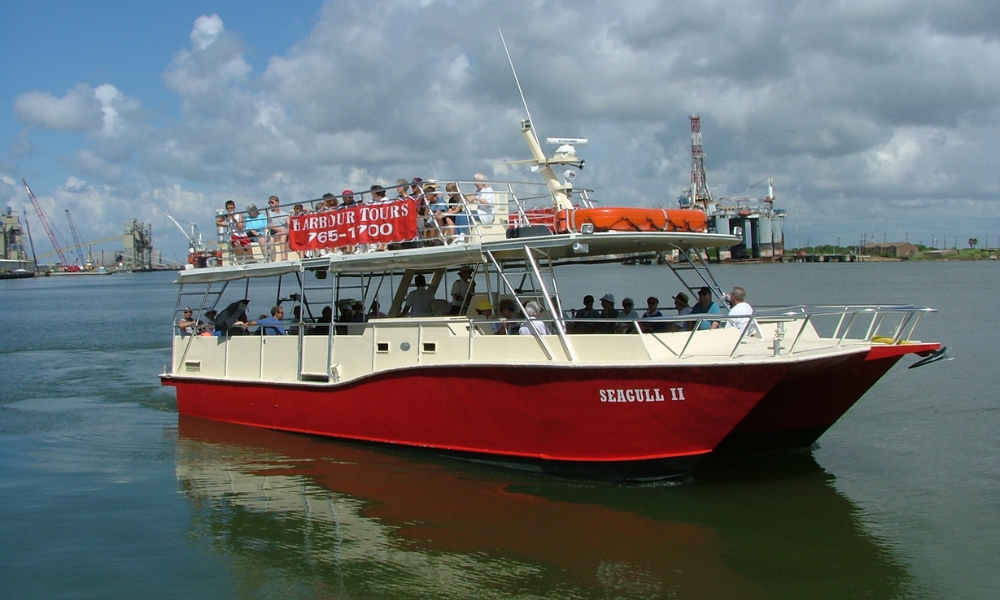 Historic Harbor Tour
Hosted by the Galveston Historical Foundation, the Historic Harbor Tour and Dolphin Watch is a fun Galveston boat tour that sticks close to the island. You'll ride the U.S. Coast Guard-certified Seagull II, a twin-engine vessel big enough to hold a few dozen people.
On board, enjoy the shade of the open-air covered main deck or head up to the top deck for panoramic harborside vistas and sea breezes. The cruises last for about an hour, with narration from a professional local tour guide.
The tour is perfect for families since all ages are welcome, and kids aged five and under ride for free.
Galveston Port Bolivar Ferry
Looking for free things to do on Galveston? The Galveston Port Bolivar Ferry is the perfect way to get out on the water on a budget.
The ferry shuttles cars and people across Galveston Bay between Galveston Island and the Bolivar Peninsula. Along the way, you can take in the views of the channel and look for wildlife.
While the ride is only about 20 minutes each way, you can turn the experience into a day trip by spending some time on the Bolivar Peninsula at the sandy Bolivar Beach. Of course, you also don't want to miss exploring the old bunkers and picnicking at Fort Travis Park. Be sure to check out their website for wait time information.
Angler Charters
Galveston is full of fantastic outdoor experiences. Angler Charters offers half-day and full-day excursions for a private experience out on the water with your crew. While the company focuses on fishing, you can also book a simple day out on the water to enjoy the scenery or watch the sunset.
Angler Charter boat tours range from 4-hour outings in the bay to 12-hour offshore excursions in the Gulf for opportunities to catch mahi mahi, sailfish, and blackfin tuna. They cater to beginners or pros, and kids are also welcome on board.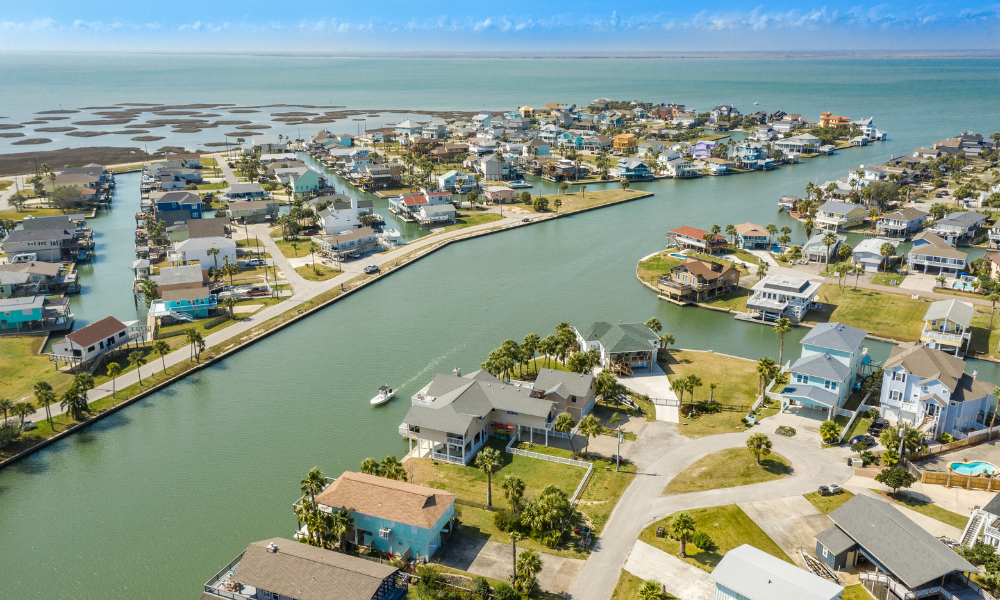 Spend a Day on the Water in Galveston
From kayak adventures to private charters and harbor tours, there are many fun ways to experience Galveston from the water.
After a day offshore, our Galveston vacation homes are the perfect place to come home. Book a stay at one of our beach, canal, or bayfront rentals today!