Galveston may be best known for its Gulf front beaches and historic architecture, but it's also home to some incredible breweries that should not be missed on your vacation to the Texas coast. From classic ales to unique flavor blends, the local breweries here offer something for every beer lover.
Some of these spots offer casual and breezy patios with major island vibes, while others are buzzing bars with live music, games, and big screens. It's all about supporting local businesses on the island, so bars without their own craft concoctions like to keep Galveston-brewed beers from nearby partners on tap.
Between beer flights and distillery tours, you'll find the perfect spot to kick back with a can of your favorite local island brew at our beachfront Galveston vacation rentals.
We know you're getting thirsty, so we've rounded up a few of the most notable Galveston breweries for your next ale adventure!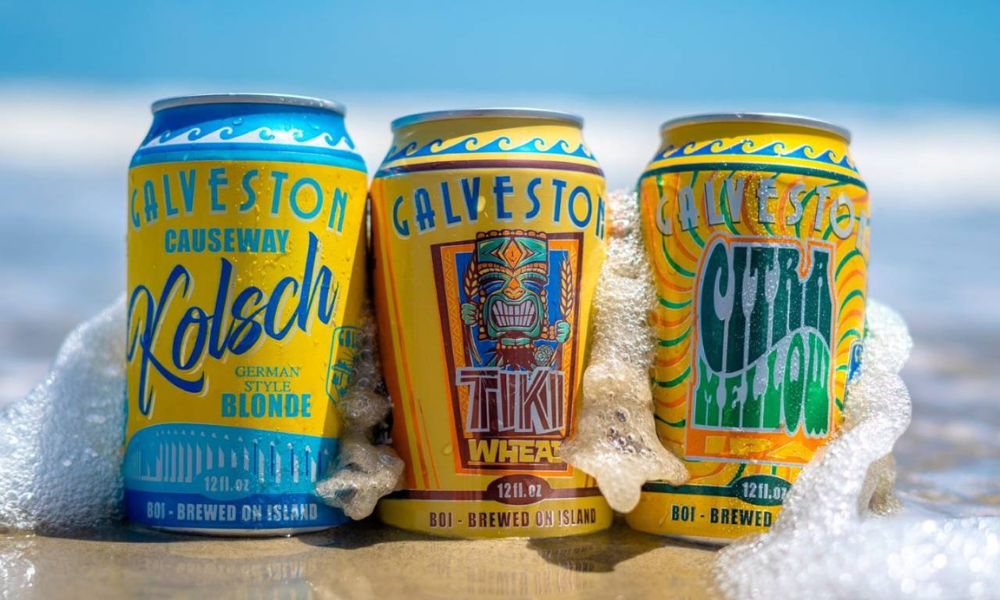 Galveston Island Brewing
Located a block from the beach on the West End, Galveston Island Brewing is a local favorite place to quench your thirst. The establishment has an 18-tap wall ready to serve a revolving menu of beers brewed on-site. The flagship brew, Tiki Wheat, and Citra Mellow, an IPA, are local favorites.
Some of the more unique brews on offer include drafts like the Cookies and Cream Porter with dark chocolate bitter, hints of ice cream, and the fruited wheat blend called Passion Fruit Pink Guava.
The casual venue has a colorful taproom and a pet-friendly lawn with outdoor seating and games.
On the food side, you can order pub grub, bring a picnic, or try out the food trucks that park here on the weekend. In addition, the events calendar will keep you updated on upcoming vendors and events like movie nights and yoga classes.
Devil and the Deep Brewery
Devil and the Deep is one of the newer breweries on Galveston Island but has quickly made a name for itself. American and Belgian craft beers, including various pale ales, IPAs, and sours, inspire the menu here.
The interior has a contemporary and eclectic vibe, colorful art designs, and long, community-style tables to gather and drink.
The island brewery hosts live events like concerts, comedians, and art shows, as well as pop-up dining options from local partners. Sharky's Tavern, a casual wood-fired pizza joint, is also next door for grub and local microbrews on tap.
Devil and the Deep Brewery is just a few blocks off the Strand and easily accessed by the local trolley system.
Texas Tail Distillery
Texas Tail Distillery is more about the hard liquors than the beers, but it's worth a stop on your Galveston brewery tour. The distillery is located near the Strand District and specializes in locally crafted and unique Texas spirits.
The signature spirits here are the Texas Tail Vodka, a smooth alcohol distilled six times from Texas grains, and the Coastline Whiskey, a full-bodied 80-proof distilled in small batches.
You can stop by the venue to buy bottles or order cocktails to sip in a modern, industrial-style space with table seating. Tours of the distillery take place on Fridays and Saturdays by reservation only.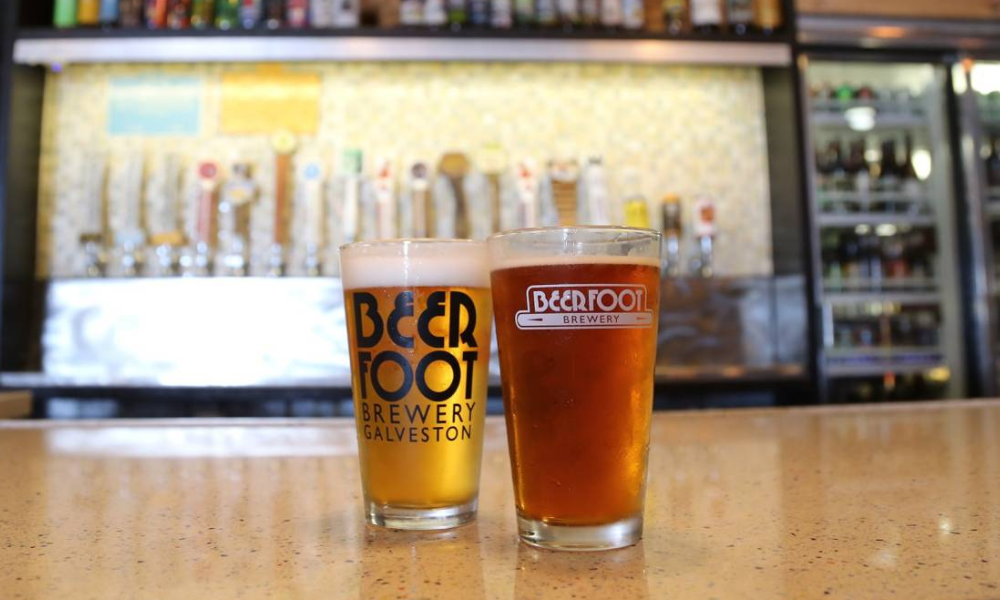 Beerfoot Brewery
Does it get any better than an ice-cold beer under the hot sun with a coastal view? At Beerfoot Brewery, craft beer lovers can sample 33 brews on tap, all within an eyeshot of the Gulf of Mexico beaches and the Historic Pleasure Pier boardwalk.
This is the perfect casual spot to hang out with a pint while watching a game on one of the venue's seven screens or just to kick back and enjoy the island vibes. In addition to the dozens of draft craft beers, you can also order from more than 100 different seltzers and brews in bottles and cans.
Pop by on weekdays for Happy Hour between 4 pm and 7 pm for specials like $5 flights on Wednesdays and $3 Tuesday Texas draft deals.
The Float Pool and Patio Bar is just across the street from Beerfoot Brewery if you want to hop over for some live music, nachos, mixed island cocktails, and a splash in the beach view pool while you enjoy the sunset.
Brews Brothers
Located in the Strand Historic District, Brews Brothers opened on the island in 2011 and serves craft beers from Texan and international breweries. Here you'll find anything from aged stouts to unique blends incorporating hints of vanilla and chocolate.
This isn't just a spot for drinking; you can also order gourmet bar grub from the Brews Brothers kitchen. Specialties include loaded gourmet burgers of the month (think beef topped with Havarti cheese, sriracha aioli, and pineapple compote) and a changing menu of soups like Beer Cheese Potato and Korean Chicken Stew.
The venue has an indoor bar with table seating and a few patio tables and chairs on the Strand.
Diana's Bartique
While it's not a brewery, Diana's Bartique is a unique spot to try craft Texas beers in a fun setting. Part boutique, part bar, this fun sip-and-shop venue on the Strand is perfect for date nights and girls' outings.
With clothes and accessories on the shopping end, wine, specialty drinks at the bar, and occasional live music events, Diana's Bartique offers a little of everything. On the local brews menu, you can order from a selection of Texas IPAs, blondes, and pilsners.
Market Station
Housed in an 1874 building, Galveston's Market Station in the Strand Historic District is a locally owned lounge and brewpub with island beers on tap. Folks come here for the friendly environment, craft cocktails, and watch a game on the big screen or play a game at the billiards tables.
If you want to try something local here, Market Station serves a couple of big hitters from Galveston Island Brewing, including the Citra Mellow pale ale and the flagship Tiki Wheat.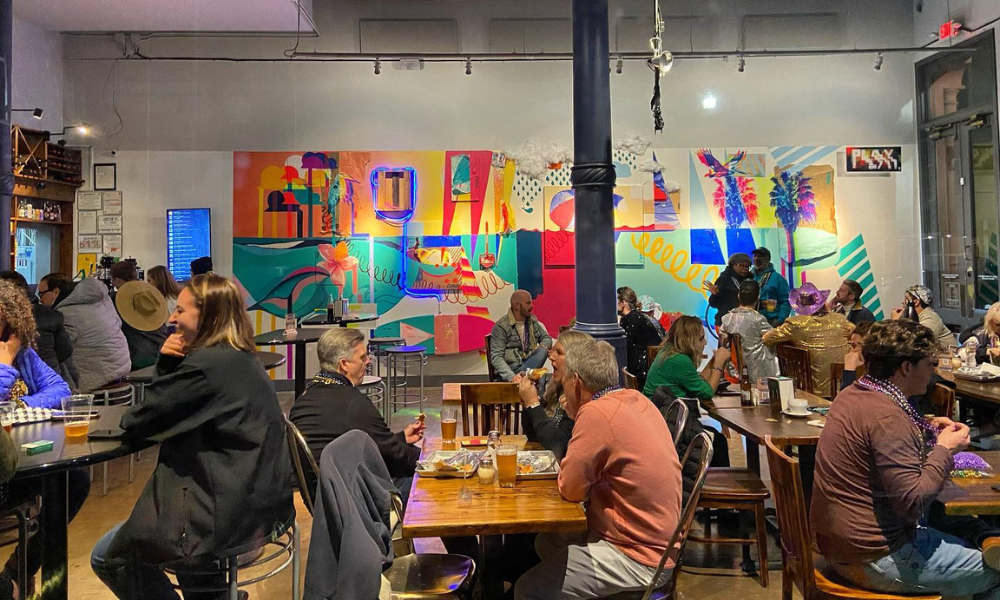 The Proletariat Gallery and Public House
Proletariat is a word for the working class, and The Proletariat Gallery and Public House was a true grassroots effort to revitalize an 1890s loft in the Historic Strand District. The space features pop-up local art exhibits in the gallery, live performances, and craft brews in a casual and open space in the old building.
Drinks at the bar range from espresso blends to sake to cocktails, plus local and regionally crafted beers on tap. The offerings change, but you'll find options like the popular Tiki Wheat from Galveston Island Brewing, a seasonal Mardi Gras Bock from Louisiana, and ales and IPAs from a few Houston metro breweries.
Galveston Brewery Hopping
Whether you're a craft brew connoisseur or just want to get a flavor of the local IPAs, Galveston's craft beer and taproom scene is a can't-miss on a beach trip. You can even use the Galveston Island Trolley to get around to most of the breweries on this list for just $1 a ride!
Our Galveston vacation rentals make the perfect base for all your adventures on the island.