Whether rolling along the waterfront with a gentle sea breeze or meandering the historic streets of The Strand, exploring Galveston Island is even more fun when cruising in an open-air golf cart.
And when the time comes to load up the beach bags, boogie boards, sunscreen, and towels to hit the sand, golf carts are an easy and convenient way to get around. A City of Galveston ordinance requires all golf carts be inspected and have a valid license plate to be able to operate on the island. Luckily, there are several fully compliant Galveston golf cart rental companies ready to get you behind the wheel.
Golf cart rentals on Galveston Island range from quick two-hour excursions along Seawall Blvd to week-long options that will help you get around during your whole stay. And with many companies offering concierge delivery available straight to your Galveston vacation rental, it couldn't be any easier to hit the road in a golf cart.
Below, we've rounded up a few of the best golf cart rentals in Galveston, from modern carts with all the bells and whistles to vintage-styled options that will turn heads as you drive.
Ricks Beach Rentals
Rick's Beach Rentals is one of the most convenient Galveston golf cart rental services on the island. Operating for more than 20 years, the rental company has the largest fleet on the island and delivers golf carts directly to you at your Galveston Island beach house rental.
The golf carts you can rent here include electric and gas-powered vehicles that seat four, six, or eight people. In addition to the carts, you can also rent beach gear and toys like kayaks, stand-up paddleboards, surfboards, beach lounger chairs, and large umbrellas for shade.
Gulf Coast Concierge
Gulf Coast Concierge makes renting a golf cart in Galveston super easy. The company delivers your golf cart rental right to your Galveston vacation rental home and can have it waiting for you on arrival.
The golf carts here are newer models that seat four or six passengers. They are fully equipped to use on the road with seat belts, lights, turn signals, and mirrors. There are even handy features like cup holders, flip seats in the back with a built-in cooler, and Bluetooth speakers you can add to the rental.
Galveston Golf Cart Rentals
Galveston Golf Cart Rentals is a direct-to-your-door service where your golf cart will be dropped off at your Galveston vacation rental. The company delivers to West End beach houses between Pirates Beach and Pointe West.
The models you can pick from here include both gas-powered and electric golf carts that seat up to six people. Rentals are for daily periods (22 hours from drop off to pick up), but special discounted weekly rates are also available.
Carriage Haus Rentals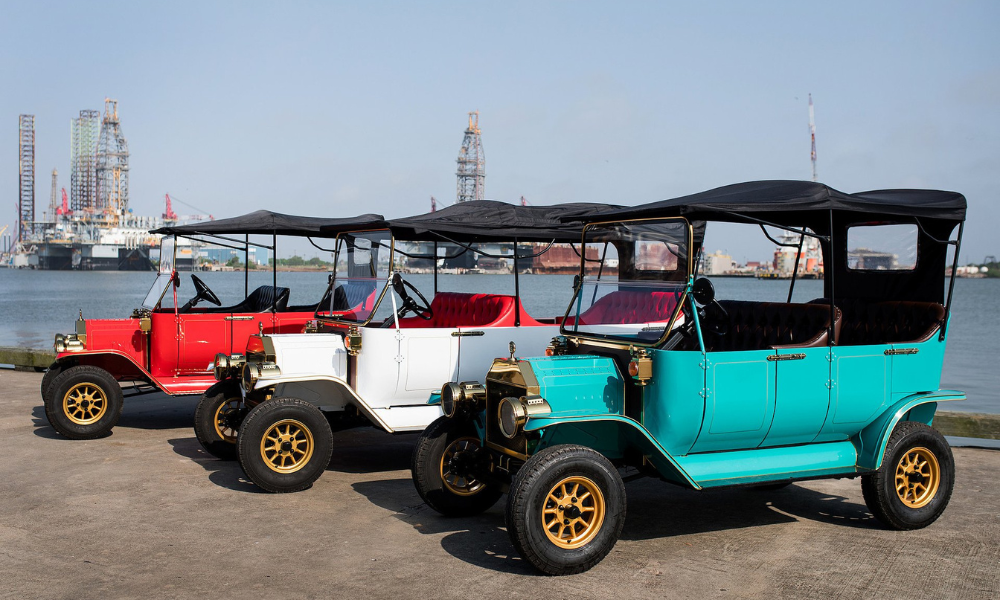 You can find the most unique Galveston golf carts at Carriage Haus Rentals. The golf carts here are designed to look like classic 1908 Ford Model T cars, with features like tufted seats, colorful exteriors and doors, and gold hubcaps.
The vintage-style golf carts match the vibe of the Strand Historic District and are perfect for driving around downtown. In addition to rentals, the company also offers private tours in golf carts, where a guide will introduce you to the island's spooky haunts, mob history, and old cemeteries.
Rentals are available in five or eight-seater golf carts. You can pick from two to four-hour rentals or reserve the cart all day. Extras like car seats and Bluetooth speakers can be added on, too.
Galveston Golf Carts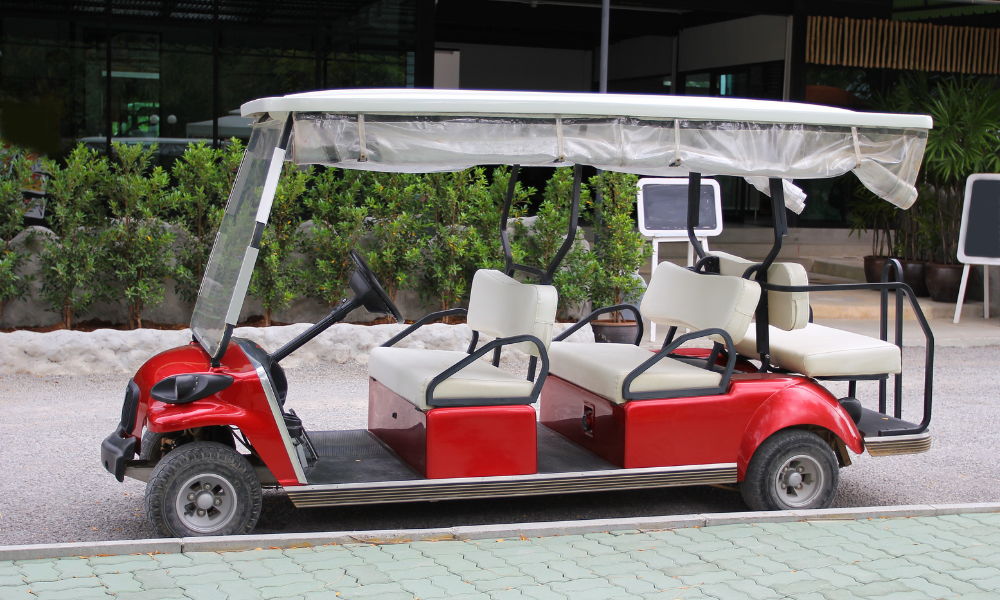 Galveston Golf Carts is one of the most convenient spots to rent from on the eastern side of the island. The company has three different locations that you can pick up from on the Seawall, in the Strand Historic District, and near the San Luis Resort.
Delivery is also available to Galveston vacation rental homes on the West End of the island.
These gas-powered Galveston golf carts for rent come in two, four, six, and eight-seater options. You can rent the vehicles for as few as two hours or pick a weekly rate to use it during your entire vacation.
Beachin Rides
Location: 1020 Seawall Boulevard, Galveston, TX
Book a golf cart: beachinrides.com
The golf carts at Beachin Ride offer special upgrades like custom lighting and premium sound systems. The rental office is located along Seawall Boulevard near the Galveston Jetty and Stewart Beach, so it's perfect for short sightseeing rentals to cruise along the waterfront.
The gas golf carts for rent can seat four, six, or eight passengers and are available at hourly, daily, or weekly rates. If you want to try something different, Beachin Rides also has electric scooters as well as Surrey bike rentals that seat the whole family.
K6 Island Sports
Location: 21430 Termini-San Luis Pass Rd, Galveston, TX
Book a golf cart: k6islandsports.com
If you need to book Galveston golf cart rentals and borrow water sports equipment, K6 Island Sports is the spot to get it all taken care of at once. The family-owned business rents out carts, bicycles, kayaks, paddle boards, skimboards, and boogie boards and operates a tackle shop with fishing supplies on the West End.
For golf carts, you can pick from four and six-seat Club Car options. Daily and weekly rates are available, and rentals should be made by phone.
Cars and Carts Rental
Cars and Carts Rental in Galveston lends out E-Z-Go golf carts that come in fun colors like pink, orange, green, and blue. The rental office is located on the Seawall, close to the Galveston Island Historic Pleasure Pier, so it's convenient for afternoon rides between different beaches and tourist sites.
Convenient, online bookings are available for rental periods of anywhere from an hour to six days. There are discounts for the longer rental periods, too. The golf carts come in four, six, and eight-seat sizes.
Rules for Renting a Golf Cart in Galveston
Renting a golf cart on Galveston Island is loads of fun, but there are rules of the road you should know.
License/Age Requirements: First, golf carts can only be rented by people with a valid driver's license, and most rental companies require the driver to be 21 or 25 years old.
Driving Rules: The golf carts can only be driven on roads designed for motor vehicles, not on sidewalks, pedestrian walkways, or the beach, in most cases.
Traffic Laws: Laws like wearing seatbelts and not driving with open containers apply to golf carts, too. You also need to pay for parking anywhere that a regular car would.
It's best to read up on local golf cart ordinances and ask your rental company any operating questions before you take off!
The Best Way to Get Around Galveston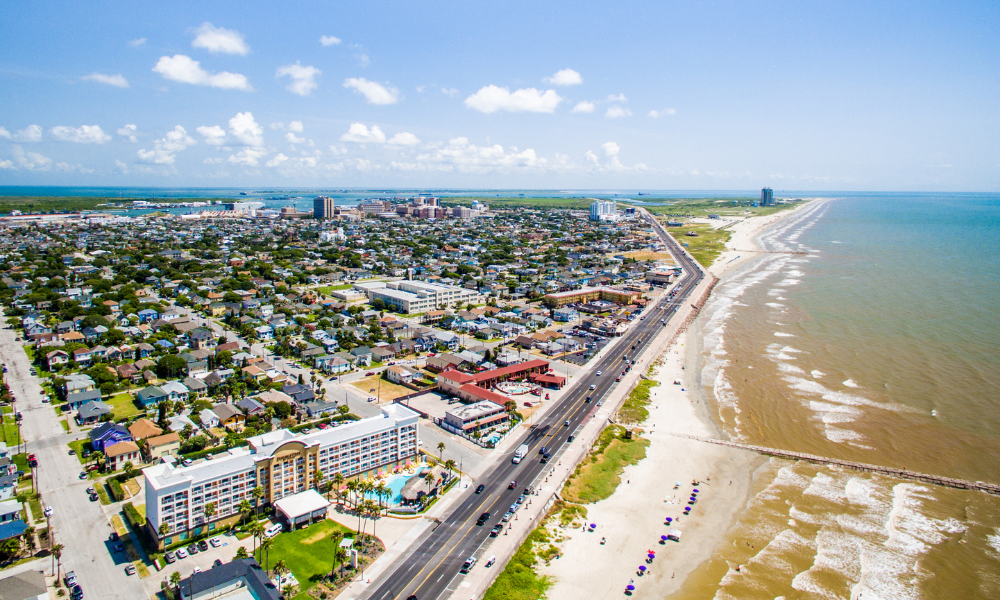 Renting a golf cart is a fun way to get around Galveston on vacation while enjoying the open air and sea breezes. You can load up the carts with all of your wet towels, sandy toys, and fishing gear to keep the messes out of your personal vehicle.
Since many companies will deliver and pick up the vehicles right at the door of your beach vacation house, it's also super easy and convenient to rent a golf cart in Galveston.