Galveston comes together each year to celebrate Juneteenth as only our unique island community can. Parades, lectures, guided tours, galas, and ceremonies occur throughout the month to mark this important cultural holiday that started right here on the island. 
Sand 'N Sea vacation rentals provides the perfect home away from home for your Juneteenth celebration, with roomy vacation rental options that can comfortably fit your whole family.
Whether you're visiting Galveston specifically for Juneteenth or are just curious to learn more about the city's connection to the holiday, this guide will help you plan where to go and what to do.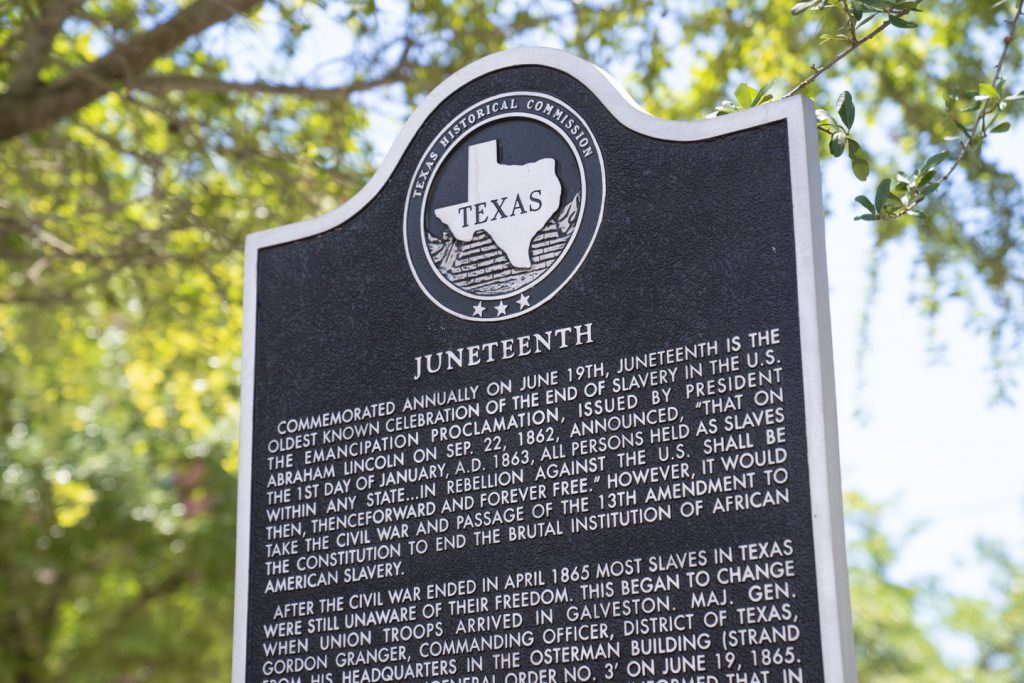 The History of Juneteenth in Galveston
Juneteenth has a special significance in Galveston, marking the day in 1865 when freedom was finally proclaimed for the more than 250,000 enslaved Black people in Texas.
Delayed Justice
Although President Abraham Lincoln had outlawed slavery in rebel states with the Emancipation Proclamation on January 1, 1863, there were few Union troops in Texas to enforce the law since the state was the westernmost member of the Confederacy.
It wasn't until June 19, 1865, more than two months after the surrender of the Confederate Armies, that Emancipation Day finally reached Galveston with the arrival of U.S. Major General Gordon Granger and about 2,000 Union troops in the bay. Granger issued General Order No. 3 and read it aloud on the steps of the Union Army Headquarters at the now-demolished Osterman Building.
"The people of Texas are informed that, in accordance with a proclamation from the Executive of the United States, all slaves are free. This involves an absolute equality of personal rights and rights of property between former masters and slaves, and the connection heretofore existing between them becomes that between employer and hired labor. The freedmen are advised to remain quietly at their present homes and work for wages. They are informed that they will not be allowed to collect at military posts and that they will not be supported in idleness either there or elsewhere."
The day became known as Juneteenth, an amalgamation of "June" and "Nineteenth" to acknowledge the eponymous date. The ratification of the Thirteenth Amendment on December 6, 1865, officially abolished chattel slavery for the entire country.
A New National Holiday
Black Americans have long remembered Juneteenth in local and community celebrations but the day was finally set aside as a national holiday in June 2021. As the birthplace of Juneteenth, Galveston is a pilgrimage destination to acknowledge its historical importance.
Annual Galveston Juneteenth Activities
Galveston has a full calendar of Juneteenth events each year, from galas and banquets to parades, marches, prayer services, and tours of notable sites. We've rounded up a few of our favorite annual events below.
Juneteenth Parade and Picnic
The annual Juneteenth Parade and Picnic usually occurs the weekend before June 19. The parade route runs down Avenue H starting from 26th Street and ending at 41st Street. A community picnic follows just after at Wright Cuney Park.
Juneteenth Festival
The Juneteenth Festival is held yearly at Menard Park near the Galveston Island Historic Pleasure Pier on the Seawall. Some of the best experiences in Galveston are free, and this is no exception. You'll have open access to food vendors, a marketplace, and live entertainment.
Al Edwards Juneteenth Celebration
Taking place each year on June 19 for decades, the Al Edwards Juneteenth Celebration pays special tribute to the former Texas State Representative who helped Juneteenth become a state holiday in 1980.
The community gathers at Ashton Villa for a breakfast and reenactment of the reading of General Order No. 3, which informed Texans that enslaved people were now freedmen.
Emancipation March
The Emancipation March on Juneteenth stretches between the historic Reedy Chapel AME Church and the Galveston Courthouse. This event also includes a reading of the declaration in General Order No. 3.
2023 Juneteenth Galveston Events and Displays
These are some of the most notable special events, displays, and galas taking place this year. The Juneteenth celebration calendar has even more events you can attend.
Blank Slate Monument
Dates: April 5 to July 5, 2023
Hours: N/A
This interactive sculpture by Ghanaian artist Kwame Akoto-Bamfo is a tribute to the African American experience pre and post-Civil War. The piece is on tour through the US and will be displayed in Galveston during Juneteenth at the Rosenberg Library.
Thursday Night Lights
Galveston is home to many great museums, but the Bryan Museum's "Thursday Night Lights" exhibit is devoted to the Prairie View Interscholastic League football program and is not to be missed.
The league governed high school athletics, academics, and arts for Black high schools during segregation in Texas, and many players went on to compete at collegiate and professional levels. The display will recognize players and coaches while tying in the history of this era.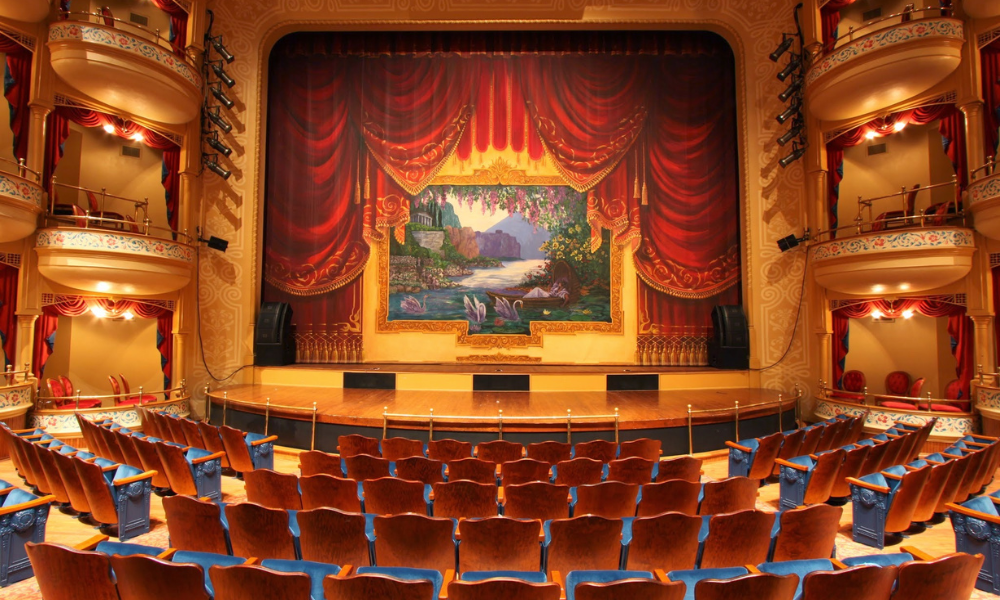 Emancipation Celebration at The Grand 1894 Opera House
Date: June 16, 2023
Hours: 6 p.m. to 10 p.m.
Hosted by the Nia Cultural Center, this award ceremony and concert will take place at the Galveston Grand 1894 Opera House.
The event will feature Grammy-winning performers and gospel singers. This year the celebration will welcome Grammy winner Reverend Smokie Norful, NAACP Image and Grammy Award nominee Zacardi Cortez, and "Sunday's Best" gospel diva Amber Bulluck.
Juneteenth Parade and Picnic
Date: June 17, 2023
Hours: 1 p.m. to 5 p.m.
This year's annual Juneteenth Parade and Picnic will be held the weekend before the holiday. The parade marches down Avenue H and ends at Wright Cuney Park for a social gathering and picnic.
Juneteenth Festival
Date: June 17, 2023
Hours: 1 p.m. to 8 p.m.
The annual Juneteenth Festival at Menard Park on the Seawall will take place the Saturday before Juneteenth this year. The grounds will have food and shopping vendors.
Juneteenth Civic Season Event: "A Slice of History"
Date: June 17, 2023
Hours: 3 p.m. to 6 p.m.
Geared towards students, this free event at the Rosenberg Library is the perfect place to take the kids to learn more about and celebrate Juneteenth.
The Galveston Symphony Celebrates Juneteenth
Date: June 18, 2023
Hours: 4 p.m. to 6 p.m.
The Galveston Symphony orchestra will team up with the Galveston Heritage Chorale for a free concert of historical African American music to celebrate Juneteenth.
Juneteenth Family Fun Day
Date: June 19, 2023
Hours: 1 p.m. to 6 p.m.
Hosted at Reedy Chapel AME Church, this event will begin with a reading of General Order No. 3. The following celebration will include family-friendly activities, food, games, and more.
Year-Round Juneteenth History in Galveston
While many events take place around the June 19th holiday in Galveston, the birthplace of Juneteenth also has several ways to delve into the history throughout the year.
No matter when you visit, you can learn more about Juneteenth with these local tours and exhibits. Some displays were launched as part of Juneteenth celebrations in years past.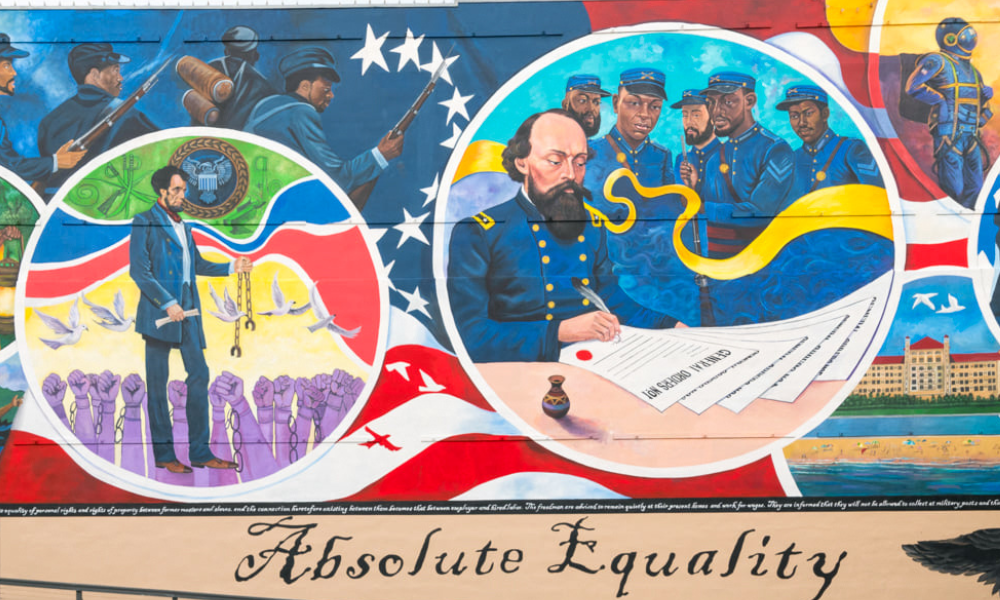 The "Absolute Equality" Mural
Painted on the exterior of the Old Galveston Square building in Downtown Galveston, the "Absolute Equality" mural portrays the history of African Americans from enslavement to freedom.
The 5,000-square-foot mural was created by a local artist from Houston, Reginald C. Adams, and dedicated during Juneteenth in 2021. You can see this masterful art piece on the corner of The Strand and 22nd Street.
The "And Still We Rise" Exhibit
Launched during the 2022 Juneteenth celebrations, "And Still We Rise…Galveston's Juneteenth Story," is located at the 1859 Ashton Villa on Broadway Avenue in the property's carriage house. Maintained by the Galveston Historical Foundation's African American Heritage Committee, the exhibit tells the story of Juneteenth in 1865 and connects it to the present day.
The interactive experience has digital displays where visitors can engage with photos, documents, and interviews. This is also a great spot to learn more about the island's other Juneteenth events and significant locations.
Self-Guided Freedom Walk
Galveston's self-guided Freedom Walk leads to five historic sites connected to Juneteenth.
Starting at the Port of Galveston, the tour incorporates several historic markers, including a Pier 21 commemoration for captive Africans who were enslaved in Galveston and for those who died during the Middle Passage.
You'll also visit the former site of the Union Army headquarters on the island, the U.S. Customs House, and the Juneteenth statue at Ashton Villa that marks June 19th becoming a state holiday.
You can download a map from Visit Galveston to find the locations and take the "Freedom Walk Challenge" on their app to earn a keepsake.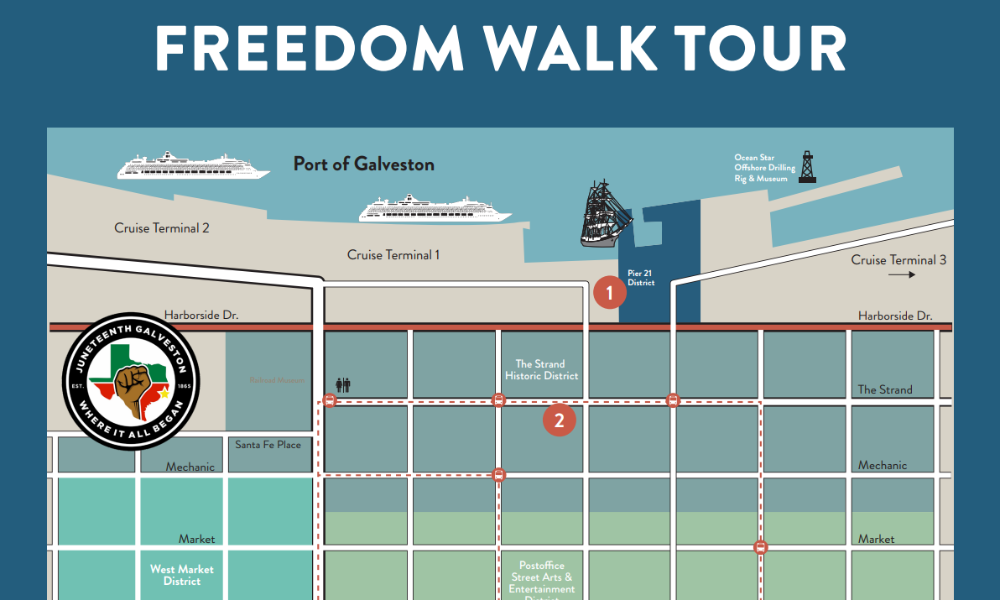 Visit the Birthplace of Juneteenth
As the birthplace of Juneteenth, Galveston is an extra special location to spend the newly minted federal holiday. But, even if you miss the celebratory date, you can visit the island any time of year to learn more about Juneteenth at Galveston's permanent historical exhibits.Sand 'N Sea will put you close to the action with vacation homes equipped with private pools, expansive decks, and fully equipped kitchens. Book today to secure your holiday spot!