If you enjoy beaches, sun & surf then Galveston, TX is a must-visit for you. The real question isn't if you should visit Galveston, it's when is the best time to visit Galveston TX.
Galveston is a wonderful city with a lot of attractions beyond the gorgeous beaches and sun. You will also find historic architecture, unique museums, and amusement parks to explore. Plus, with so many great vacation rental homes on the island, you're sure to find the perfect place to stay, too.
So when's the best time to visit Galveston?
The mild weather around Galveston makes it a top year-round vacation destination in Texas. The best time to visit varies depending on which activities you enjoy. Each season offers different choices for things to do, see and enjoy.
About Galveston, Texas
From its time as a privateer stronghold to serving as a bustling immigration port second only to Ellis Island to being the birthplace of Juneteenth, Galveston holds a special place in Texas & US history.
The island is located just 51 miles away from Houston making it a great destination for a city getaway. Due to its prime coastal location, Galveston was the largest and wealthiest city in Texas during the 19th century. To this day, it is still a popular coastal resort city with plenty to see and do all year.
History buffs will find plenty to explore in Galveston. The city's historic districts include 60 different structures listed in the National Register of Historic Places as having architectural significance. You may enjoy strolling in Historic Downtown Galveston or one of the city's other six designated historic districts. If you are interested in exploring all historic districts of the city, it would be convenient to do this in a rental car. It will not take much time however the impressions will be incredible from what you've seen.
Year-Round Attractions and Activities in Galveston
Visit Galveston Island any time of year to enjoy the thriving art scene, beaches, shopping, and family-friendly activities.
Galveston Railroad Museum features educational, fun, and interactive exhibits about railroads and trains. It's also a great event venue hosting public and private events.
For those interested in our industrial history, Galveston has another unique museum, the Ocean Star Offshore Drilling Rig and Museum featuring a self-guided tour of exhibits covering the role oil and gas play in society and our daily lives.
Moody Gardens is one of the top attractions in Galveston with its Aquarium and Rainforest Pyramids, Colonel Paddlewheel boat cruises, a Discovery Museum, and seasonal activities .
Catch a performance at The Grand 1894 Opera House in The Strand District. The building earned its spot on the National Register of Historic Places due to its charm and cultural significance and is "The Official Opera House of Texas." Other historic landmarks include the Historic Pleasure Pier, Moody Mansion, and Bishop's Palace.
In Galveston, you can visit the beach throughout the year. You can actually take a sneak peek by looking at their live webcams. The best local beaches include:
Babe's Beach: A 15-block stretch of beach west of 61st Street on Seawall named after a local senator A.R. "Babe" Schwartz who was committed to preserving local breaches.
Seawall Beach: This beach has drawn locals and tourists for over a century. The longest continuous sidewalk runs alongside it for 10.3 miles.
East Beach: This is a local entertainment and recreation hub with a boardwalk, pavilion, stage for live entertainment, playground, and more.
Visit Galveston Island for incredible bird watching throughout the year. However, you may prefer to visit in the fall or spring depending on the birds you want to see. There are birds in the wetlands year round thanks to the mild winters, but some birds only pass through during their seasonal migration cycle.
Galveston Island State Park is another must-see for nature lovers and beachgoers since this 2000-acre state park includes a beach area as well as hiking trails. If you enjoy fishing, bird watching, trail biking, beachcombing, or just fresh air this is the spot to be.
Visit Galveston in the Summer for Fun in the Sun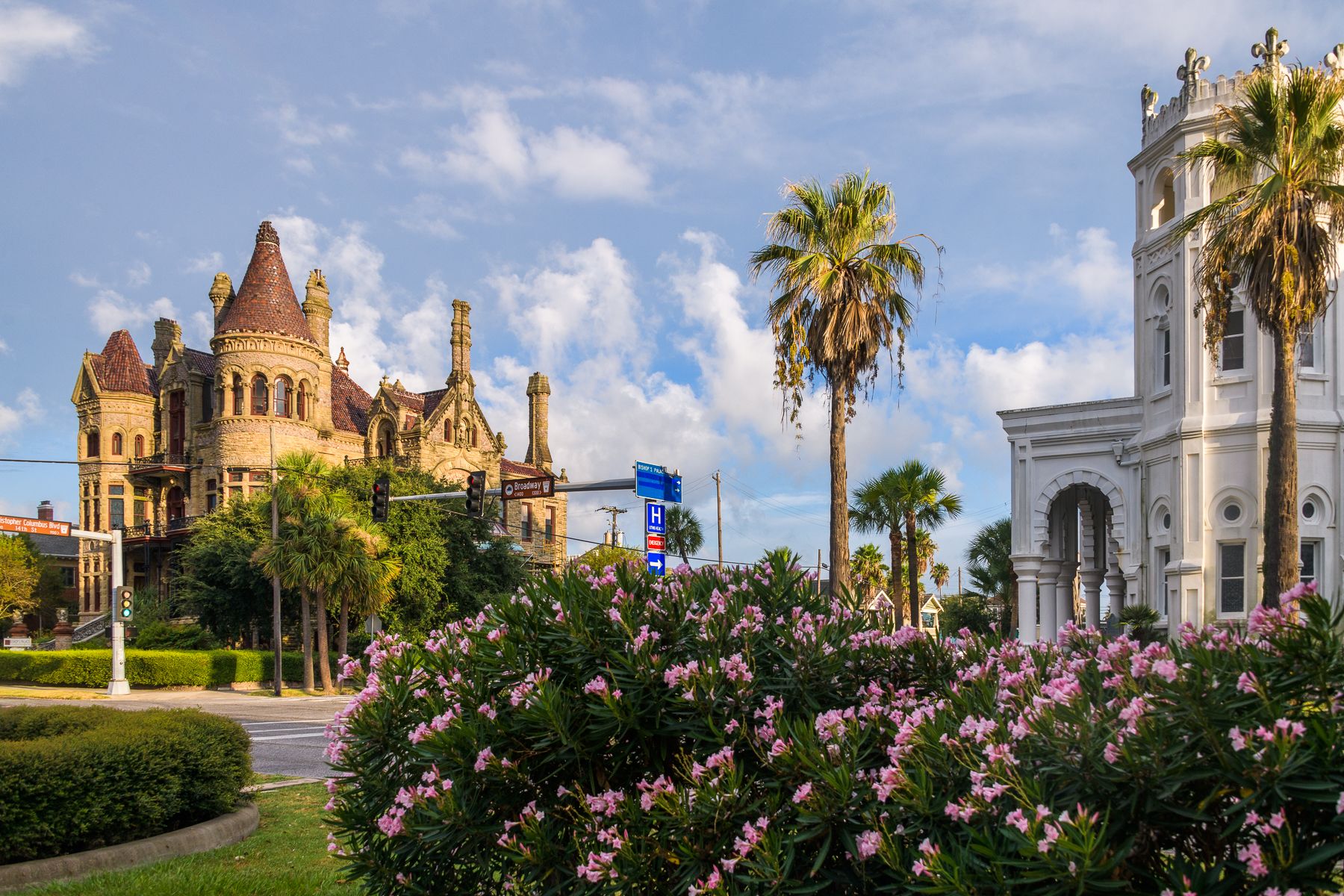 If you are planning a family vacation, Galveston is a great place for families, but know that if you go during the summer you may find lots of others have the same idea.
While many people think of beach life when they think of summer in Galveston, plant life is also just as attractive. Galveston is sometimes known as Oleander City since the subtropical plants thrive here blooming between April and October.
If you love the heat and crave those warm beach days, the summer is the perfect time for you to visit! The summer temperatures often exceed 90 °F with even higher heat indexes due to the high humidity.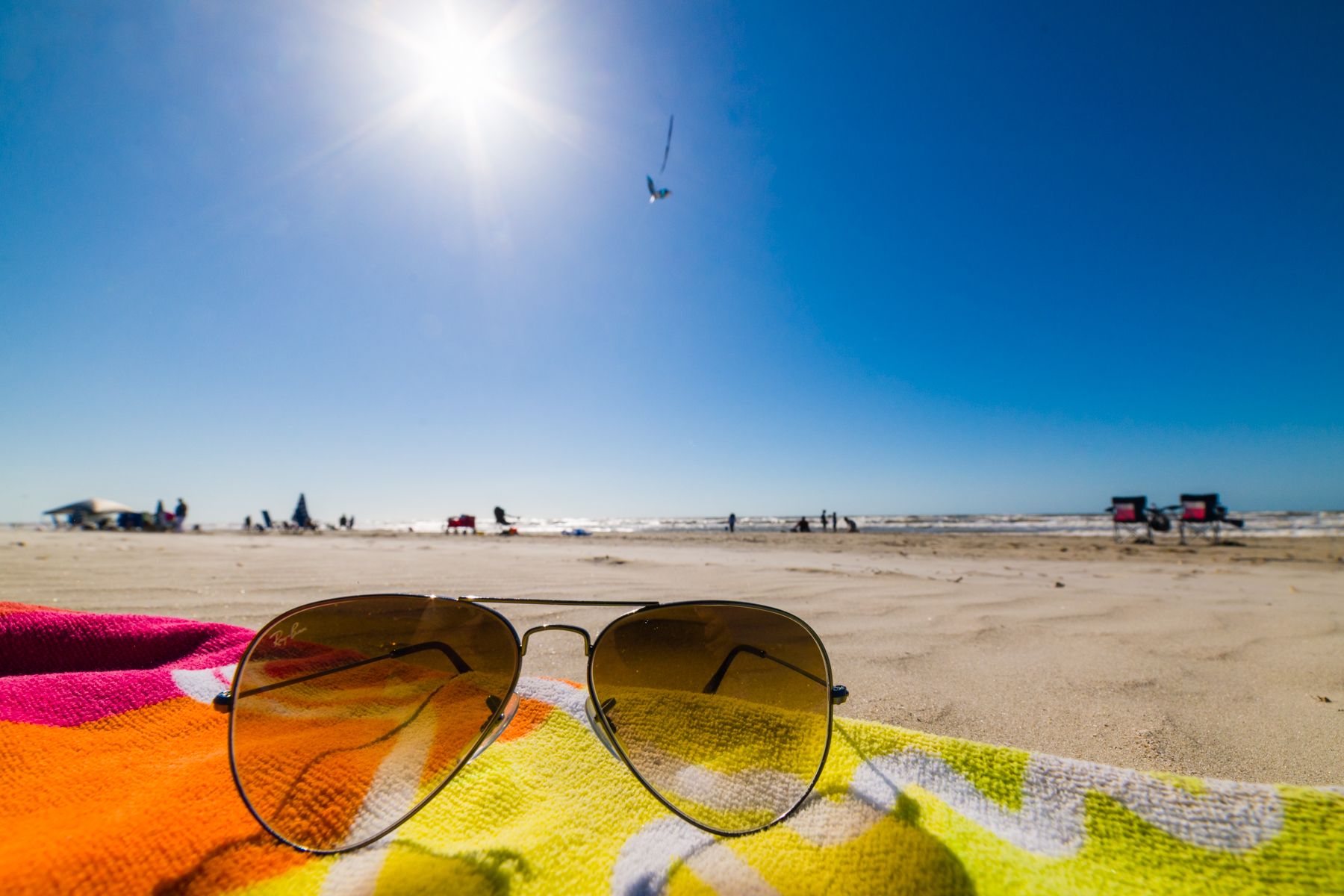 Gulf breezes and refreshing surf make the beach an attractive option, even at the hottest times of the year. Looking for even more water fun? Cool off at the Schlitterbahn Galveston Island Waterpark which has been described as a "mile of fun." This makes for a great family day out with rides, water slides, swimming pools, a swim-up bar, and more.
Summer is when Galveston hosts the annual AIA Sandcastle Competition which has been a tradition for over 35 years. If you enjoy making sandcastles or marveling at other people's creativity then this is a great rain-or-shine event.
Visit Galveston in the Fall for a Moderate Autumn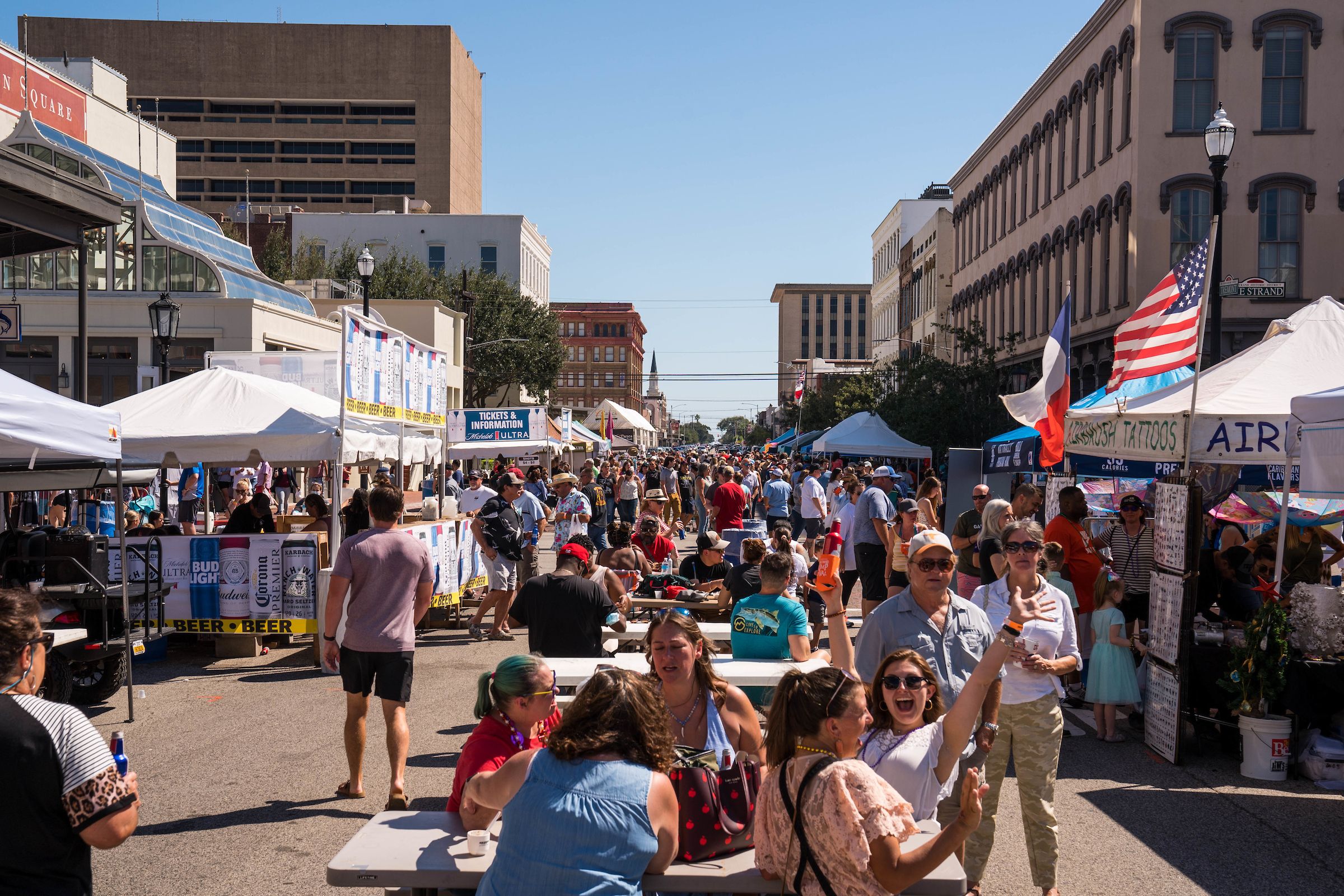 The best time for hitting the Galveston beaches is in August or September. Since so many people are going back to school, the summer vacation rush is over, and you can take advantage of a time with fewer crowds. The weather is still plenty warm, and watching a Gulf sunset from the deck of your private beachfront vacation home is an experience you won't soon forget.
While there are not quite as many tourists in the fall, there are still a variety of fun events attended by locals, people who live within driving distance, and guests. These fall events include: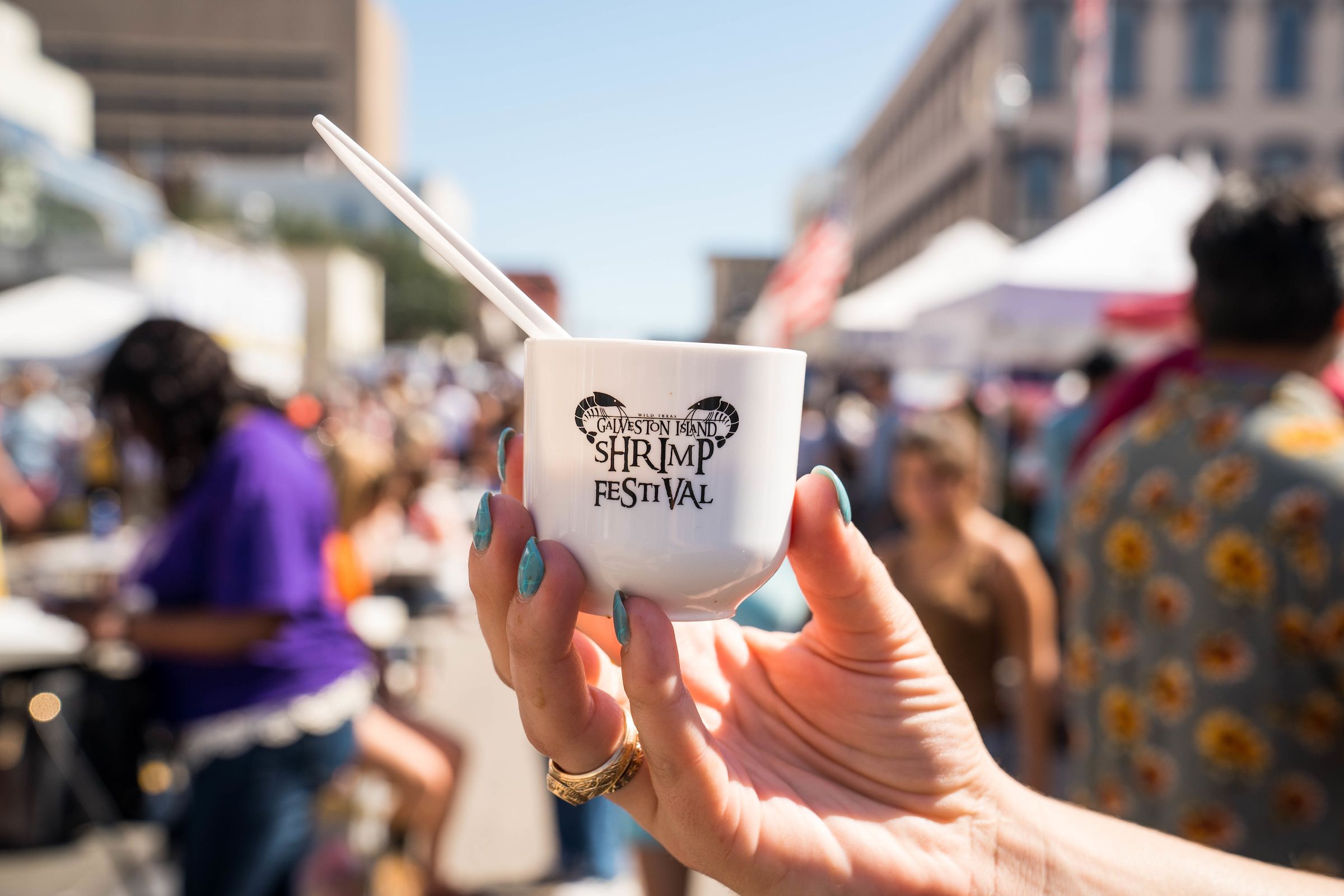 Look for these and other events on the city's event calendar. Boat and yacht lovers may enjoy visiting during the Harvest Moon Regatta in October.
While Galveston bird watching is great year-round, fall is of special interest if you want to see the fall migration of birds as the birds travel to their winter homes. Fishers will enjoy catching & cooking fresh flounder. Keep in mind that flounder season is usually closed November 1 through mid-December so this is best enjoyed in early fall.
Visit Galveston in the Winter to Escape the Cold
The holiday season is a magical time to visit Galveston since there are so many festive activities. With such mild winters, you may not experience a "white Christmas," but you can still enjoy spending time outside looking at the holiday decorations and lights on this "Winter Wonder Island."
Winter is another great time to avoid crowds at the beaches especially in January or February when tourists aren't usually visiting in large numbers. The weather may be a bit brisk for sunbathing, but winter storms often make beachcombing at this time of year well worth the stroll on the sand.
Popular Galveston winter special events include the Festival of Lights and ICE LAND at Moody Gardens and the Dickens on The Strand festival. It's also when the birder's-bucket-list Sandhill Cranes come to roost on the island and the Galveston Island Nature Tourism Council hosts their annual Holiday with the Cranes celebration.
The winters in Galveston are mild with highs around 60 °F and lows near 50 °F. Just don't expect a White Christmas since snowfall is rare. Galveston's warm winters are a welcome escape for our neighbors in the north.
Visit Galveston in the Spring to Refresh and Renew
Spring in Galveston can be a great time to recharge your batteries. Galveston is also known as "Oleander City" thanks to the subtropical plants that thrive here and show off beautiful blooms between April and October. These and other spring blooms brighten the island as the days grow longer and the temperatures start to get warmer.
Events include the Galveston Island Beach Revue and The Grand Kids Festival in April. To learn about more spring Galveston events stop by the Galveston Island Visitor's Center at 2228 Mechanic Street, Suite 101 or explore more events online.
In addition to the other year-round activities, spring is a good time to shop, golf, and visit local spas as well as relax on the beach. Spring is often one of the more pleasant times to visit Galveston. During the spring season, the average temperatures run from the low 60s to the low 80s. April and early May have the lowest chance of precipitation.
All of that adds up to plenty of gorgeous spring days, perfect for boating, paddling, or hiking or birding.
It's Always a Great Time to Visit
Most of the year, the weather in Galveston is nice enough to enjoy outdoor activities like boating, hiking, fishing, kayaking, and bicycle riding. The city also has charming historic buildings, delicious local restaurants, unique museums, and a thriving art scene. Plus, West End vacation rental homes like those from Sand `N Sea make the perfect home-away-from home no matter the weather.
There's something for everyone in Galveston!