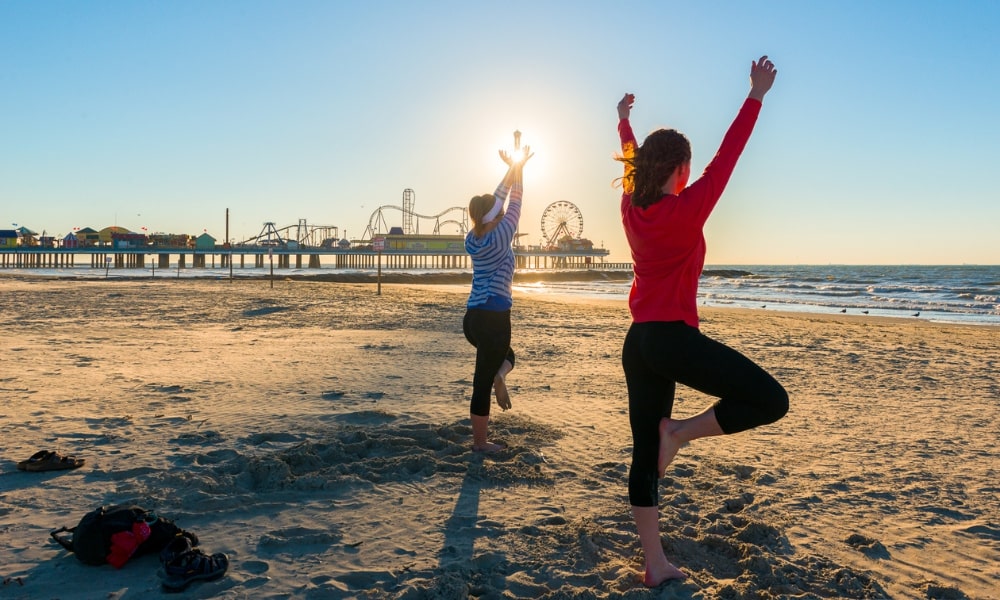 As much of the US starts to see snow and icy cold weather, we can't help but rejoice as we grab our pullovers, throw on our flip flops (because, seriously, they are an all-year wardrobe piece — no matter what our mother says), and be SO happy we get to call this Gulf Coast island of Galveston our home.
Even though it's not quite sunbathing weather, there is still plenty to do in this island paradise! If you're looking for a cozy, fun-packed getaway from Houston, Dallas, Austin, or beyond for Christmas or the winter months, here's why Galveston may just be the spot for you.
Winter Events in Galveston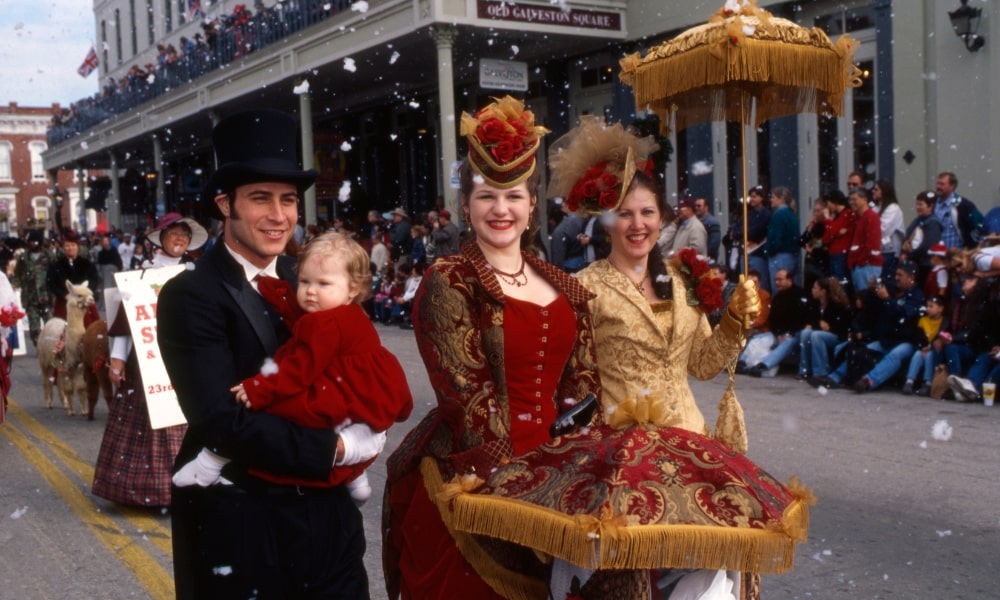 Galveston Island is a culturally rich destination all year round, but the fall and winter program is particularly special. There are seemingly endless activities and events on offer throughout the cooler months. So, after you've checked into your vacation rental home, you'll have more than enough to keep you and your loved ones entertained.
Here are a few of our favorites:
November 10 – December 23, 2023
For a truly memorable holiday event for the family to enjoy, book a ticket for The Polar Express™. Taking place at the Galveston Railroad Museum, tickets sell out quickly so don't miss your chance to secure yours.
November 18, 2023 – January 6, 2024
Moody Gardens is a magical, family-friendly spot that comes alive during the winter season. Expect ice skating, train rides, fireside s'mores, and the hugely popular Festival of Lights. There's plenty of great food on offer including breakfast with Santa, making this a great day out for visitors of all ages.
December 1-3, 2023
Run by the historic Galveston Society, this hugely popular event brings Victorian London to the Gulf of Mexico. Expect themed play areas for children, roaming characters in traditional dress, and vendors setting holiday food, drink, and Victorian-inspired crafts.
December 17, 2023
Running enthusiasts shouldn't miss the annual Santa Hustle. Choose from the half marathon or the 5K, and let the children take part in the kid's dash.
January 12-13, 2024
This annual quest to find the region's best chili is a great way to warm up in the winter. There are several ways to take part — either bring a batch of your best chili to be judged, sample a bowl of award-winning chili for yourself, or simply enjoy the beer festival.
Things to Do in Galveston in Winter
Whether or not you're in town for any of the events listed above, there's always plenty to do in and around Galveston Bay during winter. Here are some of our top can't-miss activities.
Fishing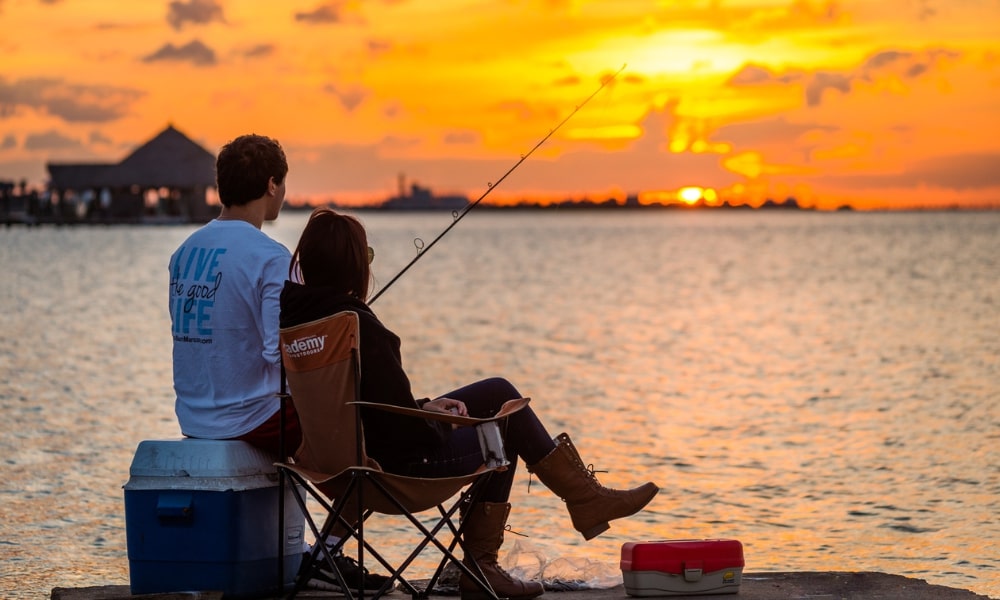 Surf fishing, wade fishing, deep sea fishing, fishing from the dock, warm weather fishing, cool weather fishing…well, you get the idea! Enjoy great fishing of every kind when you visit Galveston Island during the winter! The nutrient-rich waters around Galveston are a huge draw for fish — expect to catch redfish, flounder, catfish, and mullet, to name just a few.
Galveston Island State Park has various fishing events running throughout the winter. You can find the full program here.
Birding
Winter is a superb time of year to head to Galveston for some birding. We love the huge Sandhill Cranes that migrate to Galveston for the winter — you can find them strolling the pastures throughout the West End. Don't miss the Holiday with the Cranes virtual event put on by GINTC (Galveston Island Nature Tourism Council), on December 9-10, 2023.
Beaches
Galveston's 32 miles of beaches are perfect no matter the weather. And, while it might not be guaranteed sunbathing weather past late September, beachcombing is a fun alternative way to enjoy the natural environment in the colder weather.
Beachcombing gets even better on Galveston Beach as short winter storms move through and seasonal currents bring new treasures up from the depths of the Gulf. Plus, the weather can be beautiful and there are fewer people sharing the sand with you during winter on Galveston Island!
For ocean lovers, swimming, surfing, and kayaking are still possible in good weather, so be sure to check the forecast before heading out.
Dining
Stop by one of our local restaurants for some warm comfort food. Some of our favorite spots include:
Queen's BBQ
Queen's has been serving authentic Texan BBQ since 1966 and is our top pick for classics such as pork rib, beet brisket, and smoked gouda mac n cheese. BBQ picnic boxes and cocktails to go are also offered, so if the weather is fine why not head to the coastline for an al fresco feast?
El Jardin
For Mexican breakfasts, brunches, and lunches, El Jardin can't be beaten. This straightforward spot is family-owned and operated and serves traditional food from south of the border including tacos, enchiladas, and fajitas.
BLVD Seafood
As you might expect from a coastal destination, Galveston is a fantastic place for seafood and BLVD is one of the top spots. This vibrant establishment is located on the seawall near the Pleasure Pier and offers stunning views of the Gulf Coast. Be sure to try as many items from the menu as possible, including their flagship shrimp 'n' grits, clam linguini, and a plate of fresh gulf oysters (when in season).
MOD Coffeehouse
For some of the best coffee and sweet treats in Galveston, don't miss MOD Coffeehouse. Located at the corner of the post office in a charming Victorian building, visitors shouldn't miss the seasonal fall spice latte or the sweet and moist banana bread.
The Grand 1894 Opera House
Constructed in — you guessed it — 1894, "The Official Opera House of Texas" plays an important role in supporting the arts, with award-winning dramas, Broadway musicals, internationally-acclaimed musicians, and the Serious Fun Children's Series gracing the stage every season! The Grand often has holiday-themed shows to enjoy, and this year the City Ballet of Houston is presenting The Nutcracker.
Moody Mansion
For a great wet-weather indoor activity, swing by Moody Mansion. This historic home was completed in 1895 and is a fascinating glimpse into the lives of wealthy Texans at the turn of the 20th century. Visits can be done as self-guided tours or as access-all-areas guided tours.
Shopping
Still working on your list and checking it twice? Don't worry, the shops in the downtown area of Galveston are bound to have that unique gift you're looking for. Browse an abundant selection of art galleries for the perfect treat for the creatives in your life, or check out Galveston's specialty shops in the Downtown shopping area. With 36 blocks offering more than 100 stores and boutiques, there are plenty of options to choose from. Check out Strand Brass for Santa-themed trinkets, and the eclectic Hendley Market for handicrafts galore.
The Fun Doesn't End Just Because Summer Has!
Summer has officially ended, but as you can see, there is no shortage of great reasons to spend the fall or winter on Galveston Island! A cozy, festive getaway awaits — all that's left to do is book your vacation rental and make the most of special winter prices.