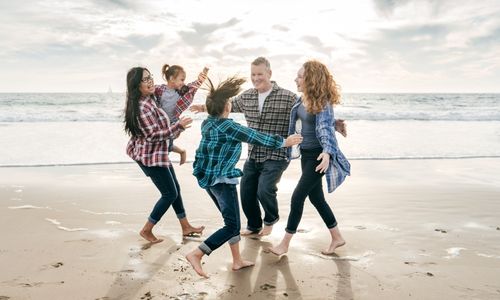 Sun, surf…and turkey? Absolutely! Bringing your family together for the holiday can be stressful, but when you make it a destination holiday you can take a lot of the worries, like, "Will Aunt Susie notice that I didn't dust the baseboards?" out of the equation.
This holiday season, spend your time making memories that will last you a lifetime. Leave the cleaning, prepping, and maybe even the turkey roasting to the experts so you can sit back, relax, and make the most of time with the special people in your life! Read on to discover why your family should spend Thanksgiving in a stunning vacation rental home in Galveston.
Is Galveston a Good Choice for Thanksgiving?
In short, yes! Galveston County is more than just a summer beach destination. Easily accessible from Houston, Texas, this little slice of heaven is full of eco-adventures, museums, attractions, and shopping that locals and visitors alike can enjoy all year long.
Galveston Beach is known for being the place to relax on long, lazy summer days, but we think our island really shines in the other seasons, too. Temperatures are no longer hot, hot, hot, and fewer crowds mean our favorite attractions and museums are easier to navigate. Waits are shorter (if not non-existent) for places like 1892 Bishop's Palace, Moody Mansion, and The Galveston Island Historic Pleasure Pier. Plus, lots of attractions offer special holiday events or programs.
Galveston also offers an amazing array of restaurants and shops just waiting to be enjoyed during your long holiday weekend. Stroll art galleries and antique shops, dine at delicious local Galveston restaurants or get a jump start on your Christmas shopping in the unique shops in The Historic Strand District.
Where to eat for Thanksgiving in Galveston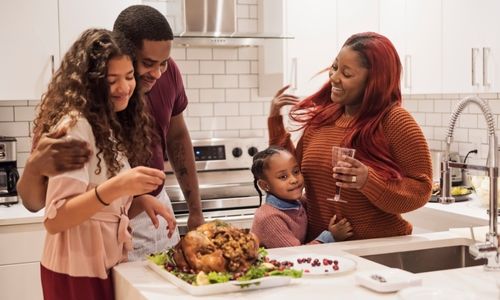 The Thanksgiving feast is the centerpiece of the holiday. From turkey to pumpkin pie, gathering your family around a table for a meal is a quintessential part of the American Thanksgiving weekend experience. Your Galveston Thanksgiving celebration can easily incorporate all of your favorite traditions, and maybe spark some new ones!
Dining together for your Thanksgiving celebration can be as blissfully simple or joyfully chaotic as you'd like when you book a beach house rental. Keep it traditional and cook together in a fully-equipped kitchen (our larger beach houses are great for this), or start a new holiday tradition of ease and simplicity when you take advantage of one of Galveston's Thanksgiving dining options.
If you choose to go the traditional family chef route, grab your supplies at Krogers, Walmart, or Randalls, all of which are conveniently located mid-Island. There are also specialty shops like Maceo's Spice & Import Co and Katie's Seafood Market for the more adventurous holiday chefs among us. And don't worry, Sand `N Sea beach houses have all of the pots, pans, dishware, etc. that you'll need to prepare your family feast.
Or, make it a holiday vacation for everyone on your guest list! Take advantage of the delicious Galveston Thanksgiving buffets, sit-down meals, and take-and-bake options from some of our favorite island restaurants and caterers.
These are our top five choices for Thanksgiving dining in Galveston. Check the individual websites for Thanksgiving opening hours and reservations.
The San Luis Resort & Conference Center
Thanksgiving Brunch Buffet
Address: 5222 Seawall Blvd, Galveston, TX 77551
Be sure to make your reservations early for this popular Galveston Thanksgiving brunch buffet. This is the perfect option for groups with lots of different tastes and dietary requirements.
Fill up on various seafood, a carving station, gumbo, pasta, salads and charcuterie, and traditional Thanksgiving dinner sides, as well as a waffle station, omelets, breakfast sides, and a full dessert bar. This is a great place to try local food and your Thanksgiving favorites.
The Grand Galvez
Another popular Galveston Thanksgiving buffet, The Grand Galvez also books quickly, so reserve your table as early as you can. Once your spot is secured, get ready to enjoy their traditional holiday buffet, complete with carving and seafood stations plus a wide range of sides.
Mosquito Cafe
This local favorite makes Thanksgiving dinner at your beach house easy with take & bake options for a full dinner. The beauty of this option is that you can enjoy a relaxed family feast in the comfort of your holiday home but without having any of the cooking stress. Size up or down depending on your guest list and let everyone partake in the fun of the holiday.
Local Tip: Order your pies, quiches, babkas and more from PattyCakes Bakery right across the street from Mosquito Cafe. Park once, gather goodies twice, and earn the coveted title of "best family holiday event planner" without even breaking a sweat!
Moody Gardens
For a Thanksgiving brunch to remember, you can't go wrong with Moody Gardens. Expect a huge array of breakfast items, soups, and salads, plus fresh seafood, a carving station, and a long list of hearty entrees.
Moody Gardens is also home to lots of festive activities for all the family to enjoy during the holiday season — from ice skating and 3D film screenings to live music performances and the mesmerizing festival of lights.
Fisherman's Wharf
Four-Course Thanksgiving Feast
Address: 2200 Harborside Dr, Galveston, TX 77550
For a sit-down family feast, be sure to check out Fisherman's Wharf. This harborside spot has been in action since the 1940s and is popular with Galveston visitors. Thanksgiving dishes include deviled eggs, shrimp gumbo, ham steak, and pecan pie. Juicy turkey is, of course, on the menu, alongside the most perfect pumpkin pie.
If seafood is more your thing, the regular menu is also available on Thanksgiving and includes the freshest oysters, juicy shrimp, and a variety of freshly caught and lightly grilled fish.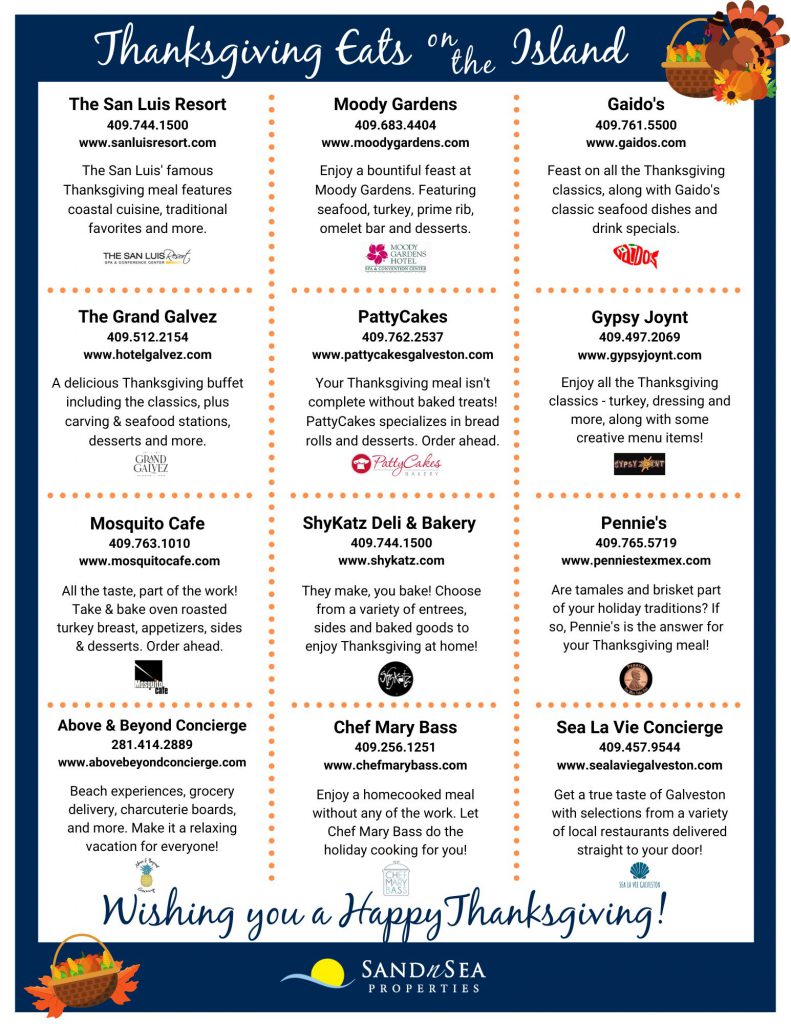 Where to Stay for Thanksgiving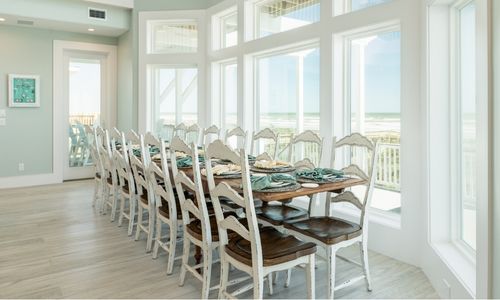 Thanksgiving is best when enjoyed with family and friends, and getting out of town for your holiday weekend is a great way to focus on what really matters — each other. Skip the weeks of cleaning, wiping cobwebs off folding chairs, or worrying about shoveling out your kids' bedrooms to accommodate the grandparents. Book a beach house that everyone can enjoy and take advantage of the pre- & post- holiday housekeeping that comes with it!
Sand `N Sea offers lots of options for groups large or small. Our private beach houses on Galveston's West End easily accommodate your whole family — pups included in our dog friendly homes!
Choose from beach houses and prime vacation real estate with amenities like:
Beachfront Gulf Coast views
Bayfront with great fishing
Elevators
Hot tubs
& more
A Memorable Thanksgiving Getaway on the Beach
The Sand `N Sea family has been welcoming guests for Thanksgiving, Christmas, Spring Break, and all of the holidays in between since 1974. Local & trusted for almost 50 years, we are here 24/7 to ensure that your family vacation is stress-free and memorable for all the right reasons.
We're thankful for the generations of families that have trusted us with their beach vacation, and look forward to welcoming you to the beach for a Thanksgiving day to remember soon!